Rob& Blac Chyna Are Probably Still Together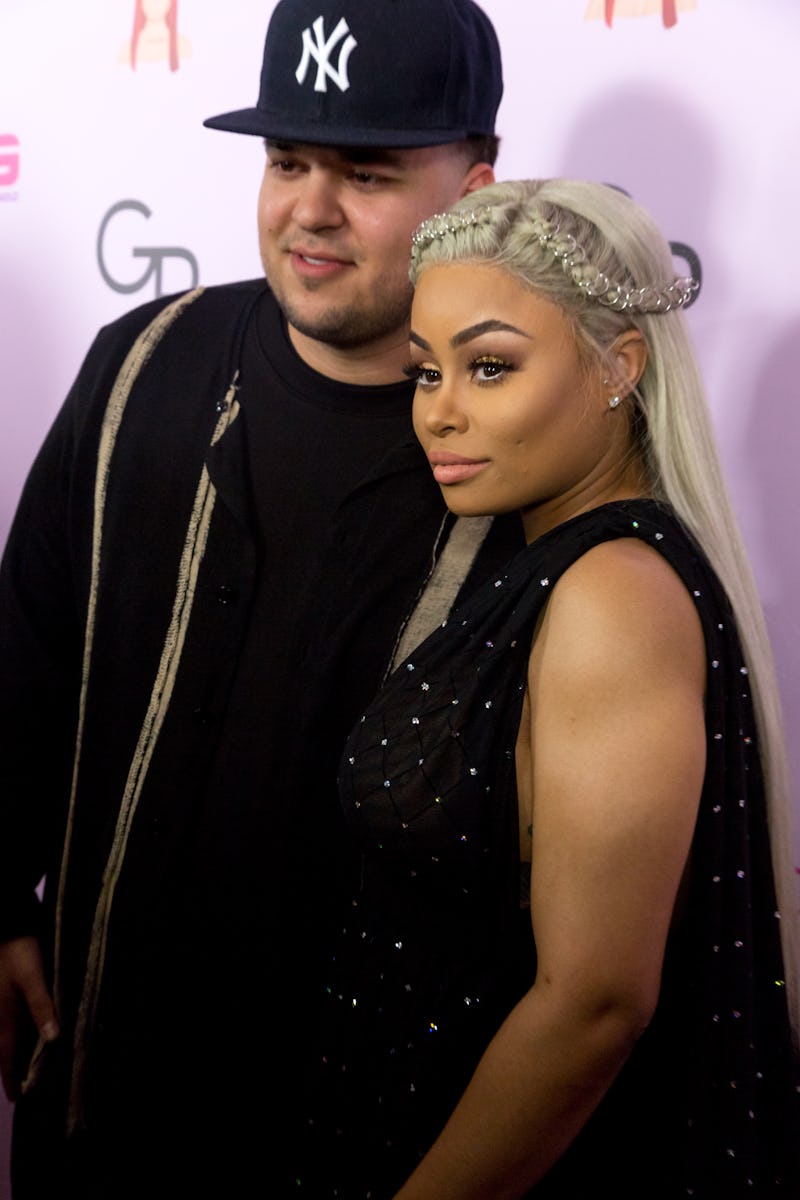 Greg Doherty/Getty Images Entertainment/Getty Images
Despite the fact that they welcomed their baby girl, Dream, just two months ago, the relationship status of Rob Kardashian and Blac Chyna has been a little confusing lately. After their massive blowout at the end of 2016 — which involved Chyna moving out and a lot of puzzling social media posts — I wasn't sure what their future held, but for now, it looks like these two are sticking it out. On Sunday night, Kardashian and Chyna made a club appearance in New York, and it just so happened to be their first official outing as parents.
According to People, the couple hit Sapphire, a strip club, to end their weekend, and although there aren't too many details about what their evening out entailed, there are plenty of photos and videos on Instagram documenting their experience. Chyna showed off her outfit — a lacy black jumpsuit — while she was getting ready, and then posted a video of herself in what looks like the club's bathroom. Kardashian didn't share anything himself, but the Rob & Chyna stars were definitely there together, and this is good news for anyone who's been worried about the state of their rocky relationship over the past few months.
Since their big fight in December, whether or not Kardashian and Chyna are still together (let alone still engaged) has definitely been up in the air. Usually, their Instagram accounts are constantly flooded with PDA-filled photos of the two of them together, but over the past month, that definitely hasn't been the case. Instead, Chyna's posted a lot of photos of herself alone, and they've both shared a lot of pics of baby Dream. It's enough to convince anyone that these two have broken things off, but now, I think it's safe to say they're still together.
Why? Well, if Rob & Chyna Season 1 taught me anything, it's that Kardashian doesn't leave the house for just anyone. He doesn't seem to be a huge fan of night clubs and generally avoids going out in public, so if he's out on a Sunday night, it has to be because he loves Chyna. Or, you know, the appearance paid a ton of cash. But I'm banking on the fact that it has at least a little bit to do with the fact that he wanted to make his baby mama happy.
And if you're already missing the drama? Don't worry. 2017 is still young, and there is plenty of time for things to go wrong. But honestly, I'm kind of hoping that they don't. Their relationship may be an emotional rollercoaster (to put it lightly), but I'm rooting for them to prove the haters wrong and make this thing last.