While Rob Porter's Ex-Wives Revealed Their Abuse, The White House Wanted To Promote Him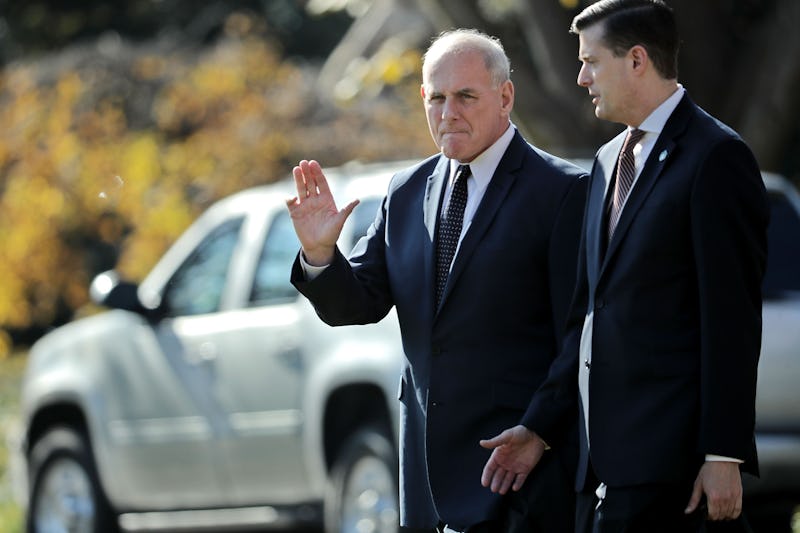 Chip Somodevilla/Getty Images News/Getty Images
Before the White House aide resigned amid his ex-wives' allegations of domestic abuse, Rob Porter was up for a promotion, CNN reports. The FBI confirmed Tuesday that it had completed a background check on Porter, which contradicted White House statements that said the investigation was ongoing. Despite receiving a full report on Porter's past, sources told CNN that the Trump administration was considering bumping the president's staff secretary up to be his deputy chief of staff.
Although Porter has denied the spousal abuse allegations and called them "vile claims," the White House confirmed on Wednesday that he submitted his resignation following the publication of his ex-wives' detailed accusations. White House press secretary Sarah Sanders said that day that President Trump had "full confidence and trust" in Porter's abilities. The following day, the White House claimed that Porter's background investigation was "ongoing," telling reporters he was "operating on an interim security clearance," but "his clearance was never denied."
However, FBI director Christopher Wray told Congress on Tuesday that the FBI had submitted a partial report on Porter in March 2017, completed a background investigation in July, and closed the investigation in January. The Daily Mail reported last week that the FBI was aware of Porter's alleged "dark past," as well as published photos of an emergency protection order that his second ex-wife filed in Virginia. That protection order would have been public record when Porter was hired to work in the White House.
Wray did not comment on the contents of the FBI's report. But his confirmation that the investigation into Porter's background had come to an end ran up against the White House's claim that the investigation was still ongoing. Former Justice Department spokesman Matthew Miller also pointed out on Twitter that Wray's description of the investigation raised some red flags. Wray said the agency "submitted a partial report on the investigation in question in March, and then a completed background investigation in late July." Afterwards, the FBI followed up on additional information it received, leading to a third report in November before the investigation was officially closed.
"About the FBI's interim report on Porter in March: those aren't routine," Miller tweeted. "Usually means the check has turned up something disqualifying that the FBI wants to elevate to decision makers immediately."
It's unclear how much longer Porter will work in the White House, as Sanders said last week he would stay on to help ensure a smooth transition. But before he resigned, Porter was lobbying to take on more responsibilities within the administration, according to CNN. He was specifically interested in trade policy and regularly attended weekly trade meetings a staff secretary wouldn't normally be invited to, the network reports. The White House has not yet responded to reports that Porter was up for a promotion.
Porter had White House chief of staff John Kelly's support even after The Daily Mail published detailed accounts of the alleged abuse. "Rob Porter is a man of true integrity and honor and I can't say enough good things about him," Kelly said in a statement. "He is a friend, a confidante, and a trusted professional. I am proud to serve alongside him." He also tried to convince Porter "to stay and fight" the spousal abuse allegations, according to Axios.
Kelly reportedly offered to resign as criticisms about how the administration handled the Porter allegations built, CNN reported on Friday. The White House denied that he had offered to step down, however.
Along with his chief of staff, the president appeared to stick by Porter after his alleged abuse made headlines. Trump tweeted over the weekend that "peoples lives are being shattered and destroyed by a mere allegation." He continued: "Some are true and some are false. Some are old and some are new. There is no recovery for someone falsely accused — life and career are gone. Is there no such thing any longer as Due Process?"