'SYTYCD's First Season 14 Elimination Is A Tough One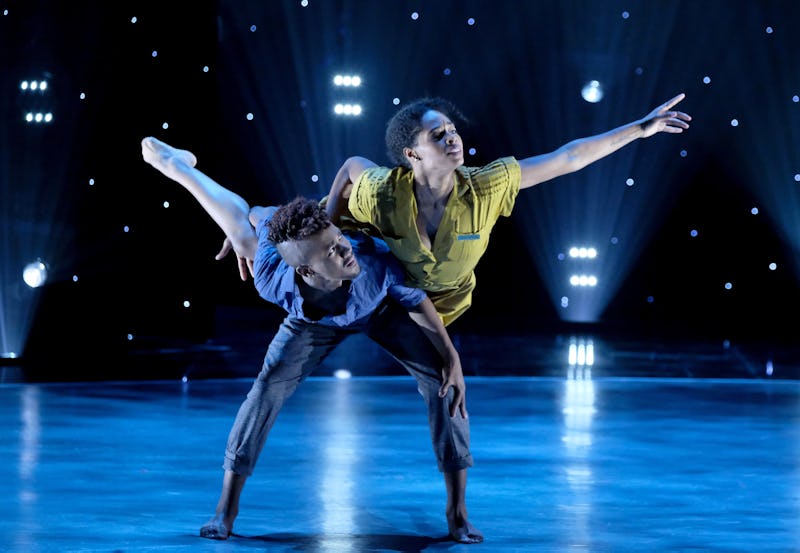 Tyler Golden/FOX
The first few episodes of So You Think You Can Dance are all about hope and making dreams come true — but now that the Top 10 have performed twice, the heartbreak is starting. Despite charming the heck out of pretty much everyone involved with the show, Robert was sent home on SYTYCD first. Clearly his personality was too big for the Fox series.
Just like last week, the Top 10 contestants paired off with the All-Stars that had chosen to work with them. As of the previous week's performances, the bottom three in trouble were Logan, Sydney, and Robert. "We have such good dancers this season," Nigel said, adding that "we're always gonna be shocked at who's in the bottom three." Too true!
Fortunately, Logan blew the judges away and was first to be told he was safe. He and his partner Allison, who was injured last week, pulled off a fabulous futuristic double date jazz fusion extravaganza . It was a risk, and they nailed it. Sydney, on the other hand, showed a new side of herself as a dancer with a stripped down contemporary piece alongside her partner, Paul. Sometimes going simple is the best way to recover after a shaky week.
Jasmine and Robert performed late in the night. Their number was charged and theatrical, but maybe a bit too slow — especially compared to the barber shop set Bruno Mars hip hop routine that Robert and Jasmine did last week. Perhaps this performance wasn't the best way to showoff and really save him. Check it out below. It's still beautiful and entertaining, don't be fooled.
Stacey Tookey is an incredible choreographer and the vision comes through on stage. Like Nigel said — when all of the dancers are of such a high caliber, the choices are harder to make and the judging is a little more nitpick-y.
Can we also just take a moment to appreciate Vanessa Hudgens as a judge, too? Her enthusiasm is infectious and her critiques and compliments are so detailed. She was a fan of Robert from the start, and will definitely miss him on the show. Fortunately, just being in the Top 10 is a huge accomplishment and possible career bump. In one way or another, it's quite likely that we'll all see Robert dancing on stage or screen in the future.