Here's An Actual Photo Of Don Jr. & Robert Mueller Stuck At The Same Airport Gate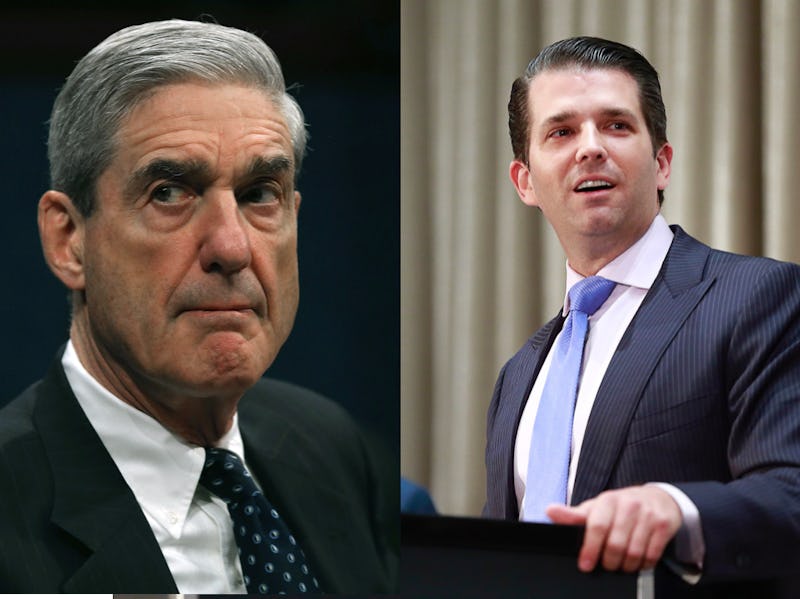 Mark Wilson; Jeff Vinnick/Getty Images News/Getty Images
On Friday, Politico published a supremely awkward photo of Donald Trump Jr. and Robert Mueller waiting at the same airport gate. The image depicts the two men in a decidedly mundane environment, waiting around idly as if everything is normal and the fate of the country doesn't lie in their hands.
Mueller is overseeing the Justice Department's investigation into Russian collusion in the 2016 election and possible obstruction of justice by President Trump; Don Jr., of course, is the president's son, and as a central figure in the campaign and presidency, has emerged as a key figure in Mueller's investigation.
None of that is evident in the photo Politico published, however. It depicts Mueller in business-casual, looking relaxed and reading a newspaper as he sits in gate 35X's waiting area at Reagan National Airport. On the other side of the frame is Don Jr., standing in a short line of people and holding a phone to his ear in a short-sleeved turquoise short and a beige, camouflage hat.
The image immediately sparked endless questions. Did the two men notice each other? Did they say hello? Was Don Jr. merely pretending to be on the phone to avoid talking to Mueller, as one person on Twitter suggested?
Shortly after the photo was published, a spokesperson for Mueller confirmed to ABC News that the image does indeed depict the special counsel.
"That is Mr. Mueller, waiting to board a flight," the spokesperson said in a statement. "If it's accurate that the other person in the photo was @DonaldJTrumpJr, Mr. Mueller was not aware of him and had no interaction with him."
It's unclear where either of the two men were headed, or if they were headed for the same plane. ABC's Ali Dukakis speculated that they may have been taking different flights, given that Mueller is sitting but Don Jr. is in some kind of line.
Don Jr. has become central to at least one focus of Mueller's investigation: The July 2016 meeting in Trump Tower between Don Jr., Russian lawyer Natalia Veselnitskaya, Don Jr.'s brother-in-law Jared Kushner and several other Trump officials. Don Jr. set up the meeting after being told that Veselnitskaya could provide incriminating information on Hillary Clinton — courtesy of the Russian government. This was revealed, in part, through Don Jr.'s personal emails, which he released himself after the story was reported.
Trump, who has steadfastly denied all allegations of collusion between his campaign and Russia, said that he didn't have knowledge of the meeting between Don Jr. and Veselnitskaya. But on Thursday, CNN reported that Michael Cohen, Trump's former lawyer, is prepared to testify to Mueller that Trump did have knowledge of his son's meeting before it happened.
The president denies that he knew anything about the Trump Tower meeting.
"I did NOT know of the meeting with my son, Don jr.," Trump tweeted Friday morning. "Sounds to me like someone is trying to make up stories in order to get himself out of an unrelated jam (Taxi cabs maybe?). He even retained Bill and Crooked Hillary's lawyer. Gee, I wonder if they helped him make the choice!"
The "taxi cabs" line is a reference to Cohen's taxi cab business. According to the Daily Beast, Trump is so angry at Cohen that he refuses to use his name in tweets anymore.
Over 5,000 passengers pass through Gate 35X every day, according to the Washington Business Journal. It's widely despised by those who frequent the airport, as it requires commuters to take an escalator and a shuttle bus before actually stepping on the plane.