R. Pattz & K. Stew Were Seen Together & It's Such A Blast From The Past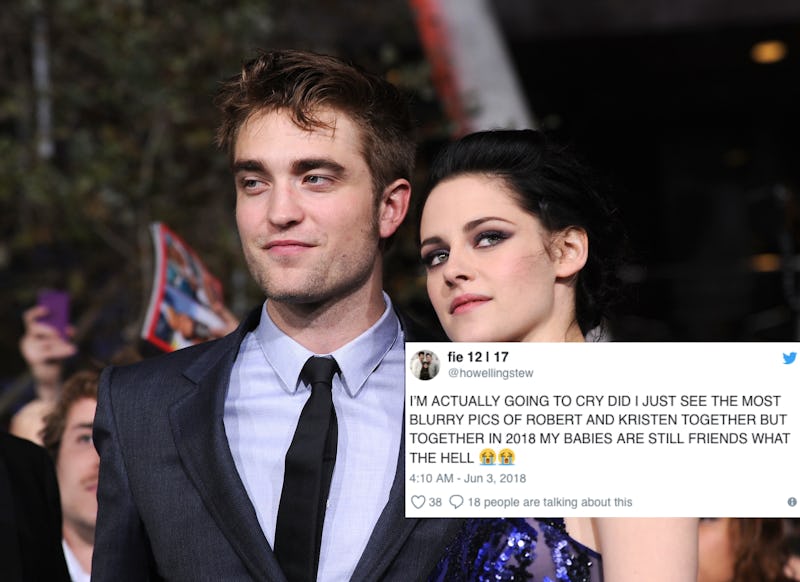 Kevin Winter/Getty Images Entertainment/Getty Images
Talk about a major blast from the past. According to a report from the Daily Mail, Robert Pattinson and Kristen Stewart were spotted together at a recent party in Los Angeles on June 2. And, yes, this is your cue to go wild, Twihards.
The publication noted that both of the Twilight stars were spotted at the same party, which was held for actor and model Lily-Rose Depp. While the photos that the Daily Mail posted are pretty blurry, they reported that both Pattinson and Stewart took a breather outside of the Chateau Marmont, the venue in which the party was being held.
This outing is extra notable because the last time they were photographed in public together was in 2013, which came prior to their split, per People. So, it's been a long time coming for all of those "Robsten" shippers out there to see their fave duo together.
Does this mean that the actors are on good terms again, following their 2013 breakup? That's really anyone's guess at this point. However, this Daily Mail report does seemingly bode well for their relationship.
When details emerged about Pattinson and Stewart attending the very same event, some Twitter users suitably went wild over hearing about Bella and Edward's real-life counterparts:
This new report comes only a couple of months after Pattinson and Stewart were rumored to have hung out in February. As ELLE noted, a Twitter user named Leah Cordova said that the pair came into the same bar she was in. She wrote in one tweet, "it just seemed like two friends hanging out." There weren't any photos released from the supposed hangout, with some fans wondering whether the user's report was true or not. Yet, Cordova, and another one of her friends, claimed that it was indeed true. If this story was correct and they saw each other at Depp's party, could it be that the former co-stars are rekindling their friendship?
As previously mentioned, it's been some time since they were linked together. The last time that the two were photographed was in 2013, shortly before their breakup. Pattinson and Stewart were seen holding hands at Coachella that year. But, that outing came only one month before People reported that they had called things off.
Prior to their final split, they briefly reconciled in September 2012, about two months after news broke about Stewart cheating on Pattinson with Snow White and the Huntsman director Rupert Sanders. The news of cheating scandal first emerged in July 2012 when photos were released of the actor and the director getting close in Los Angeles, according to Us Weekly.
Following the shocking report, Stewart released a statement regarding the incident and her message was, obviously, directed towards her boyfriend at the time, Pattinson. Her statement read, according to People, "This momentary indiscretion has jeopardized the most important thing in my life, the person I love and respect the most, Rob. I love him, I love him, I'm so sorry."
Following the couple's split, they've both moved on. Pattinson was most recently engaged to FKA twigs. Although, E! News reported in October 2017 that they've parted ways. As for Stewart, she also started dating again, including her relationship with Alicia Cargile.
It should be noted that there's no indication that anything romantic is going on between Pattinson and Stewart. Still, it's so interesting to hear that the pair were spotted out together recently, at all. And, obviously, news about the pair's recent party get-together has been such a delight for all of the Twihards out there.