Singer Chris Cornell Of Soungarden Has Died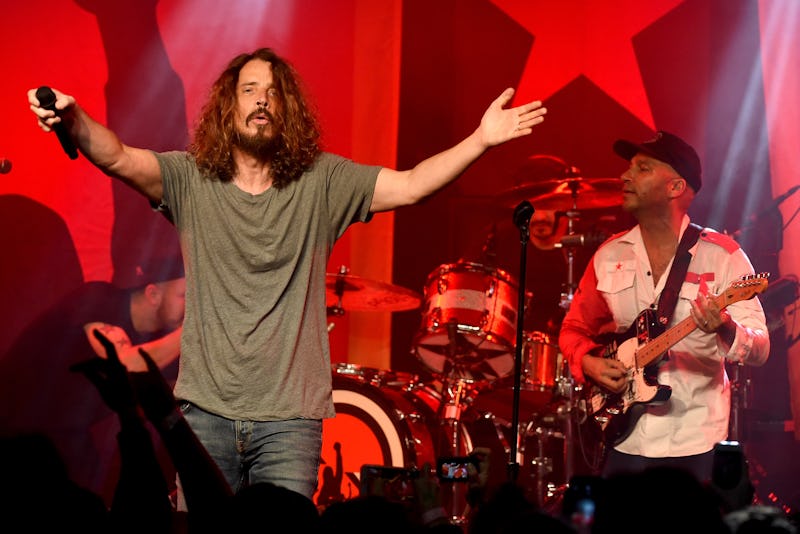 Kevin Winter/Getty Images Entertainment/Getty Images
Early Thursday morning, an iconic rock artist's representative Brian Bumbery released some sad news. Singer Chris Cornell had reportedly died at just 52 years old on Wednesday evening in Detroit, Michigan. His death, Bumbery expressed in a statement, was both sudden and unexpected. Anyone familiar with 90s grunge rock or the song "Black Hole Sun" will likely recognize Cornell's name, as he was the lead signer for Soundgarden, Audioslave, and Temple of the Dog.
UPDATE: According to the Associated Press, the medical examiner has determined that Cornell committed suicide by hanging. E! News reports that the Wayne County Medical Examiner's Office further explained that "a full autopsy report has not yet been completed."
EARLIER: As The Guardian pointed out, it's chilling that Cornell had tweeted about a show he performed in Detroit earlier Wednesday evening at the Fox Theatre. It read, "#Detroit finally back to Rock City!!! @soundgarden #nomorebullsh*t." And less than a month before that, he guest-starred on The Tonight Show Starring Jimmy Fallon, and sang a solo-track called "The Promise." The song is featured in a film, also called The Promise, directed by Terry George. Cornell reportedly donated all proceeds from the track to the International Rescue Committee, a humanitarian aid organization.
According to Bumbery's statement, which was first released to The Associated Press, Cornell's family is working alongside a medical examiner to find out more about the singer's tragic death. Thus far, those are the only details known by the public and the family has requested privacy during this obviously heartbreaking time.
Aside from launching grunge rock into mainstream stardom in the 1990s, Cornell also sang tracks for other films, including "You Know My Name" from 2006's Casino Royale. He had most recently released his fifth solo album called Higher Truth, which is promoted on the main page of his self-titled website.
Upon hearing news of his death, other artists from around the world have begun paying homage to Cornell via social media.
Right now, as opposed to focusing on his death, it seems only appropriate to celebrate both his artistic achievements and how he influenced those around him.