Music Legend Chuck Berry Has Died At Age 90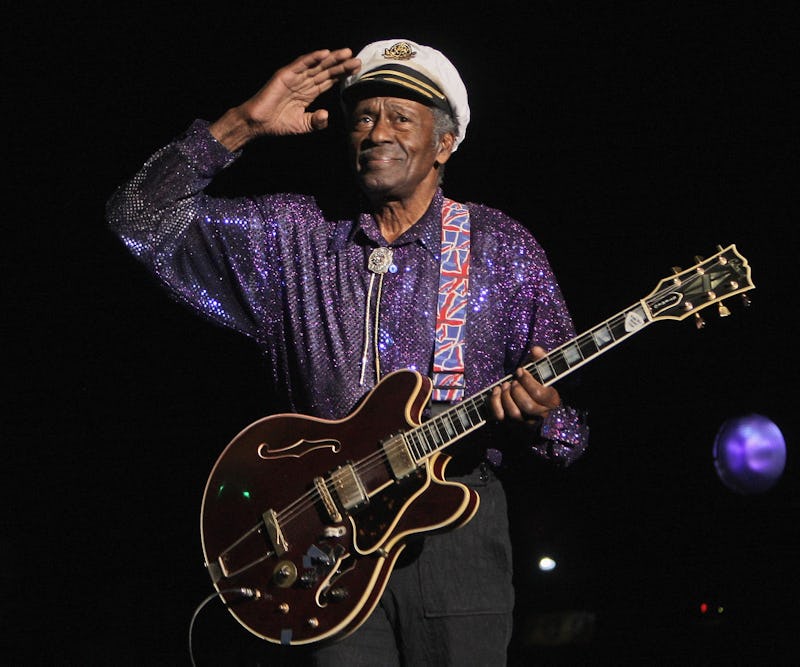 Francois Durand/Getty Images Entertainment/Getty Images
There's some sad news breaking late Saturday evening: Legendary rock & roll musician Chuck Berry has reportedly died at age 90, according to ABC News. The musician's death is a shock and entirely unexpected, especially for those who have been longtime fans of his music. The cause of Berry's death is not known at this time. A rep for Berry could not be reached by Bustle at the time of publication.
According to The Hollywood Reporter, Berry was reportedly found at his home at approximately 1:40 p.m. ET by St. Charles County police. In a more expansive Facebook post to the St. Charles County Police Department page, it was noted that first responders were called to Berry's residence and he was found unresponsive. Sadly, the singer reportedly did not respond to the emergency care administered by first responders and passed away at approximately 2:26 p.m. ET.
Berry was the definition a legend in the music industry. An expert guitarist and recognizable for his sharp tenor voice, Berry rose to prominence in the 1950s and stood among greats of the era like Ray Charles and Elvis Presley, who were also topping the charts. Berry's best-known hit songs include "Maybellene," "Johnny B. Goode," "Sweet Sixteen," and "You Can Never Tell." He is also credited with paving the way for many of the best loved musicians who followed after him. By The Hollywood Reporter's account, this includes artists like David Bowie, John Lennon, Eric Clapton, Jimi Hendrix, and AC/DC.
Berry was an invaluable voice and a true visionary in music. His contribution to the development of modern pop and rock music is immeasurable in its importance. There is no doubt that the outpouring of grief and thankful tributes to Berry's memory will be massive, simply because he touched the lives of so many people during his long and storied life. He will be greatly missed.