What Caused Chuck Berry's Death?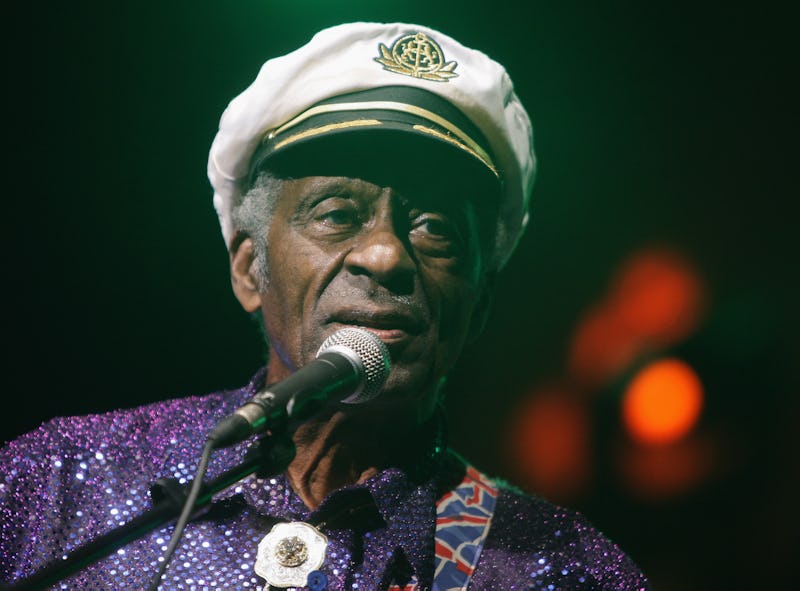 Francois Durand/Getty Images Entertainment/Getty Images
Heartbreaking music industry news broke on Saturday: Chuck Berry has reportedly died at age 90. The rock 'n' roll legend will surely be missed. In the wake of this news, you may be wondering, how did Berry die? According to ABC News, police in St. Charles County, Missouri reportedly responded to a medical emergency, but after attempting to perform life-saving measures, the musician could not be revived. It's undeniably devastating, although further details are not known at this time. (A rep for Berry could not be reached by Bustle at the time of publication.)
In the following statement on their Facebook page, the police department confirms Berry's death:
"The St. Charles County Police Department sadly confirms the death of Charles Edward Anderson Berry Sr., better known as legendary musician Chuck Berry.
The family requests privacy during this time of bereavement."
In terms of family, he had been married to Themetta "Toddy" Suggs since 1948 — nearly 70 years. Berry and Suggs had four children together. And when it comes to music, as you may know, Berry's impact is undeniable — he was inducted into the Rock and Roll Hall of Fame in 1986, alongside Elvis Presley. His songs "Johnny B. Goode" and "Maybellene" are classics.
Making the news all the more upsetting, The Guardian reported last October that Berry would be releasing a comeback album at age 90 in 2017. The record had reportedly been in the works for years, according to a statement he gave to The Guardian, which said, "I'm growing old! I've worked on this record for a long time. Now I can hang up my shoes!"
It's unknown whether the album will still be released posthumously, but here's hoping fans get to hear new music from him one last time. Regardless, his impact will be felt for years to come, and Berry won't be forgotten.