Ailes' Son Warns He Will Come After The People Who "Betrayed" His Father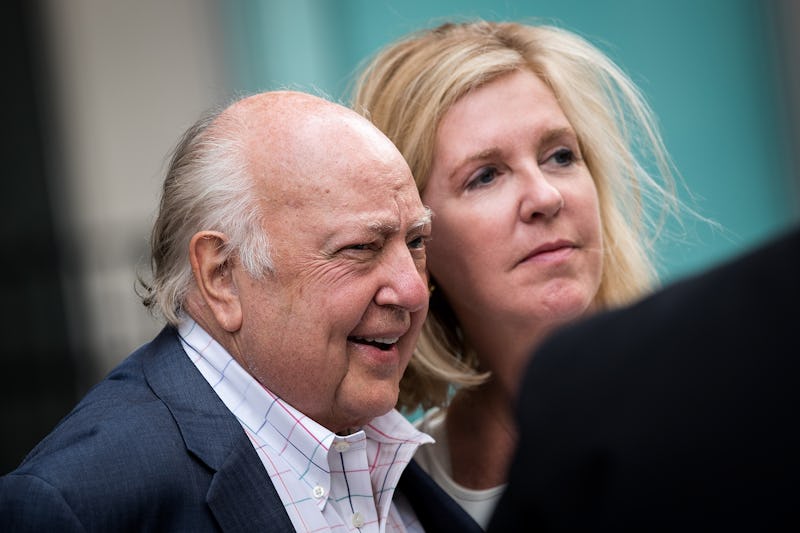 Drew Angerer/Getty Images News/Getty Images
Roger Ailes' funeral reportedly took a rather ominous turn Saturday when the former Fox News founder, chairman, and CEO's son issued a direct threat to anyone who had "betrayed" his father. Ailes' death came less than a year after allegations of sexual harassment from nearly a dozen women forced him to resign from the news network he'd founded some 20 years earlier. According to a report from LifeZette — a site founded by conservative media personality Laura Ingraham, who also attended the funeral — Ailes' teenage son reportedly threatened to go after "all the people who betrayed my father" in a eulogy he delivered during the service at St. Edward Roman Catholic Church in Palm Beach, Florida.
"I want all the people who betrayed my father to know that I'm coming after them and hell is coming with me," LifeZette reported Ailes' 17-year-old son Zachary said in a speech given at his father's memorial service.
Although Zachary did not direct his threat toward anyone specific, LifeZette claimed he sought to "clear his father's name" following the slew of damning sexual harassment allegations that had ultimately forced Ailes from Fox News. In early July 2016, former Fox News personality Gretchen Carlson filed a sexual harassment suit against Ailes, which was settled in September for $20 million. Shortly after Carlson filed her lawsuit, six other women came forward with allegations they had been harassed by Ailes as well. Over the next few weeks, more women came forward and Ailes, who had denied each and every allegation made against him, was reportedly forced to resign from Fox News by 21st Century Fox executive chairman Rupert Murdoch on July 21, 2016.
But while lawsuits and scandalous allegations defined the last few years of Ailes' life, the controversy may not have bothered the media mogul too much. "He considered how much certain people hated him as a measure of success," Zachary reportedly said about his father's ability to look past critics.
But even though Ailes may have considered his haters a sign of his success, and died while still fighting lawsuits and allegations of sexual assault raised against him, he still had a network of friends and family who continued to support him. Kimberly Guilfoyle, a co-host of Fox News' The Five, for example, described Ailes at the memorial service as a "champion of women," LifeZette reported.
Ailes died May 18 at age 77 from "complications of a subdural hematoma after he fell at home" and injured his head, according to a report from the Palm Beach County Medical Examiner.