See The Cover For Tessa Dare's Latest Romance!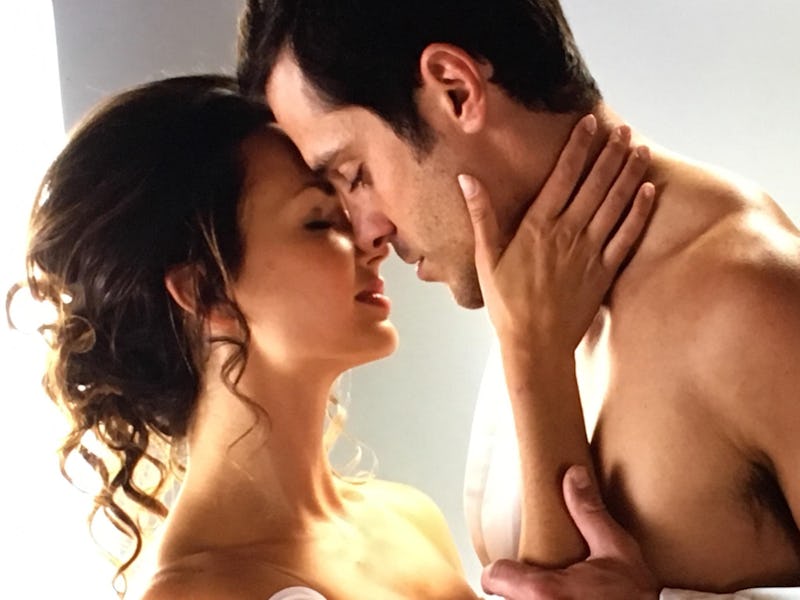 Have you ever wondered what goes on behind the scenes at a romance novel cover shoot? Bestselling romance novelist Tessa Dare took a trip on the set for the cover of her new book The Duchess Deal — and took some super-sexy action shots. The cover itself is steamy AF — and we've got an exclusive reveal of it below. Warning: may cause heart palpitations.
The Duchess Deal, which will hit bookstores on August 29, is about the strict contract between the Duke of Ashbury and his new wife — and a love story that will break all the rules. It all starts when the Duke returns from war in need of an heir — which means he needs to get married. When seamstress Emma Gladstone appears in his library in a wedding gown, he decides to marry her on the spot — with a few strict conditions.
They will be husband and wife by night only.
No lights, no kissing.
No questions about his battle scars.
And most importantly... Once she's pregnant with his heir, they need never share a bed again.
It all seems so simple — until Emma introduces a few rules of her own. Like that they have to have dinner together every evening, with conversation, and unlimited teasing...
If you're already getting shivers, just wait until you see the bodice-ripping sexual chemistry that Tessa Dare captured behind the scenes between the two cover models.
Before I give you the grand reveal of The Duchess Deal's cover, check out this sweet snap of author Tessa Dare with her two off-duty stars.
And yes, you do recognize that hunky guy; Ken McNickle was the runner-up on Survivor: Millennials vs. Gen X. That explains the impressive bod then...
All right, I've kept you waiting long enough. Deep breaths everyone, here is the impossibly sexy cover for The Duchess Deal.
The Duchess Deal: Girl Meets Duke by Tessa Dare, $6, Amazon
The Duchess Deal is the first in Tessa Dare's new Girl Meets Duke series, so we've got plenty of saucy adventures ahead of us between Emma and the Duke. Until this one comes out in August, though, we'll just have to content ourselves by staring open-mouthed at this cover.