This 'Bachelorette Weekend' Star Also Has A Company For Dogs Doing Yoga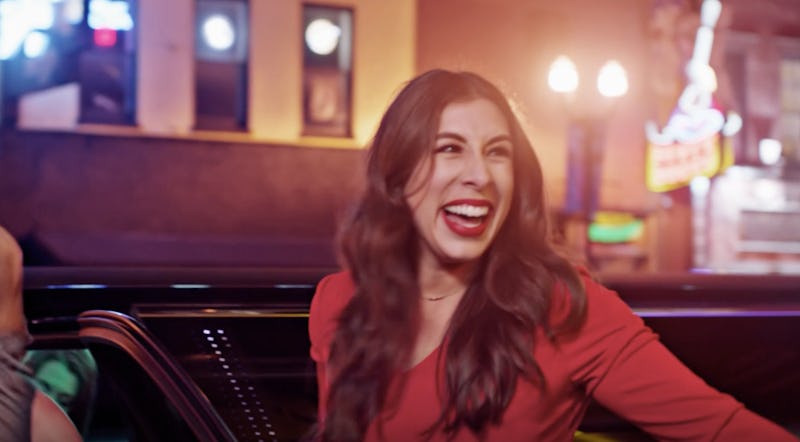 CMT
Rosa Castano knows what she wants in life, and she's not afraid to work hard for it. Not only is she the senior director of sales for bachelor/ette party planning company Bach Weekend, but Rosa also appreciates the power of a good dog, brent. The reality star, soon to be featured on CMT's Bachelorette Weekend — which chronicles the behind-the-scenes at Rosa's Bach Weekend job — isn't just in the party business.
When she's not planning the perfect 48-hour bachelor/ette getaway, she's playing with her pooches — who eventually became the inspiration for Yoga With Dogs. "If you've ever tried to do yoga with a dog in the vicinity, you know they see it as only one thing: PLAY TIME!" Rosa wisely notes on the Yoga With Dogs website. The company mostly revolves around the successful Instagram of the same name, where yoga enthusiasts and their proud pups are featured. Scrolling through the YWD feed is basically just as relaxing as doing actual yoga TBH.
Aside from her pet project (see what I did there?) Rosa's LinkedIn notes that she is also the senior director of sales at Rocket Experiences, which was recently launched by Bach Weekend founder Robbie Goldsmith. Much like Bach Weekend, Rocket Experiences is an event planning service, this time for team building. As for her own team, most of Rosa's Bach Weekend co-workers can be seen letting loose in trailers for the new show, while Rosa is in the background looking serious and/or stressed AF.
She may work at a party company, but she's all business according to her CMT bio, which calls her Mrs. Perfectionist. The 28-year-old is touted as a "problem-solver" who is serious about her job and seeks to "find the most logical solutions and solve issues quickly and effectively." There's also already drama with her, because her bio says she doesn't always get along with partnerships manager Liz, who's a little more hot-headed than Rosa.
But, just because she takes her role in the company seriously doesn't mean she doesn't know how to have fun. Her bio reveals that she even had Bach Weekend plan her own bachelorette party extravaganza when she recently got married. She also notes in her Bach Weekend site bio that she's "first to order cheese dip and the second margarita at a Mexican restaurant." She also brags that she can "crochet a mean scarf and beanie." So, you know, she's someone you want to be friends with.
Viewers won't get to see Rosa's own bachelorette party when they tune in to Bachelorette Weekend on Aug. 2 at 11 p.m. ET on CMT, but they will get to see Rosa and the other Bach Weekend crew members wrangle their clients for unforgettable party experiences.
As the show's synopsis teases, "[The team works] tirelessly to ensure their high-maintenance (and often inebriated) clients have a flawless experience." And, it's do or die for the employees who all have a financial stake in the company. They have to succeed, because their business and career depend on it. Fortunately, Rosa certainly seems up to the task.