Rose Leslie's Wedding Dress Was Classic, Lacy & Actual Bridal Perfection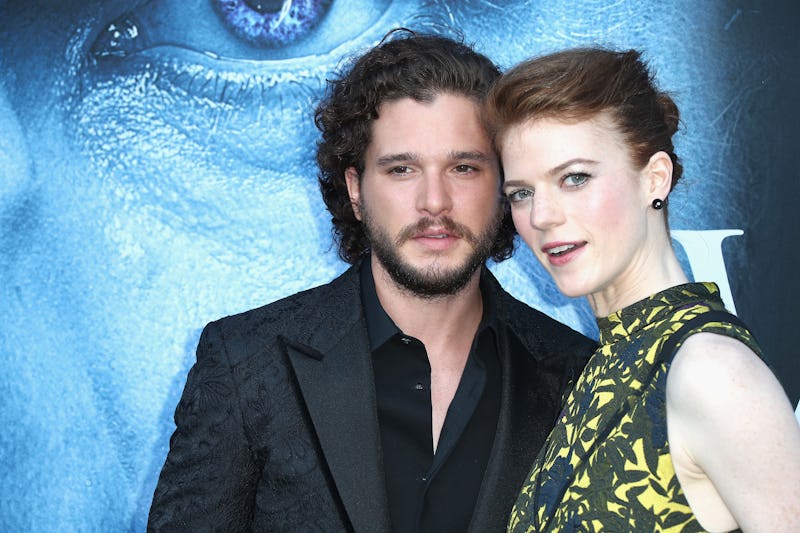 Frederick M. Brown/Getty Images Entertainment/Getty Images
Not only did we gain a new Duchess of Sussex this year, but we also gained a new Queen of the North. The long-awaited second royal wedding of the year happened between Rose Leslie and Kit Harrington on June 23. And you have to see Leslie's dress. It's downright regal.
The Games of Throne's co-stars tied the knot at Rayne Church in Aberdeenshire, Scotland where Leslie is from originally. The couple met on the set of Game of Thrones in 2011 playing each other's love interest on the show. It seems that their on-screen chemistry transferred to real life romance as they announced their engagement in October 2017.
Seeing as the eighth and final season of Game of Thrones doesn't premiere until 2019, the wedding has been a long-anticipated event. Game of Thrones fans everywhere have been patiently waiting to see what the wedding between the Crow and the Wildling would look like, and it seems that the Old Gods have finally answered our prayers.
The reception took place at the Wardhill Castle (a 900-year-old castle which Leslie's family just so happens to casually own), so it only seemed fitting that Leslie looks like actual royalty on her wedding day.
Leslie wore an elegant vintage style fit-and-flare ivory gown with a sweetheart neckline, dramatic skirt and elegant details from head to toe. The dress featured lace sleeves with floral applique and embroidery that blended seamlessly into the bodice of her gown, and a thin belt at the waist. Leslie finished the look with an ivory flower crown underneath a cathedral style veil that billowed behind her.
You can take a peek at the look here.
The gown that has everyone talking was designed by Lebanese designer Elie Saab. Elie Saab is known for his intricate details. As an expert in beading and lacework, his gowns look to have stepped right out of a fairy tale. Saab's work has also been seen on various royal members and celebrities such as Beyoncé, Angelina Jolie, and Celine Dion.
Leslie looked like an actual vision in white stepping out of the car with her father, Sebastian Arbuthnot-Leslie. Her father wore a traditional Scottish kilt which added to the whole royal fairytale vibe. Kit Harrington appeared earlier looking dashing as always wearing a black jacket, cream vest, and grey striped trousers. Jon Snow may know nothing, but Kit Harrington sure knows how to dress.
The wedding was attended by 200 of their family and friends. The romantic ceremony was a star-studded event full of fellow Game of Throne's co-stars such as Maisie Williams, Sophie Turner, Peter Dinklage, and Emilia Clarke. While all of them were dressed impeccably, no one could steal the show from the radiant bride and the huge smile she has in all the photos from the day.
It looks like Jon Snow and Ygritte finally got their happy ending (sorry Daenerys). It's nice to know that a Game of Thrones wedding can actually happen without an all-out bloody massacre, somebody getting poisoned, or a bride being forced to marry (here's hoping third time's the charm Sansa).
Seeing as the they are only producing one more season of our beloved show, I think it's only fair that HBO promises to film any future Game of Thrones weddings for us. Seeing as Sophia Turner is engaged, I expect nothing less than a wedding fit for the wardress of the North.