Stop Everything, 'Game Of Thrones' Fans: Kit Harington & Rose Leslie Just Got Married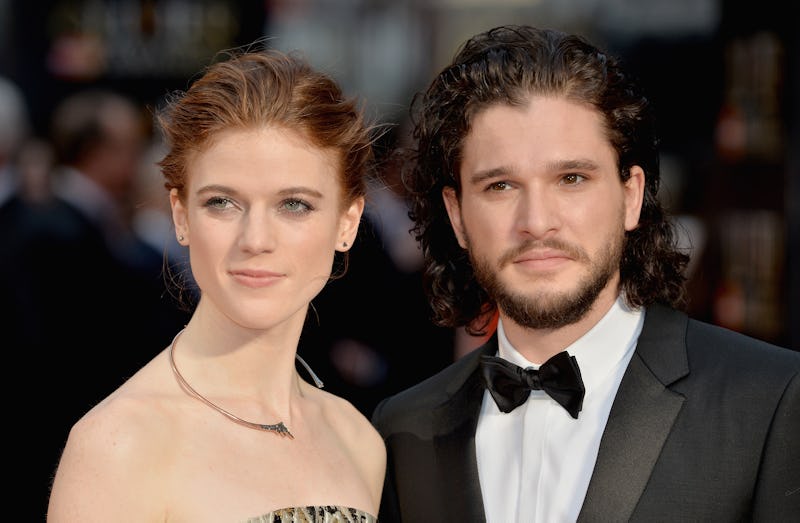 Anthony Harvey/Getty Images Entertainment/Getty Images
Grab the tissues, Game of Thrones fans, because Jon Snow and Ygritte just made it official: Kit Harington and Rose Leslie got married in Scotland on Saturday, June 23, according to multiple media outlets. The couple originally met on the show and confirmed their engagement in September 2017. The wedding made headlines when it was revealed they'd be shutting down production on the HBO show to accommodate literally everyone involved with the series — no, really, it seems like everyone was invited — and again, when an eagle-eyed fan spotted their announcement in the local paper.
After an impossibly long wait, and way too much Game of Thrones post-Ygritte (RIP) the magical day has finally arrived, and the Wildling and the Crow are together forever. According to photos from People, Leslie looked gorgeous in a lacy, long-sleeved gown and breathtaking, delicate veil. Harington looked perfect in a tux. Worth noting: He had his Jon Snow flow on point, which means they're probably not finished shooting Game of Thrones Season 8 yet. Otherwise, it's possible he would have shaved his in-character scraggly beard for the occasion. (Harington has long lamented his inability to grow a more fearsome one, but let's be real: He could pull off any look he wanted.)
As promised, Snow's on-screen half-siblings — well, cousins, but he doesn't know that yet — rolled up to the event, ready to party like it was the last night on Westeros. Sophie Turner and Maisie Williams arrived together, looking dope, and Emilia Clarke rocked millennial pink. Even Peter Dinklage, the cast's lone American actor, made it to Scotland for the nuptials. And not just anywhere in Scotland, either. The newlyweds picked a legitimate legendary castle for the site of their big day. Lest you wedding planners feel the prickle of anxiety at your back just imagining what it was like to secure the castle for a June wedding, rest easy; the Leslie family already owned it. Casual.
Despite the scenic setting and high-profile pair, most of the other Game of Thrones attendees managed to fly under the radar on their way to the big day. While you may hope that celebrities can do something as commonplace as spending a beautiful June Saturday attending a friend's out-of-town wedding without it causing a scene, the reality is: They cannot. At least, not when they've been on Game of Thrones together since 2011 (or in Leslie's case, a little later). Plus, fans are eager to learn even the tiniest nugget of information about Game of Thrones Season 8, so having the majority of the cast and crew — it's estimated that 200 guests were present for the wedding, according to Harper's Bazaar — all in one place is just too exciting to bear. Fans and well-wishers have crowded around the castle all day in anticipation of glimpsing their favorite stars.
Even if stars like Turner, Williams, and Clarke have haven't posted from Harington and Leslie's big day yet, that doesn't mean it's all quiet on the Scottish front. Sebastian Leslie, the bride's father, spoke with ABC news and had nothing but positive things to say. "I'm absolutely thrilled about the wedding," the actor's dad gushed, "It's an absolutely lovely day for us."
To be honest, it's an absolutely lovely day for everyone. The Game of Thrones stars had feelings about this couple on and off screen for years. People are emotionally invested in Jon Snow and Ygritte's IRL relationship. So to see them have a beautiful wedding, on a gorgeous day, surrounded by cast members from the HBO hit? Bliss. The only thing that could have made it a little better is if one of Daenerys' dragons had swooped by to congratulate them. But since the dragons are probably not real, so the wedding photos will have to do.