Rose McGowan Will Replace Bernie Sanders At The Women's Convention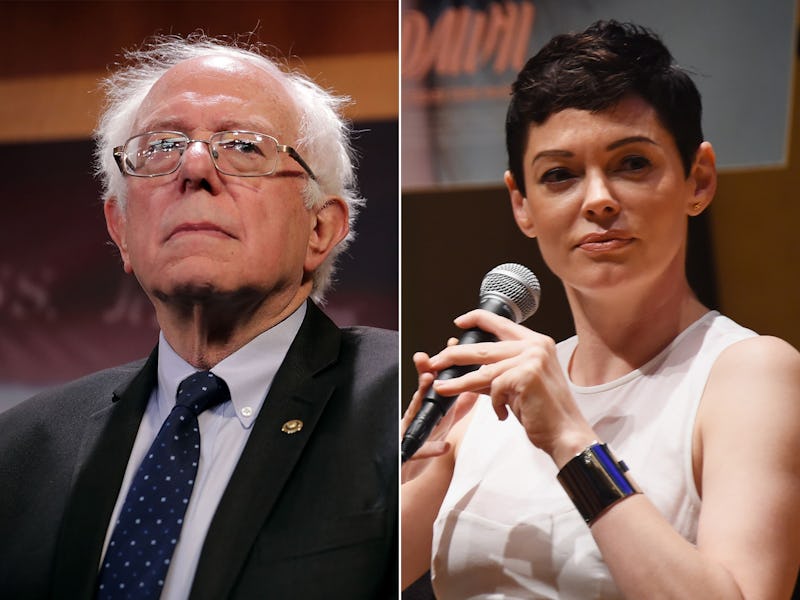 Chip Somodevilla/Getty Images News; Michael Loccisano/Getty Images Entertainment/Getty Images
Who will speak on opening night at this weekend's Women's Convention in Detroit drew suspense after Sen. Bernie Sanders backed out amid criticisms that a man shouldn't headline a women-centric event. The Vermont Independent will instead travel to Puerto Rico to determine what further hurricane relief efforts are needed, and actress Rose McGowan will take Sanders' speaking spot at the convention.
The three-day event put on by the Women's March will include workshops, strategy sessions, and forums geared toward preparing women, femmes, and allies for the 2018 midterm election. Organizers expect more than 3,000 people to attend, including big names in progressive politics such as Maxine Waters (the theme, "Reclaiming Our Time," was inspired by Waters, after all).
McGowan will start the weekend, with organizers saying in a press release that she "will bring her special brand of fire to help kick off the Women's Convention." And because she's been an outspoken advocate for survivors, she'll also participate in a panel titled "Fighting for Survivors of Sexual Assault in the Age of Betsy DeVos." The actress recently joining others in accusing filmmaker Harvey Weinstein of sexual assault (he denies all claims of non-consensual sex) and accused Ben Affleck of knowing of Weinstein's alleged abuse.
The convention will be McGowan's first public speech since she started a Twitter storm about the allegations she lodged against Weinstein, which eventually led to the creation of the hashtag #ROSEARMY. After dozens of women's claims of sexual misconduct against him were made public, Weinstein was pushed out of The Weinstein Company and expelled from the Academy of Motion Picture Arts and Sciences. (Weinstein has roundly denied all allegations of non-consensual encounters.) McGowan hasn't commented on what she'll speak about on Friday, but it's likely Weinstein's name will come up.
Before it was announced McGowan would take his place, Sen. Sanders issued a statement last week about why he was backing out of the convention, wishing its organizers a successful event.
"I want to apologize to the organizers of the Women's Convention for not being able to attend your conference next Friday in Detroit," he said. "Given the emergency situation in Puerto Rico, I will be traveling there to visit with San Juan Mayor Carmen Yulín Cruz and other officials to determine the best way forward to deal with the devastation the island is experiencing."
Although Sanders didn't mention it as a reason for cancelling, the strong backlash the Women's March received for choosing a man to offer the opening remarks could have played a part in his decision. Well-known feminists including author Roxane Gay and EMILY's List President Stephanie Schriock tweeted about their disappointment directly to the Women's March.
The complaints and concerns didn't go unheard. The Women's March quickly responded, pointing out that there was a little confusion in what role Sanders would play.
"We acknowledge the announcement about Senator Senators gave the impression he is occupying a central role at the convention," the group wrote in a tweet thread. "The #WomensConvention is, and always was, about centering the voices of women, and women of color in particular."
The organizers also pointed out that the three-day event will boast over 100 workshops, all led by women (and predominantly women of color).
Nevertheless, critics wanted a woman to deliver the Women's Convention's opening remarks, and Sanders' subsequent withdrawal didn't seem entirely coincidental. The fact that McGowan is a woman and outspoke advocate for survivors of sexual harassment and assault seemed to ease many minds, as the announcement didn't incite the same negative feedback on Twitter as the original news that Sanders would speak.
If you're unable to attend the convention, but want to hear McGowan's speech, follow along on the Women's March's Twitter account or others' in attendance live-tweeting her remarks.