Roseanne Retweeted A Theory That Michelle Obama Was Involved In Her Show's Cancellation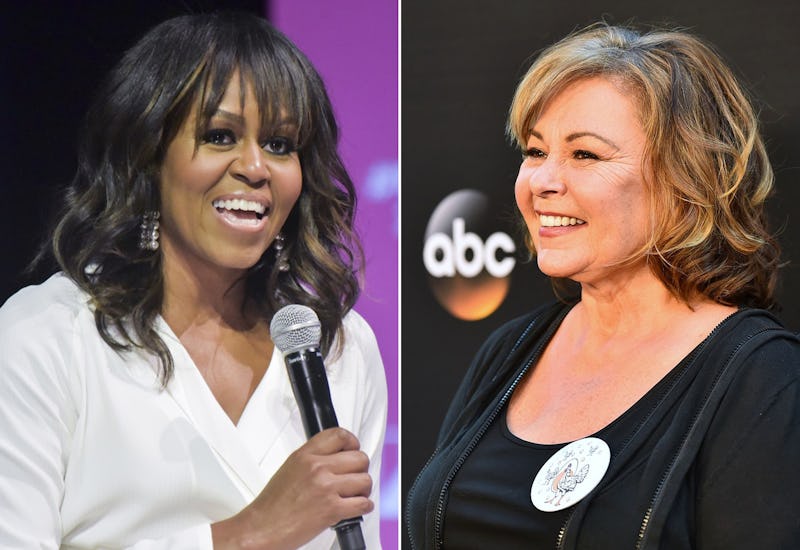 Rodin Eckenroth/Getty Images Entertainment/Getty Images; Alberto E. Rodriguez/Getty Images Entertainment/Getty Images
Just two months ago, Roseanne Barr was celebrating the revival of her sitcom — Roseanne — following a two-decade hiatus. But on Tuesday, after tweeting a racist statement about former Obama adviser Valerie Jarrett, Barr found herself with a canceled show as ABC meticulously removed Roseanne reruns from its various web platforms. Just one day later, Roseanne Barr appeared to blame Michelle Obama for her ouster in a retweeted conspiracy, and suggested to her Twitter followers that she plans to fight ABC's decision.
Shortly after ABC canceled her sitcom revival, Barr retweeted a theory from Twitter user @therealcornett that an "enraged" Michelle Obama had convinced ABC President Channing Dungey to cancel Roseanne. The tweet speculated that Obama was unsatisfied with a mere apology, and wanted ABC to go one step further by canceling Barr's show. Barr subsequently replied to @therealcornett asking if the theory was true, and suggesting that it was actually fake.
She proceeded to ask her followers for sources that would confirm Obama's involvement in her show's cancellation and did not appear to receive any. However, Barr concluded her Twitter comments about the theory with another retweet; this one suggested that it would not be surprising if Obama had been involved, especially after the attention the Obamas' new Netflix deal received. Barr recently mocked the Obamas over the Netflix deal, and her retweet suggests that Obama is now responding in kind.
In addition to the theories about Obama, Barr has also tweeted a number of other responses to her fans, followers, and ABC. In one tweet following her sitcom's cancellation, Barr insisted that she has never been and never will be racist, and argued that she had made a single "stupid joke a lifetime of fighting 4 civil rights 4 all minorities." During a long night of tweeting, Barr expressed her apologies to Jarrett multiple times, and denounced what she described as her "terrible mistake."
However, Barr returned to Twitter on Wednesday in a much more combative spirit, The New York Times reported. She retweeted numerous statements of support — one of which came from Donald Trump, who wondered why ABC had apologized to Jarrett for Barr's comments but not to him for "the HORRIBLE statements made and said about me" on the network. Barr and Trump have often supported each other in the past, and The New York Times reported that the revival of Roseanne was a strategy by network executives to attract larger audiences in light of Trump's election victory.
In a series of replies to her Twitter followers, Barr argued that "diversity is not allowed on the left," and she retweeted arguments from fans who believed that ABC went too far by canceling Roseanne. According to CNN, Barr said that she would leave Twitter on Tuesday, but she seems to have changed her mind. Her retweets of the Obama theory were not the only controversial comments she made on Twitter following her show's cancelation; she also attempted to attribute her racist tweet to Ambien, a medication that is used to treat insomnia. Sanofi — the pharmaceutical company that manufactures Ambien — was quick to respond:
People of all races, religions and nationalities work at Sanofi every day to improve the lives of people around the world. While all pharmaceutical treatments have side effects, racism is not a known side effect of any Sanofi medication.
Barr initially asked that her fans not step in to defend her after her show was canceled, but she appeared to backtrack on Wednesday. She asked her followers to help her garner more support on social media, arguing that she was "tired of being smeared." After various conversations with her Twitter followers, Barr suggested that she was going to fight ABC's decision to cancel Roseanne:
"You guys make me feel like fighting back," Barr tweeted on Wednesday. "I will examine all of my options carefully and get back to U [sic]."