The Internet Is So Split Over Roxanne Pallett's 'CBB' Interview With Emma Willis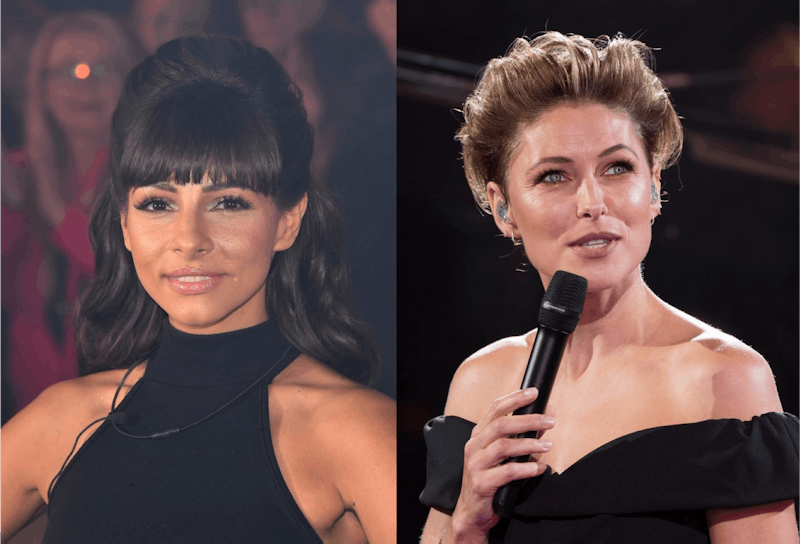 Stuart C. Wilson/Jeff Spicer/Getty Images Entertainment/Getty Images
Last night saw one of the most anticipated moments of the CBB series to date: Roxanne Pallett's Celebrity Big Brother exit interview. Two days after leaving the house, the former Emmerdale actress returned to the show on Monday to speak to host Emma Willis about the claims she made against Ryan Thomas. Earlier in the day, she said, during an appearance on the Jeremy Vine Show, "I massively apologise to not just Ryan but his family, his friends, his fans, every single person who watched that."
Willis spoke to Pallett at the end of Monday's episode, and her line of questioning was unforgiving. She asked Pallett about her allegations, "How can you get something so wrong in your head?" Pallett explained, "How it felt when he did it, it hurt. I can't prove a feeling, no one can. And the more I thought about it, it became heightened, and I convinced myself he meant to do that. And when I watched it back — the first thing I did when I got back was watch that, and immediately I realised."
Pallett further detailed: "I think it's because I didn't think he liked me, and the feeling I had afterwards was almost like, I convinced myself that it was done with malice, and it wasn't, and I know it wasn't now."
Willis continued, "Did you ever consider the implications that it would have on him? Can you imagine if those cameras hadn't been there? You would have ruined somebody," to which Pallett responded, "I know. I feel devastated. It cripples me with embarrassment and shame that I could have put somebody in that position." She later added, "The fact that I used terminology like 'woman beater' and I used words like 'assault' and 'abuse' — I can't apologise enough."
Throughout the conversation, Pallett appeared visibly upset and profoundly regretful. Some viewers praised Willis' blunt approach to the interview, as Metro reports. It was difficult, however, to observe the apparent absence of compassion for Pallett, who apologised profusely for her actions and repeatedly told Willis, "I got it wrong."
During the interview, Pallett alluded indirectly to her past experience of domestic violence, telling Willis, "A lot of things in my past have made me a little too fragile."
Women's Aid head of campaigns and public affairs Sian Hawkins previously told Bustle that the incident with Ryan Thomas, however playfully intended, could have brought back "frightening" memories for Pallett, adding, "It is so important for us to show understanding and empathy for someone who is clearly upset by certain behaviours rather than blaming them for overreacting."
During the exit interview, Willis asked the Emmerdale actress, "Would you forgive you?" Pallett responded, "I would want to," before tearing up. Willis said nothing in response, simply removing her earpiece and telling the crew, "Thanks, everyone," to signal the end of the interview. The Sun reports that she later told Rylan Clark-Neal, on Celebrity Big Brother's Bit On The Side, "It was hard, it was uncomfortable but that's what was necessary." Representatives for Willis declined to comment.
Pallett called herself "the most hated girl in Britain" during her interview with Willis, saying, "It's the title I feel everyone's giving me at the moment, and all I can do is own it, accept it, and apologise, and try to take each day now bettering all of those things that I'm realising."
Since the televised chat, Pallett has been roundly attacked on social media, with several people making judgements about her mental health — a profoundly damaging and stigmatising action.
Much of the conversation around Pallett, and indeed her interview with Emma Willis, has focused on the potential impact of her accusations on Thomas. While the incident was evidently distressing for Thomas, and it's understandable that people would seek to defend him over an apparent false accusation, does Pallett really deserve such severe vilification? She's acknowledged her error, apologised repeatedly and sincerely, and indicated why an ostensibly harmless event might have been acutely painful for her to experience — would it really be so difficult to extend her some compassion?