Roy Moore Asks For "Emergency" Donations Amid Allegations He Sexually Assaulted A Minor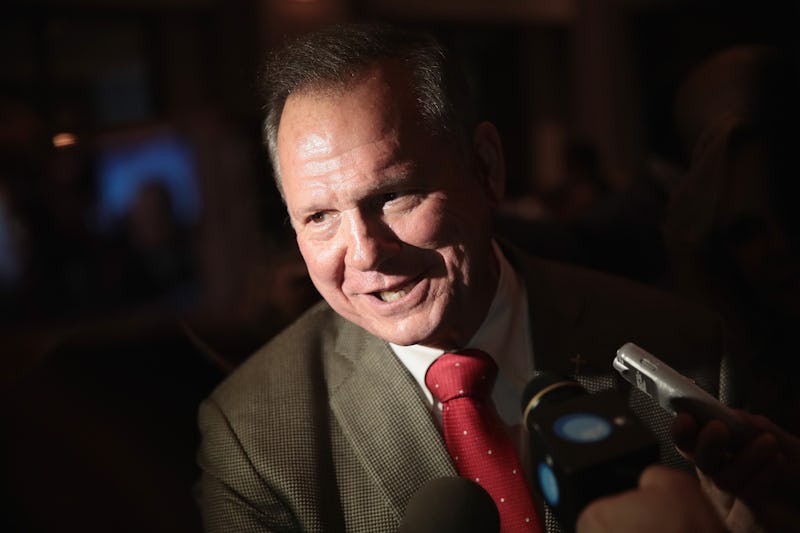 Scott Olson/Getty Images News/Getty Images
Hours after The Washington Post published a story in which several women accused the Senate candidate of pursuing relationships with them while they were teenagers — one of whom alleges she was 14 at the time, and that he sexually assaulted her — Roy Moore sent out a fundraising email, according to Politico, asking for donations. (Moore has denied all allegations, calling them a "completely false and a desperate political attack.") In the email, Politico reported that Moore requested an "emergency contribution" in light of the allegations, which he previously described as "garbage" and the "very definition of fake news."
"The Obama-Clinton Machine's liberal media lapdogs just launched the most vicious and nasty round of attacks against me I've EVER faced," Moore reportedly wrote in the fundraising email. "I won't to get into the details of their filthy and sleazy attacks."
Moore is the Republican candidate in a special election in Alabama to fill the Senate seat vacated by Attorney General Jeff Sessions. The election is slated to take place on Dec. 12. He is reportedly leading in pre-election polling.
In his fundraising request, Moore pleaded for his Christian base to continue to support him, even as many Republican leaders told the press that Moore should resign if the allegations against him are true. Sen. John McCain described the Post report as "deeply disturbing," and called for Moore to quit the race.
"He should immediately step aside and allow the people of Alabama to elect a candidate they can be proud of," McCain said in a press release.
If his fundraising email is any indicator, Moore appears undeterred. According to Politico, his email claimed:
The forces of evil will lie, cheat, steal — even inflict physical harm — if they believe it will silence and shut up Christian conservatives like you and me. Their goal is to frustrate and slow down our campaign's progress to help the Obama-Clinton Machine silence our conservative message. That's why I must be able to count on the help of God-fearing conservatives like you to stand with me at this critical moment.
At the center of the Post report in question is a woman named Leigh Corfman, who alleges that Moore attempted to initiate a sexual interaction with her when she was only 14 years old. Moore, at the time an assistant district attorney in the state, was 32. As Corfman tells it, she and her mother were sitting outside of an Alabama courthouse when Moore approached them and introduced himself. He then reportedly volunteered to keep an eye on Corfman while her mother handled some legal matters inside.
According to Corfman, he then asked for her phone number, and several days later picked her up near her house. Corfman told the Post that Moore then took her to his home, where he allegedly kissed her. During a second encounter, where Corfman again picked her up and brought her to his home, Corfman says that Moore took off his clothes and allegedly began to touch her over her underwear. Corfman claims that Moore took her hand and allegedly placed it on top of his underpants. She said she felt uncomfortable and asked him to take her home, and she said he did. Corfman is one of four women interviewed in the report who claim that Moore tried to initiate relationships when them when they were teenagers. In keeping with the tone of his fundraising email, Moore has voraciously denied the allegations presented in the Post story.
His campaign chair, Bill Armistead, said in a press release:
Judge Roy Moore has endured the most outlandish attacks on any candidate in the modern political arena, but this story in today's Washington Post alleging sexual impropriety takes the cake. ... The Washington Post has already endorsed the Judge's opponent, and for months, they have engaged in a systematic campaign to distort the truth about the Judge's record and career and derail his campaign.
Moore's future as a potential senator seems unclear. Critics on both sides of the aisle were quick to point out that Donald Trump, also a Republican, was elected even after he faced a slew of allegations about his own alleged sexual misconduct. Trump has repeatedly denied all allegations against him, and claimed that his accusers are liars.
On Friday, White House Press Secretary Sarah Huckabee Sanders said that Trump does not believe "a mere allegation" should "destroy a person's life." She added: "However, the president also believes that if these allegations are true, Judge Moore will do the right thing and step aside."