Roy Moore Tries To Discredit His Accusers & Blasts Their Allegations As "Fake News"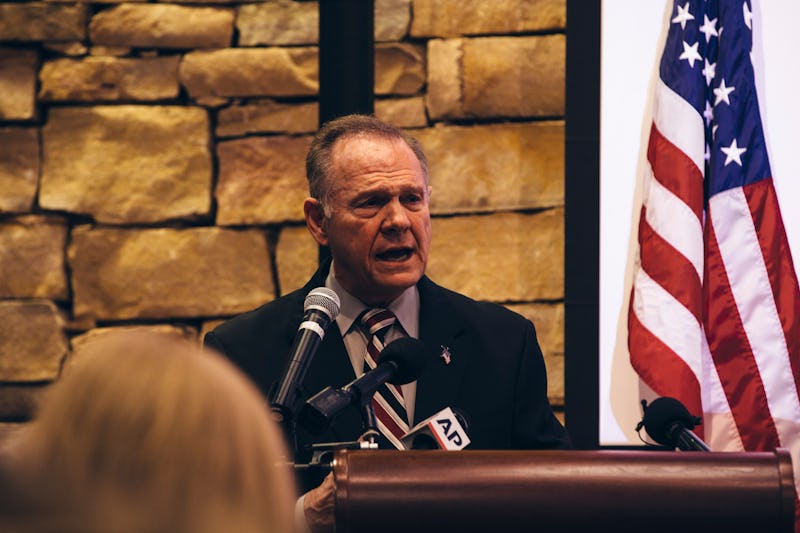 Wes Frazer/Getty Images News/Getty Images
On Thursday, Nov. 9, the U.S. Senate race in Alabama became the sudden focal point of an immense amount of scrutiny. Republican senate nominee Roy Moore, formerly a member of the state's Supreme Court, was accused of allegedly molesting a 14-year-old girl in 1979 and pursuing relationships with teenage girls in an explosive report from The Washington Post. Moore has flatly denied the allegations, calling it "completely false." And now, after defiantly refusing to withdraw from the race, Moore is publicly trashing his accusers, calling their allegations "a prime example of fake news."
Moore was speaking in Vestavia Hills, Alabama, a suburb of Birmingham, on Saturday, as part of the Mid Alabama Republican Club's commemoration of Veterans Day. It was his first public appearance since the Post's shocking story went live, and there was a heavy national press presence in attendance.
The 70-year-old Senate candidate didn't keep his remarks focused on the occasion, however. To the contrary, he used the opportunity to forcefully deny the allegations that he molested a woman when she was 14 and he in his thirties, as well as pursued relationships with three women when they were between the ages of 16 and 18. Moore also suggested they were manufactured to do damage to his campaign.
Moore invoked his wife, daughters, and granddaughters to try to distance himself from The Washington Post's report, which was reportedly supported by interviews with more than 30 different sources.
"But more than being completely false and untrue, they're very hurtful to me personally. I've been married to my wife Kayla for nearly 33 years," Moore said, according to Politico. "We have four children. I have one daughter and I have five granddaughters."
Moore paired a blanket denial with an attack on The Washington Post, accusing the paper of trying to derail his campaign with decades-old allegations, and launching attacks on his "character" and his "reputation."
"These attacks involve minors, and they're completely false and untrue," Moore said, "about something that happened nearly 40 years ago."
Moore also specifically denied having ever given alcohol to minors, or having ever engaged in sexual misconduct with anyone. He insisted the allegations ran counter to the values demonstrated in his legal career and questioned the timing of the Post report:
To be attacked for allegations of sexual misconduct contradicts my entire career of the law. I want to make something clear to the media present, and the people present. I have not provided alcoholic beverages, beer or anything else, to a minor. I have not been guilty of sexual misconduct with anyone. These allegations came just four and a half weeks before the general election. Why now?
Moore was suspended from his seat as chief justice of the Alabama state Supreme Court at two separate points in his career. The first came in 2003, when he violated an order to remove a large stone display of the 10 Commandments he'd installed in the Alabama Judicial Branch. The second came last year, when Moore tried to ignore the Supreme Court's 2015 ruling legalizing same-sex marriage and enforce Alabama's state ban anyways.
In response to Moore's remarks, the attorney for one of his accusers released a statement accusing him of making "defamatory statements" about the women who've spoken out:
Why did the women speak out now? Because someone (the Post reporters) finally showed up at their doors and asked them to tell them what he did to them. On behalf of my client, Ms. Deason, I publicly demand that Roy Moore immediately retract his defamatory statements.
Moore's remarks at the Veteran's Day event reportedly earned him a standing ovation from the assembled crowd. As it stands now, at least according to the polls, Moore is still the favorite to defeat Democratic candidate Doug Jones, a former civil rights lawyer. It remains to be seen whether the allegations will change that.