Roy Moore's Spokeswoman Told A Pregnant Anchor His Opponent Wants To Kill Her Unborn Child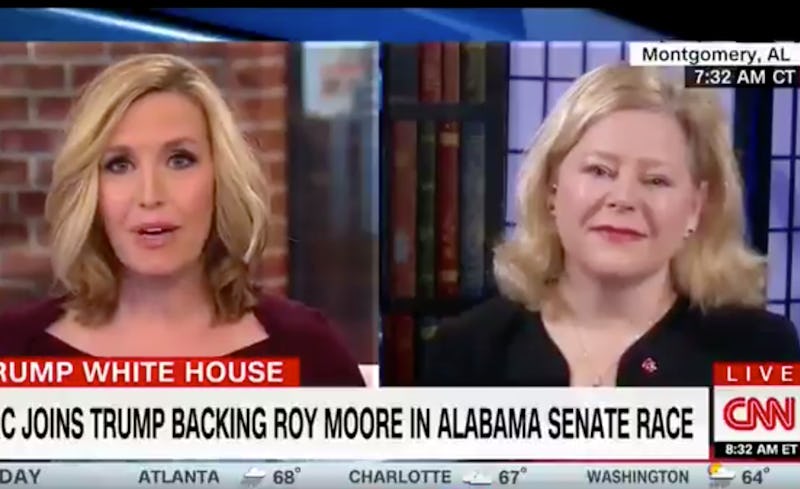 CNN
Alabama senatorial candidate Roy Moore is running on a firm anti-abortion platform, which his campaign team often reminds reporters. In a Tuesday interview, a Moore spokesperson referenced a CNN reporter's pregnancy while talking about Moore's opposition to abortion. "He'll stand for the rights of babies like yours in the womb," spokesperson Janet Porter said on air.
Porter jumped right in on the issue after CNN's Poppy Harlow thanked her for appearing on the segment.
[C]ongratulations on your unborn child. That's the reason why I came down, as a volunteer, to speak for Judge Roy Moore, because he'll stand for the rights of babies like yours in the womb, where his opponent will support killing them up until the moment of birth.
Harlow quickly moved on after thanking her for the congratulations, but Porter brought up her pregnancy again later in the interview. The second time, Harlow responded, "Let's leave my child out of this."
Moore adamantly opposes abortion, and his Democratic opponent's pro-choice platform has been a main topic of conversation for Moore's campaign. Speaking to a church congregation in Dora, Alabama recently, Moore proclaimed that "so many of our American citizens are getting killed in the womb" because people had "forsaken" God's word.
Doug Jones, the Democratic candidate for the open U.S. Senate seat, has promised not to support banning abortion at 20 weeks nationwide. As Jones explained in October:
I support a woman's right and freedom to choose what to do with her body. This is a decision between a woman, her doctor, and her Lord. Who am I to tell a woman what to do with her body?
Since allegations surfaced that Moore engaged in inappropriate sexual behavior with minors while in his 30s (which he has repeatedly denied), his team has leaned even more heavily on his anti-abortion stance. Two weeks ago, Stephen Moore, an economic adviser to President Trump (no relation to Roy Moore), equated child molestation with abortion.
In an interview with CNN's John Berman, Stephen Moore said:
By the way, the Democrat is no saint, either. The Democratic candidate is for partial birth abortion in a state that's highly Christian and Catholic. So there's no moral high ground here.
Berman replied
Except one is an alleged child molester.
Stephen continued with his reasoning, saying conservative Alabama voters consider "partial birth abortion" as "tantamount to murder." ("Partial birth abortion" is a pro-life term used to describe dilation and extraction abortions; it is not a medical term.)
Porter, the spokesperson who told Harlow the Republican candidate would "stand for the rights of babies like yours in the womb," founded the anti-abortion group Faith2Action and previously worked for Ohio Right to Life. Her online bio says she "initiated" the nation's first Heartbeat Bill, seeking to ban abortion as soon as a heartbeat was detected. Considering her decades-long career opposing abortion access, it's no surprise Porter is stumping for the Alabama Republican who shares her beliefs.
Porter isn't alone in viewing abortion as a main issue of the special election, either. Following the first allegations of child molestation against Roy, a Republican woman was quoted in the Los Angeles Times saying she's "torn between voting for a pedophile and voting for a person who believes in abortion."
President Trump also endorsed Roy Moore on Monday, tweeting that Americans need him in the Senate to vote on important issues such as abortion.
Democrats refusal to give even one vote for massive Tax Cuts is why we need Republican Roy Moore to win in Alabama. We need his vote on stopping crime, illegal immigration, Border Wall, Military, Pro Life, V.A., Judges 2nd Amendment and more. No to Jones, a Pelosi/Schumer Puppet!
The most recent poll shows Roy and Jones neck and neck. Alabama voters will make a final decision on who will represent them in Washington on Dec. 12.