Even Some Evangelical Leaders Who Backed Roy Moore In A Letter Are Ditching Him Now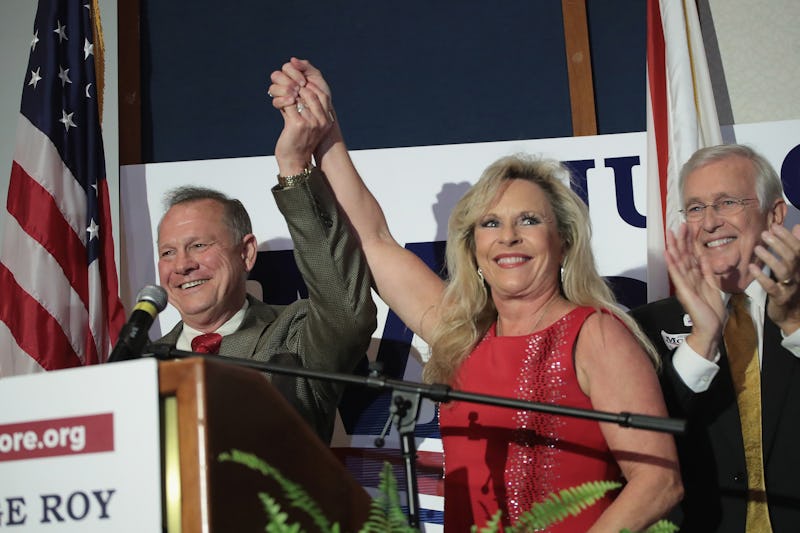 Scott Olson/Getty Images News/Getty Images
Citing Roy Moore's "unwavering faith in God" and "unconquerable resolve," 53 pastors and church leaders from Alabama signed a letter of support in August, urging readers to join them in voting for Moore at the polls. But following recent allegations against Moore of sexual misconduct (allegations the former judge has repeatedly denied), Moore's wife, Kayla, shared the letter on her Facebook page again. It's brought the issue of evangelical support for Moore, even after the latest allegations, to the forefront of the scandal engulfing his campaign.
Kayla Moore appears to have re-upped the letter without permission from its authors on Sunday. By Monday, three of them had asked that their names be removed. Two other signatories told AL.com on Monday they were never asked to sign the original letter in the first place.
Moore had the lion's share of evangelical support from the get-go. In a poll taken from Sep. 30 to Oct. 1, 63 percent of evangelicals chose Moore as their Senate candidate pick. Just 26 percent said they'd be voting for his Democratic opponent, Doug Jones.
But the allegations of sexual misconduct appeared not to have dissuaded evangelical voters. According to a JMC Analytics survey conducted from Nov. 9-11, a larger portion of evangelicals now say they are more likely to vote for Moore in light of the allegations. 37 percent say the allegations have further convinced them to vote Moore, versus 28 percent who said they are now less likely to do so.
The content of the allegations against Moore is of a nature that many would assume to be anathema to the religious right. Four women originally went on the record with the Washington Post, alleging that Moore, then in his 30s, hit on them while they were teenagers. One accuser, Leigh Corfman, said Moore initiated sexual contact with her when she was just 14 years old. Moore says he doesn't know Corfman "from anybody" and "allegations of sexual misconduct with her are completely false."
Moore has long been lauded by many evangelicals as someone who will fight the culture wars on their behalf. His two removals from Alabama's state Supreme Court bench illuminate why. In the first case, Moore refused to take out a 5,000 lb. granite monument etched with the Ten Commandments from the state judicial building. Moore's second brush with court sanction came when he ordered probate judges to ignore a federal mandate recognizing same-sex marriage. He's also stated Muslims should be banned from joining Congress.
Pressure is mounting from outside Alabama for Moore to remove himself from running for office. Several prominent Republicans, including Senate Majority Leader Mitch McConnell, have now called on Moore to step down.
But within the state, Moore still enjoys widespread support from the GOP. Like the 37 percent of evangelicals who said they're now more likely to vote for Moore, many of Alabama's top Republican officials are aggressively opposed to any surrender on Moore's part. State Rep. Ed Henry has insinuated the women accusing Moore are hoping for a payout, may be connected to the Clintons, and should be prosecuted themselves. Jim Ziegler, Alabama's state auditor, used the analogy of an adult Joseph and teenaged Mary in defense of Moore's attraction to younger girls.
Among the most vocal and active defenders of Moore is his wife Kayla. Besides the letter from church leaders, Kayla has also reposted articles and commentary on her Facebook page defending Moore. One claims to prove as fake her husband's alleged signature in the yearbook of another woman alleging Moore harassed, assaulted, and threatened her as a teenager. The articles' author, Thomas Wictor, offers no pertinent credentials to back up his "analysis."
Another repost falsely claims the latest allegations must be fake, since the restaurant they are said to have happened at wasn't open in 1977. There's no evidence that this is true.
Writing on Facebook, Kayla described the situation in Alabama as a "witch hunt" and said they were gathering evidence that payouts had been offered to women who would accuse Moore. Should Moore stay in the race, the country will have to wait until election day on Dec. 12 to see if evangelicals really will remain by his side.