A Republican Wants To Prosecute Roy Moore's Accusers For Taking So Long To Speak Out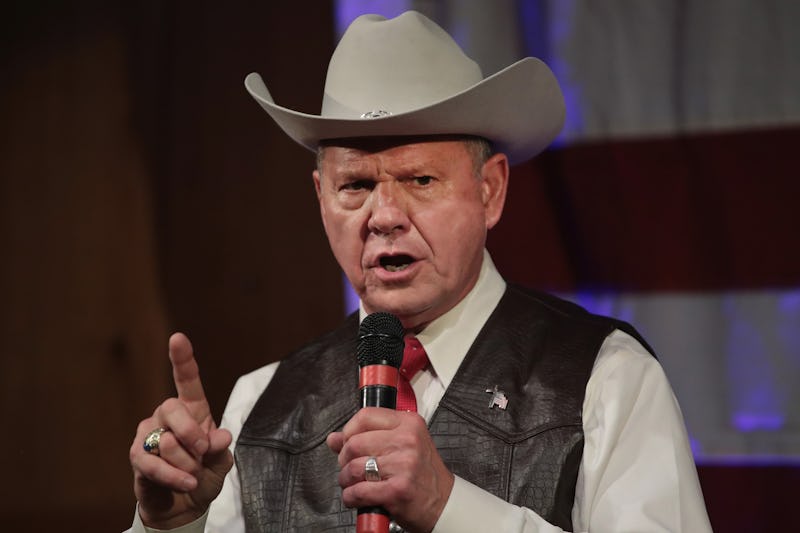 Scott Olson/Getty Images News/Getty Images
Among those defending Alabama Senate candidate Roy Moore is Republican State Rep. Ed Henry, who thinks Moore's accusers should be prosecuted. While some Washington Republicans have called for Moore to step down following allegations of sexual abuse, his fellow GOP politicians closer to home, like Henry, are standing by him. Several Alabama officials have indicated that they won't budge in their support for Moore, even if his alleged past behavior is true. Others completely dismissed the explosive Washington Post report alleging Moore pursued romantic relationships with teenagers, including initiating sexual contact with a 14-year-old girl.
A representative from Cullman County, Alabama, Henry said he found the timing of women's stories suspicious. Noting Moore's decades-long public career, Henry told The Cullman Times newspaper, "You cannot tell me there hasn't been an opportunity through the years to make these accusations."
Henry went even further, suggesting that legal action against the women named in the Post story would be appropriate. "If they believe this man is predatory, they are guilty of allowing him to exist for 40 years. I think someone should prosecute and go after them," Henry said. Then he added, "You can't be a victim 40 years later."
Henry thinks the women interviewed in the Post story — Leigh Corfman, Wendy Miller, Debbie Wesson Gibson, and Gloria Thacker Deason — may be hoping for a payout. According to Henry, fabricating accusations of sexual assault is "too easy."
Like Moore himself, Henry is no fan of the so-called Republican "establishment." Henry called Senate Majority Leader Mitch McConnell and Sen. John McCain (R-AZ) "two of the biggest goobers we have in Washington, D.C," after implying they would be glad to have Moore drop out of the race. Henry trash-talked McConnell in particular: Speaking with Talking Points Memo, Henry called the majority leader "a dumbass, a coward, a liar himself and exactly what's wrong with Washington, D.C." Claiming McConnell would "love" to see Moore lose, Henry called the Republican leader "scum."
He also suggested to Talking Points Memo that the Clintons may have been involved in the Post story. "I'm sure they've [the women alleging misconduct] probably been offered money by entities that surround the Clintons and that side of the world. We know they will pay to dirty anyone's name that's in their way."
Henry argued there's "zero" chance the Alabama Republican Party will rescind their endorsement of Moore.
Alabama hasn't sent a Democrat to the U.S. Senate since 1992. For Moore supporters like Henry, the odds are heavily in the former judge's favor to win the Dec. 12 election to fill Attorney General Jeff Sessions' old seat.
But the scandalous nature of the Post allegations has some hopeful that Moore's Democratic opponent, Doug Jones, could pull off a miraculous win in deep-red Alabama. Heather Hendershot argues in the Post that Jones is the type of conservative Democrat that can appeal to "Republicans who cannot stomach Moore's disreputability." Hendershot argues that if the Democratic Congressional Campaign Committee sent a hefty chunk of money Jones' way, he could actually beat Moore.
It's a tall order, but not an impossible one. Fox News released a poll in mid-October showing that Jones and Moore were tied for support, each claiming 42 percent of those surveyed. It's worth noting that poll was conducted weeks before the Post allegations were made public.
But if most Republican voters in Alabama agree with Henry, then Moore looks to be safe as the election draws near. "I call B.S.," Henry said of the allegations of sexual misconduct against Moore. If most Republican voters do the same, Moore could very well become the next U.S. senator from Alabama.