Royals, Politicians, & Celebs Are Responding To Meghan's Pregnancy In The Best Way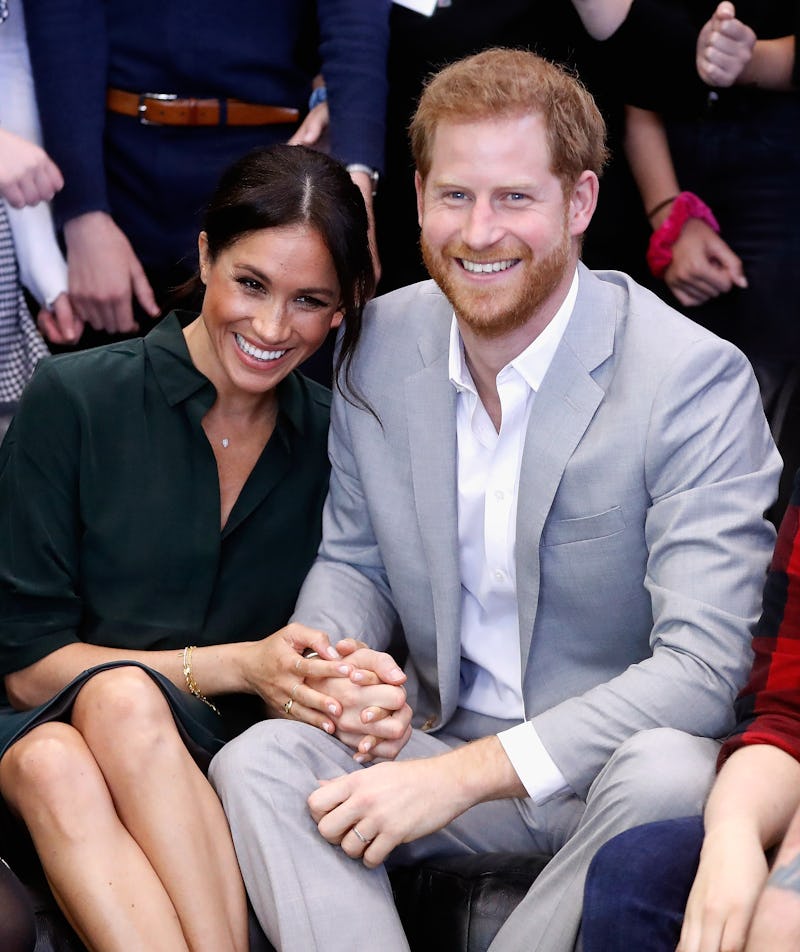 Chris Jackson/Getty Images Entertainment/Getty Images
It's certainly been a bumper year for royal fans — there's been not one but two royal weddings, the arrival of a royal baby, and now news of another. Kensington Palace has announced that Meghan Markle and Prince Harry are expecting a baby in spring 2019 and it's not just members of the public that are seriously excited about the news. These royal and celebrity reactions to Meghan Markle's pregnancy announcement prove everyone is pretty thrilled by the news.
The Express quotes a Kensington Palace spokesperson as saying: "The Queen, Duke of Edinburgh, Prince of Wales, Duchess of Cornwall and the Duke and Duchess of Cambridge are delighted for the couple and were able to congratulate them on Friday at the wedding in person." Meanwhile, the BBC reports that Meghan's mother, Doria Ragland, is "very happy about this lovely news," adding that she "looks forward to welcoming her first grandchild".
The BBC also quotes their royal correspondent Jonny Dymond, who says they told the family of their news during Eugenie's wedding. "The Queen was told, the Duke of Edinburgh, the Prince of Wales, the Duke and Duchess of Cambridge, the Duchess of Cornwall - they chose that day to spread the happy news around and then recovered and relaxed, got on a plane, came over here and then put out the news for the rest of us," he added.
While it's a little early for Meghan's U.S. friends to be posting about the news on social media, the couple has received congratulations from some other pretty high profile people back in the UK. Prime Minister Theresa May wrote on Twitter: "My warmest congratulations to the Duke and Duchess of Sussex on the happy news they are expecting a baby in the Spring. Wishing them all the best."
She wasn't the only politician to respond to the news, Mayor of London Sadiq Khan also wished Meghan and Harry well, commenting: "On behalf of Londoners, I want to send our heartfelt congratulations to the Duke and Duchess of Sussex on the happy news they are expecting their first child. Congratulations!" Which saves the whole of London from buying a card, how very thoughtful of him.
While there's as yet no comment from the royal family, there was some reaction from reality TV royalty with Geordie Shore and Ex on the Beach star Vicky Pattinson posting a snap of Meghan and Harry to instagram captioned, "Omg!!! I am so unbelievably happy for these two lovebirds!!! What a year it's been for the Royals!! Imagine harry as a dad man?? Too cute!! Huge Congratulations to the Duke and Duchess of Sussex who are expecting their first baby in spring!"
Pattinson's fellow I'm A Celebrity alumnus Scarlett Moffatt also Instragrammed her congratulations and asked her fans for baby name predictions. "Congratulations to the inspirational Duke and Duchess of Sussex on their news on announcing they are going to have a little baby. So exciting 🍼 what do we think they will name their first little one?" she wrote.
She was joined by Love Island's Dr Alex George, who couldn't resist making a little joke, posting a snap of him during the ITV2 show's baby challenge, with the caption: "Congratulations to Meghan and Harry. If you need any help, all you need to do is say 'Ahoioihoi' into a mirror three times and I will appear! #royalbaby." Nice try Alex but something tells me they probably won't be phoning you come Meghan's due date.
He wasn't the only one cracking jokes, Capital FM presenter Ben Sheppard put in an early prediction for who should be the baby's godfather, tweeting a gif of Harvey Spectre from Suits, the show Markle starred in before becoming a member of the royal family.
Lol, well I'm sure Gabriel Macht, who plays Spectre, will only be too happy to oblige — he did after all wish the couple a "journey full of love and children" back when they got married in May.
So it seems the celebs are just as overjoyed as everyone else at the couple's happy news. And I, for one, am glad the royals are providing us with some nice things to distract us from Trump, Brexit, and climate change doom. Thanks guys, you're worth every penny.