Save The Date, Because This Is When You Can Expect To Meet Harry & Meghan's Baby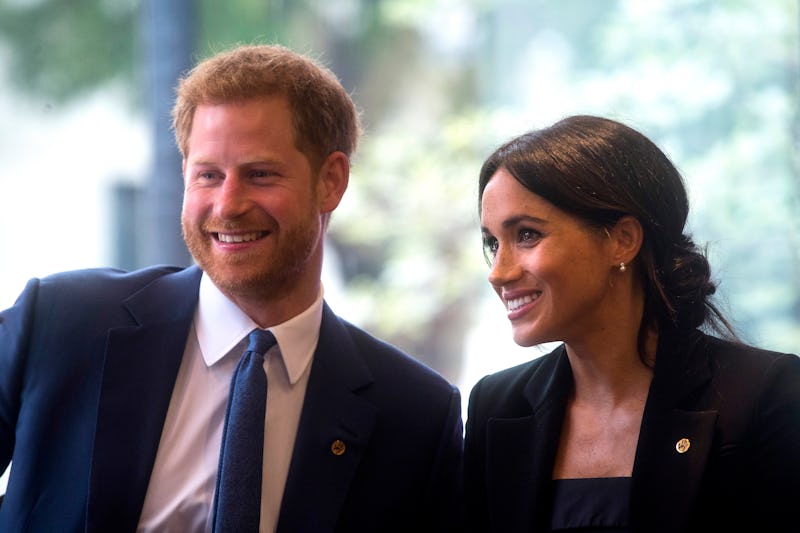 WPA Pool/Getty Images Entertainment/Getty Images
I've been beside myself with happiness ever since Kensington Palace officially announced that Meghan Markle was pregnant and it's safe to say that royalists everywhere are shook. Seeing the reveal take place in real time on Twitter was easily one of the most millennial things I've ever experienced and honestly, it suits the thoroughly modern Duchess and Duke of Sussex. The pair have moved pretty fast, given that they were only married earlier this May, which got me thinking: when is Meghan Markle due? The palace has dropped a pretty vague hint, so it's time to start blocking out your calendars.
The clue to Meghan Markle's due date lies in the tweet that the official Kensington Royal account put out this morning, which included the original announcement. They wrote, "Their Royal Highnesses The Duke and Duchess of Sussex are very pleased to announce that The Duchess of Sussex is expecting a baby in the Spring of 2019."
Spring of 2019! That's not exactly the most helpful range of dates since according to the Met Office, spring officially runs from March 1 to May 31. That's three whole months that I'm going to be on edge, checking my phone frantically for baby alerts. However, there's some new info that's come light (but hasn't been confirmed at this point) which could help narrow things down.
Emily Nash, HELLO!'s royal editor, tweeted out this morning, "Meghan is thought to be around 12 weeks pregnant, and the couple shared their news with family at the royal wedding on Friday - the Queen, Duke is Edinburgh, Prince of Wales, Duchess of Cornwall and Duke and Duchess of Cambridge are 'delighted for the couple.'"
Honestly, twelve weeks is a long time to keep something so massive a secret. Major props to the Duke and Duchess of Sussex for keeping it all under wraps, it's no small accomplishment that they've managed to keep it all quiet till now.
According to the NHS, a "pregnancy normally lasts about 40 weeks". If we do some backwards maths here and take Nash at her word, twelve weeks ago was the end of July — or more specifically, July 23rd. And 40 weeks on from that date is April 29, 2019. Who known whether the couple will share a more specific due date in time, or if they will chose to keep it private, as is entirely their prerogative. Either way, I'm super happy for the newlyweds.
Given that Kate Middleton's son, Prince Louis, was born on April 23rd this year, there's a pretty crazy chance that Meghan and Harry's new addition could share the same birthday week. Or even the same birthday. Could you imagine how cute that joint party would be?
Meghan Markle's year has been pretty jam packed with professional engagements before their summer holidays, and through July she jetted off to Ireland with Prince Harry for a mini royal tour, cut a very stylish figure at Wimbledon and opened the Nelson Mandela: The Centenary Exhibition at Southbank Centre.
She also appeared at Prince Harry's charity polo match on the 26th, which you might remember, as photos of the pair looking generally in love and kissing one another as they posed for the cameras circulated everywhere on the internet.
As with any due date however, we'll just have to wait and see how things pan out next spring. For example, both Kate Middleton and Prince William's children Prince George and Princess Charlotte kept the world guessing as they were born later than expected according to Express.
In any case, I'm just counting down the days till Meg and Harry take that iconic shot on the steps of the hospital with a bundle of joy in their arms. Any bets on what the baby's name is going to be?