Here's Why Astrologists Say Meghan Markle & Prince Harry Picked The BEST Day To Get Married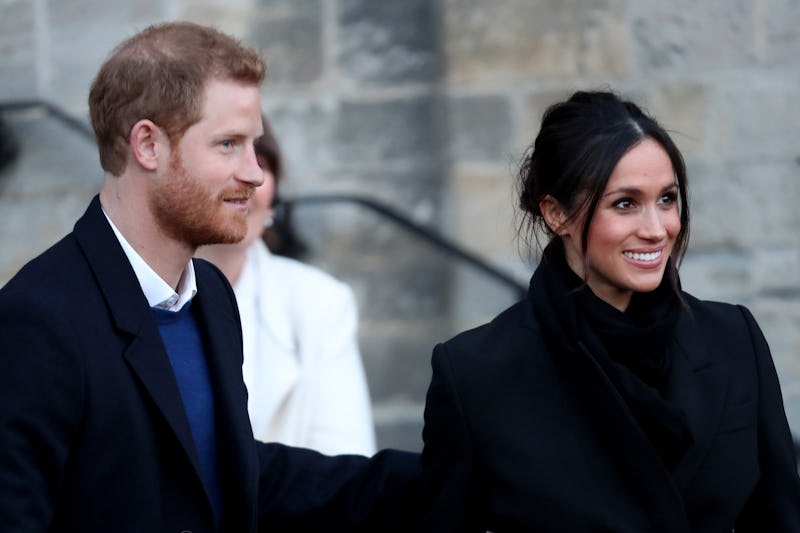 Chris Jackson/Getty Images Entertainment/Getty Images
Most engaged couples in the midst of their wedding planning are more concerned with what the weather will be like on their big day than what the planets are up to. But, how the planets and stars align could play a part in a wedding day's itinerary — and what better wedding day to use as an example than the upcoming royal wedding? These royal wedding astrology predictions for Meghan Markle and Prince Harry can tell us a little bit about what's in the cards for the duo, according to astrologists, and what all couples should generally look for in their astrological forecast when planning their nuptials. Especially if they want the day to be harmonious. Not that the production of a royal wedding would be anything but perfect — but, it never hurts to know what's brewing above us!
Mercury in retrograde is a notorious time that has wedged its inconvenience into pop culture. Swapping "I Dos" during this time might not be your best best. Think, officiant's car breaking down, dropping the ring in tall grass, or smudging the cake. While not full blown disasters, avoiding any potential for annoyances is worth consulting an astrologist when picking a date. In an effort to get information about what Markle and Prince Harry should expect on their big day, Bustle spoke with Janet Booth, a Connecticut-based astrologist with over 40 years of experience and expertise in helping engaged couples figure out the best date to get married, according to the zodiac.
And hey: According to Booth, it looks like May 19 is actually the best day Markle and Prince Harry could've picked to get married.
An in depth reading of Prince Harry and Markle's birth charts, according to Booth, reveals that these two are a genuine, compatible match based on the placement of their signs. In fact, Booth points out to Bustle that there are some strong connections between the two charts: "the midpoint between her Sun (how she shines, and another planet that indicates a man in a woman's chart) and her Neptune (a planet of image and charisma) is at his Venus degree. He probably finds her magically charming and they might seem to have a psychic connection with this link." I mean, they always look so in sync with one another in photos, so I buy this.
When it comes to May 19, their wedding date, there are three planets in retrograde. Don't worry though — it's not Mercury, which would be an unfortunate planet to have in retrograde during your wedding of all days. Instead, Pluto, Saturn, and Jupiter will be in retrograde — but that's not necessarily a bad thing. According to Booth, "since these are not 'personal planets,' they probably won't pose much of a problem." Phew.
While I can't speak for the forecast of the weather — maybe rain? I mean, it's England — the planetary alignment of May 19 seems to suggest a sweet forecast that Booth tells Bustle is favorable for a wedding between the royal couple. "The Sun in Taurus promises stability and lots of hugs and physical affection. The Moon in Cancer is warm and caring, very family-oriented, but possibly influenced by moods," Booth says. "Their wedding date, May 19, 2018, stimulates parts of their charts related to having children, and if they do want a family, then it's a decent enough date. If they don't want children, they may have to be very careful not to!" Seems like royally perfect planning.
Also, conveniently enough, Venus — the planet of love — will be moving into Cancer on May 19. Booth tells Bustle this could end up being significant: "If their wedding vows are after 2:11 pm, Venus will be in Cancer, a lovely placement for a couple desiring children."
Well, I for one am even more excited for this royal wedding now!