The Royal Wedding Is Happening During THREE Major Astrological Events & It's Actually Good News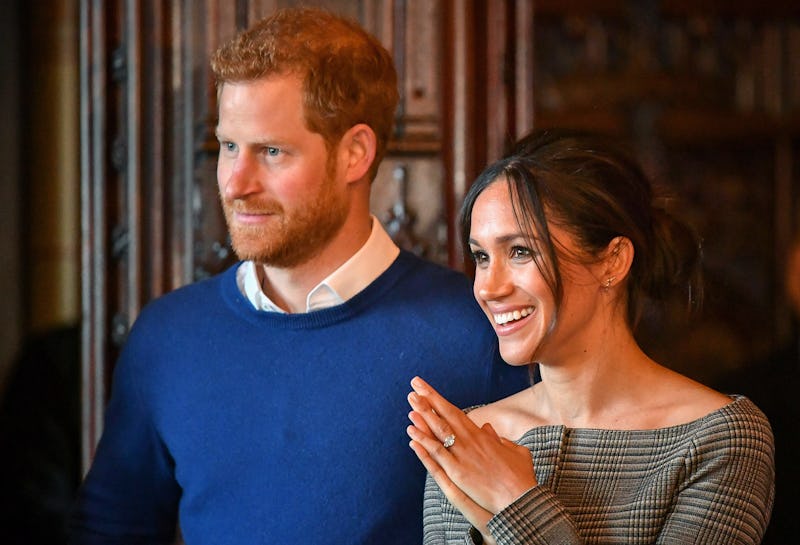 WPA Pool/Getty Images Entertainment/Getty Images
When the word "retrograde" reveals itself, it's not uncommon to feel a spike of anxiety, or to brace for the inevitable miscommunications that are surely going to occur. So, considering the royal wedding is happening during two retrogrades, I'm sure most of you are worried about Prince Harry and Meghan Markle's big day — but, don't worry. It isn't what you think. Just because two retrogrades are occurring, don't expect any fumbling over vows or pesky delays. First of all, this event is a royal production. Second, Mercury won't be one of the two planets in retrograde. The stars and planets actually seem to be aligning perfectly for the wedding — and the stage is being set for a great day, astrology-wise.
Most couples might be more concerned with the weather forecast for their big day. It's hard to tell if the clouds will turn and dump rain or if nuptials will bask in sunlight. Predictions can be made based on the time of year or the location. But another forecast that might be worth knowing about is the one involving the stars and the planets. And because there is shining spotlight on Prince Harry and Meghan Markle's turn at the alter which will take place on May 19, 2018, we had to know what the universe was brewing.
Even if you're not located in the United Kingdom, or care to follow the preparations leading up to the royal wedding, there's no denying a certain, almost gravitational pull towards tuning into the main event. And, you'll be delighted to know that if the stars have any input, this wedding is going to be a good one.
Before we even talk about retrogrades, there's a rather sweet movement of a planet. On May 19 Venus will move into Cancer. Venus is not only the name of a planet but of a goddess, specifically the one of love and beauty. Astrostyle.com describes the planet further in depth, saying, "This planet knows how to luxuuuuuuriate. She governs our senses and refines our sensibilities, reminding us to pause and deeply inhale those roses." Luxury? Inhaling roses? Royalty? This makes sense.
When Venus moves into Cancer, things can get ~tender~ and ~romantic~. I spoke with Connecticut astrologist Janet Booth who has a specialty in helping couples pick the perfect date for their big day. I mean, you might want to know if Venus will be in retrograde or not before planning to say "I do." She notes to Bustle that while Venus is the planet of love, Cancer is the sign of home and family. When it comes to marriage, Booth approves of this astrological merger. Especially for couples who want to focus on family. It looks like Prince Harry and Markle might have consulted the stars before sending save the dates.
Have your tissues on hand because according to the planets this wedding could get mushy. Especially with Markle rumored to give a speech at her own wedding to show appreciation to close friends and family who displayed support of this royally beautiful love story.
Now for the retrogrades. Saturn and Pluto will both be in the phase of retrograde during the royal wedding. Saturn will turn retrograde on Apr. 17 and Pluto will follow suit on Apr. 22. Both retrogrades will last until September. According to findyourfate.com, "when Saturn goes retrograde it is a good time to revisit our relationship, work on long term goals, responsibilities and duties." This doesn't seem too far fetched for the new royal couple considering there will be a new set of ~responsibilities and duties~ for the expected to be newly titled Duke and Duchess to step into. Though, to be honest, it already seems like Markle has stepped into these new duties with both strength and grace.
Pluto in retrograde places a focus on transformation. Relatable for the new royals as marriage is a whole transformation from single to family on its own. The stars look like they've aligned in a heart shape to make this wedding day undeniably poetic.