There Was A Telling Bit About Ivanka & Jared You Missed In That Rudy Giuliani Interview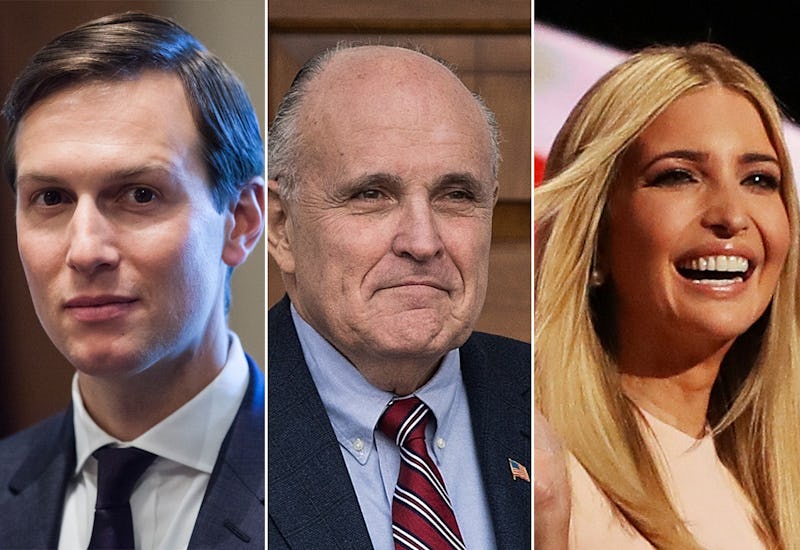 Drew Angerer/Getty Images News/Getty Images / Joe Raedle/Getty Images News/Getty Images / Pool/Getty Images News/Getty Images
Former New York mayor and longtime Trump ally Rudy Giuliani made big news in his interview with Fox News' Sean Hannity, when he said that Donald Trump paid his lawyer Michael Cohen back after Cohen paid adult film mogul Stormy Daniels $130,000 in hush money. He didn't stop there, though. Giuliani also said Ivanka Trump is "a fine woman," and that her husband, Jared Kushner, on the other hand, is "disposable."
All of this came up in a discussion about what might happen if Special Counsel Robert Mueller decided to "go after" one of the pair.
"Ivanka Trump? I think I would get on my charger and go ride into their offices with a lance, if they go after Ivanka," Giuliani told Hannity. "Now I think, if they do do Ivanka — which I don't think they will — the whole country will turn on them. They're going after his daughter?"
Hannity then asked about Kushner, and Giuliani said, "I guess — Jared is a fine man. But men are, you know, disposable. But a fine woman like Ivanka? Come on."
Giuliani expressed these opinions in response to a Politico article about why Mueller hasn't drawn Ivanka Trump into the investigation yet. While the article comes to the conclusion that it's because of what they call Mueller's "don't poke the bear until you have to" strategy, Hannity and Giuliani evidently disagree.
Whether you agree or disagree with the notion that all of America would rally in support of the president's daughter, it's a very chivalrous, middle-ages way of understanding gender roles, placing Ivanka Trump as a "fine woman" to be protected with "chargers" and "lances" and leaving Kushner on his own.
Stepping back further, though, it's unclear why Giuliani even decided to make the issue a question of gender to begin with. The reason Giuliani gives for why the nation would rise up in support of the first daughter is that she's a "fine woman"; the reason why Kushner is "disposable" is that he's a man, even if he is "fine" as well. Taking gender out of it, the two are actually in essentially the same position, professionally speaking. Before entering the White House, both controlled their own significant businesses. After Donald Trump became president, both gained official White House roles. Despite the New York Times' March report that the president had asked White House Chief of Staff John Kelly to help get them out of the White House, by outward appearances they are both still trusted members of staff.
They also both have various entanglements that are now looking like potential liabilities for the president. Kushner seems to be drowning in a maze of business and political scandals, from the loans that the New York Times reported Kushner Companies got after the firms providing the loans met with Kushner multiple times at the White House to the secret channel with Russia that The Times reported Kushner attempted to set up before Donald Trump's inauguration.
Ivanka Trump, on the other hand, could easily become part of the investigation because of her history at the Trump Organization. That includes, among other things, various deals or attempted deals with corrupt foreign individuals and an indictment for felony real estate fraud that she and Donald Trump Jr. narrowly avoided, which The New Yorker, ProPublica, and WNYC reported on in October.
Instead of casting her as an active player in both the Trump Organization and the Trump administration, though, Giuliani describes Ivanka Trump as merely a "daughter" and a "fine woman." She herself has used this strategy before, when Peter Alexander on NBC's Today asked her if she believed the women who had accused her father of sexual assault.
"I think it's a pretty inappropriate question to ask a daughter if she believes the accusers of her father when he's affirmatively stated there's no truth to it," Ivanka Trump said on Today, ignoring (or avoiding) the fact that she is also her father's trusted professional adviser and an official White House staffer. Giuliani has just done the same thing.