All The Dos & Don'ts Trump Will Have To Follow When He Meets Queen Elizabeth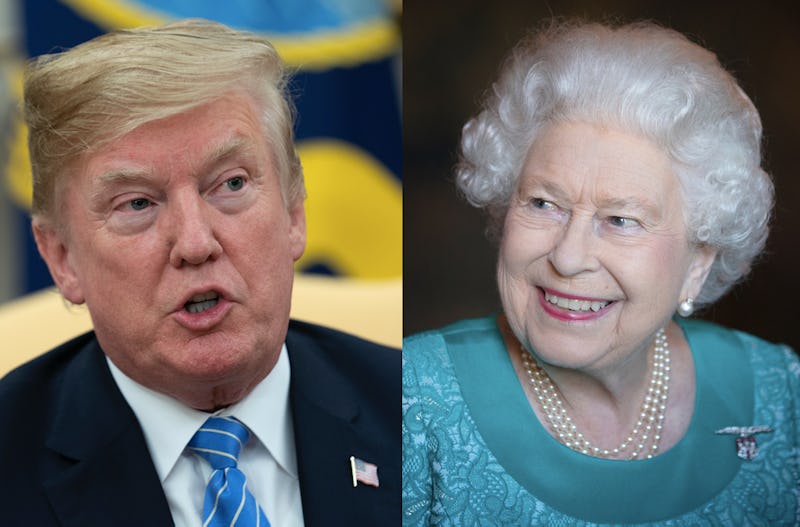 Pool; WPA Pool/Getty Images News/Getty Images
President Trump will soon be in England for his first official visit to the United Kingdom as president, and he'll reportedly meet with the Queen Elizabeth while he's there. But according to the BBC, there are some rather specific rules for meeting the queen, which means Trump has to be on his very best behavior when he visits the world's oldest monarch.
One is expected to arrive early when meeting the queen — it's considered improper to show up for an event after she does. When first introduced to the queen, one should greet her as "Your Majesty," and subsequently refer to her as "ma'am;" according to the BBC, that latter title is meant to be pronounced "jam."
There are detailed guidelines for shaking the queen's hand. For one, Trump shouldn't offer his hand to her unless she does so first. Etiquette expert Grant Harrold tells the Telegraph that the handshake itself should "not be too tight or too loose," and should consist of "two to three pumps" before everyone's hands fall back to their sides.
The coaching company Debrett's also has guidelines for meeting the Royal Family. Its academy director told the Telegraph that while it's customary for men to bow when meeting the queen, this is meant to be "a very subtle gesture and not exaggerated," and that the queen "is said to be quite relaxed about this."
In general, it's considered proper to take the queen's lead, according to the BBC. Don't talk to her unless she talks to you, don't sit until she does, refrain from eating until she's taken her first bite, and so on.
Likewise, there are many faux pas Trump should avoid committing when he's at Buckingham Palace. He should not attempt to touch the queen, for instance, unless she offers to shake his hand. It's also considered rude to leave an event with the queen before she makes her exit, or attempt to have any conversations with her that transcend innocuous small talk. Trump shouldn't turn his back to the queen at any point, and he shouldn't take any pictures of her home — although it's hard to imagine Trump, or any world leader, trying to do this.
There's a strict protocol for conversation once everyone is seated for a meal with the queen, the BBC reports. As the guest of honor, Trump will be seated to the her right, and tradition holds that she will speak with him for the first half of the meal before turning her attention to whomever is seated to her left for the second half. It's unclear who will be sitting to the queen's left during Trump's visit.
It's worth noting that Trump won't be punished if he violates these rules. According to the Royal Family's website, "there are no obligatory codes of behaviour when meeting the queen or a member of the Royal Family, but many people wish to observe the traditional forms."
The queen's guests have broken these rules on occasion. According to the BBC, Michelle Obama placed her arm around the queen when the two met in 2009; however, as TIME notes, she did so only after the queen placed her arm around Obama's back, raising a "theological argument as to whether the American reciprocity of touch was allowable given the social dynamics of the situation." George W. Bush winked at the queen during a 2007 speech, which technically wasn't a violation of any rules but was still considered impolite by some.
Trump is expected to be greeted by massive protests during his visit to the United Kingdom. Over 60,000 people have RSVPed to an anti-Trump protest in London on Facebook, and activists will be flying an enormous balloon depicting Trump as a baby in a diaper over the city when he's in the country. Accordingly, Trump is reportedly planning on avoiding London as much as possible during his visit.