How Vanessa Vanjie Mateo's Drag Mom Came To Her Rescue After That 'RuPaul' Elimination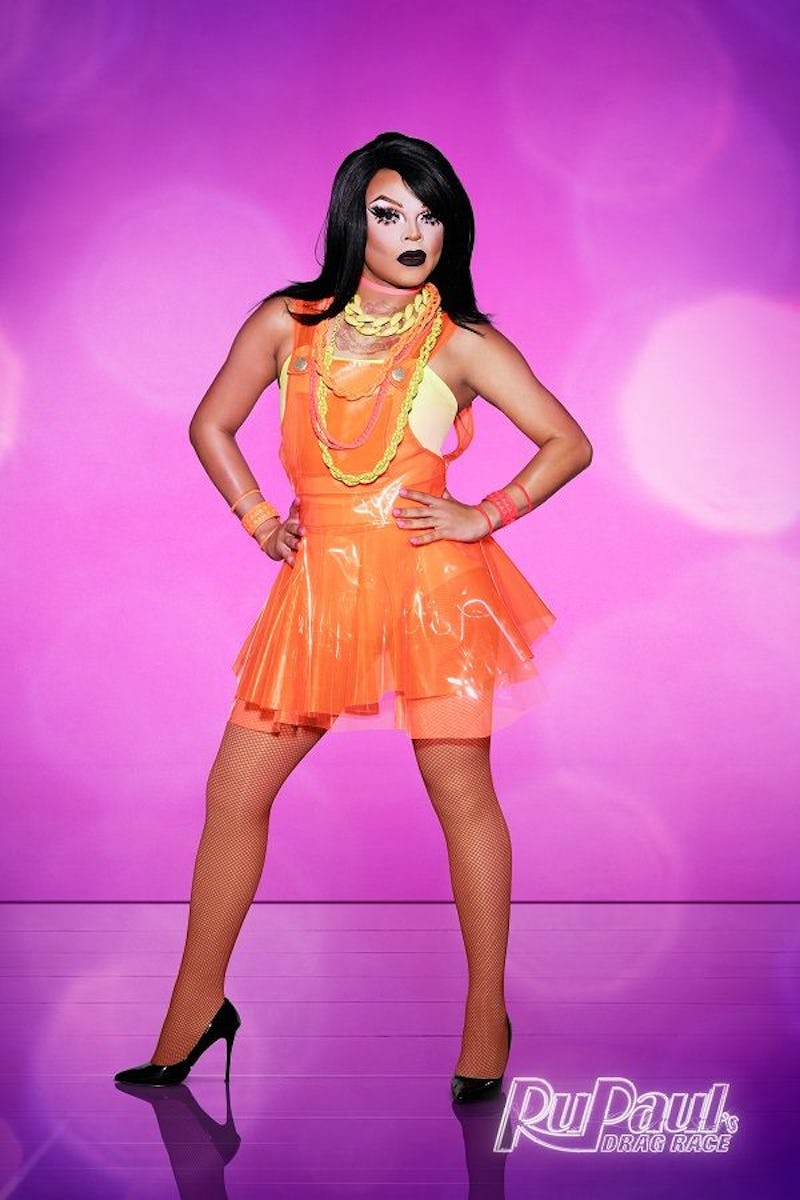 Sometimes when life gets us down, it's our mothers who can best comfort us and give us the advice we need to keep going. That was the case for RuPaul's Drag Race star Vanessa Vanjie Mateo following her elimination from the show after the season premiere. But, it wasn't her biological mother comforting her: It was Vanessa's drag mother, Alexis Mateo, who gave her advice after her elimination from the series. Along with learning from her drag, it seems that Vanessa adopted Alexis' passion as well. In an interview with Bustle, Vanessa says, "It's gonna' take a lot to put this fire out."
Fans of the show may remember Alexis Mateo who appeared in Season 3 of Drag Race and the first Drag Race All Stars season. The two have always been extremely close and Vanessa shared with VH1 that Alexis is the even one who came up with Vanessa's drag name. After the news of her elimination, through tears, Vanessa said she felt like she had let Alexis down on the show.
While very emotional at the time, things have calmed down a bit for Vanessa. She now knows she didn't really disappoint her drag mother. In fact, Alexis' continued support helped her through the elimination process. According to Vanessa, Alexis told her, "Don't worry about it. You have so many opportunities to make these people fall in love with you. Just work hard and don't let it make or break you … you can do something after [Drag Race], you just have to work."
That's exactly what Vanessa plans on doing. She's got many plans for the future, including YouTube videos, drag convention appearances, music, and merchandise all on the way. "Oh I'm planning on taking over. I want to travel everywhere and I'm not going to say no to opportunities," she says. "Miss thang, she might have fell down, but she got back up and she's starting to run."
Of course, being eliminated first wasn't the way Vanessa wanted to go out. She says she was excited for all of the twists and turns of the show. "I was just really sad and just disappointed 'cause … there was so much more I had to offer," she says. "I just wanted to have fun and I was so excited for everything that was going to come up with the show, so it was just sad."
While she feels better now with some distance between her and the show, she still is upset about how it turned out. But, it is not stopping her from doing exactly what her drag mom Alexis told her. "[Seeing the episode air], it was like reliving it all over again," Vanessa says. "But you know, I'm one of those people, when you fall, you have to get back up and it's not about what you do on the show, it's about what you do after. You have to push through."
This may not be the end of Vanessa's Drag Race story, though. Recently on Drag Race All Stars, as part of a twist, Morgan McMichaels came back into the competition to continue to compete for the crown. Although there's been no teases yet of any similar opportunity for Vanessa or any of the queens from Season 10, Vanessa did confirm she'd be back for another season of Drag Race if she was asked to return. "Hell yeah I would go back," she says. "You wouldn't even have to finish the sentence. I would be in the airport on the plane already."
So, where you'll be seeing Vanessa next is anyone's guess — be it YouTube, a drag con, on a future season, or even on this current season of Drag Race. But, you will be seeing her.