'RuPaul's Holi-Slay Spectacular' Was Way Different Than 'Drag Race,' But In The Best Way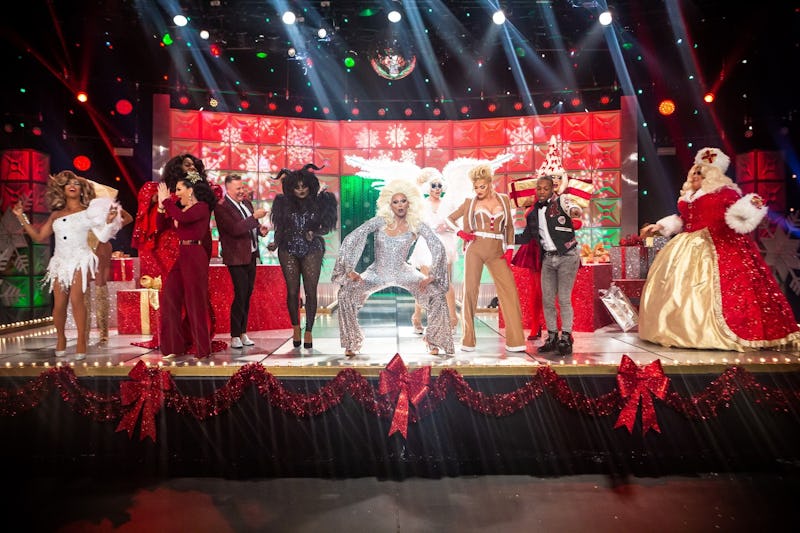 VH1
After a decade of RuPaul's Drag Race and three (soon to be four) best-of battles on All Stars, this year, a new Drag Race baby was born. For the first time in her-story, as Ru says, some of his most beloved and cheerful queens came together to participate in RuPaul's Holi-Slay Spectacular, a competition for the title of Christmas queen, but more importantly, a lesson on the true meaning of Christmas — which is, apparently, "love, sharing, and a whole lot of booty." The special wasn't exactly what Drag Race fans may be used to, but that's not to say it wasn't a welcome a departure.
Like most seasons, the holiday special began by introducing its lineup of queens with their iconic werkroom entrances and signature looks. Except, this time, they all brought a festive twist: lots of red, green, glitter, and gold adorned that walkway, and, to put it simply, it was extra lit.
After all of the queens gave their initial greetings, it was time for a mini-challenge accompanied by a chiseled pit crew (un)dressed as Santa's reindeer. The queens jingled their bells all the way down the red carpet with all the rum they could pum-pum, and, although it had the obvious holiday spin, the format remained pretty predictable. Until, after announcing the winner of the dance-off was Mayhem Miller, Ru proclaimed the rest of the episode would be a musical. And right on queue, the queens sang him goodbye. That's when the Christmas magic really took over.
No longer was it the sort of unscripted, dramatic ticking time-bomb most episodes of Drag Race are — instead, it took a turn for the delightfully cheesy, as most holiday specials are wont to do. Its aim quickly became not to pit queens against one another, but of course, to spread Christmas cheer, all while donning their gay apparel in its most literal form.
If you didn't notice, there was no shortage of holiday puns in its 60-minute running. And although they were never a real surprise, they prompted a chuckle every time. The musical continued on in '80s retro gear to a choreographed lip-sync of Ru's song "Get to You," from his latest holiday album, and the queens bopped and twirled all over the stage before finally returning to a Drag Race tradition: runway fashion. The category? "Non-denominational Christmas extravaganza."
The most sickening, festive looks stole the stage, from Eureka's 1997 holiday Barbie-inspired gown to Trixie Mattel's grandiose snow angel, and still, no one knew who was first in line for the Christmas crown. The judges, surprisingly, had all cheerful comments regarding the looks — even Michelle Visage, which, for her, was definitely out of character.
Returning to the regularly scheduled programming, the queens lip-synced for their lives in pairs of two before returning backstage to parade on with the scripted musical in an auto-tuned slew of classic Christmas carols, including "Silent Night," "Deck The Halls," and more.
Finally, the long-awaited time came to crown the Christmas queen, and Ru threw them his best curveball yet. "Ladies, I've made my decision," he said in a recognizable tone. The queens fidgeted nervously. "Condragulations," he said. "You are all my Christmas queens." A sigh of relief fell over the stage, and the queens chuckled like kids on Christmas morning.
As if that wasn't enough of a gift from Mama Ru himself, in place of crowning a queen, he and Visage came forth with a never-before-seen lip-sync battle to Ru's "Christmas Party," complete with stunning splits and death-drops galore. Stunt doubles may or may not have lent a helping hand, but nevertheless, the performance, and the inaugural Drag Race holiday special, were truly a Sis-mas miracle.