Rupi Kaur Is Back With Another Dreamy, Empowering Collection Of Poems And Drawings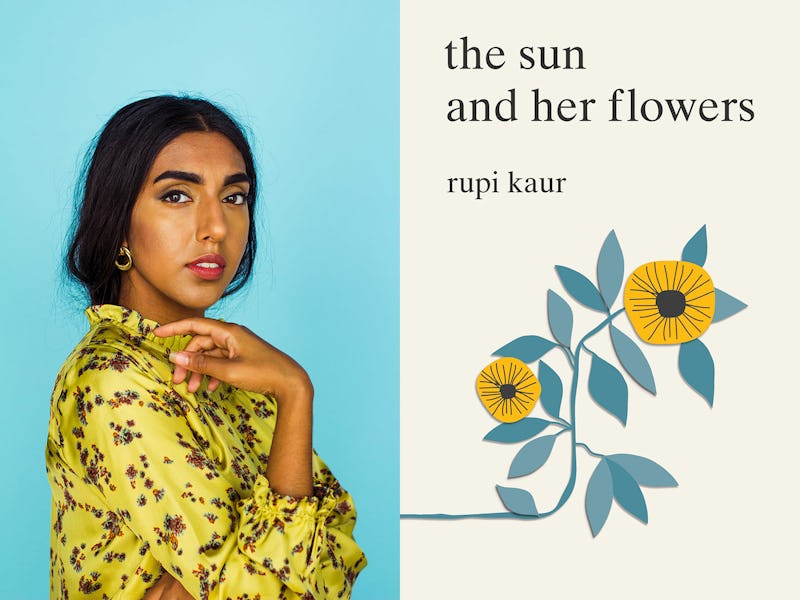 Photo by: Nabil Shash
She's a writer who's gone viral: for her photography, for her performance poetry, for her written verse. You probably recognize her from her Instagram account, which boasts over 1.6 million followers, or her first poetry collection, milk and honey, which was self-published before being picked up by Andrews McMeel Publishing in 2015, and sold over 1.5 million copies. Now, with her long-anticipated second collection fresh off the press — the sun and her flowers, out from Andrews McMeel Publishing on October 3 — poet, illustrator and performance artist Rupi Kaur is primed for a second success.
In September, Kaur spoke with Bustle about her new collection, the pressures and pleasures of following up her first groundbreaking success, and what being an artist and a poet means to her right now. But first, we talked about Kaur's evolution as an artist. With an educational background in design, Kaur has experimented with the full gamut of art: painting, photography, line drawings, poetry, prose, performance art, and even clothing design and construction. For readers who watched the now 24-year-old poet catapult from Instagram star to New York Times bestseller, it might seem like her success happened overnight. But Kaur's commitment to her art has been lifelong and evolving.
"Whenever I get the urge to define myself as an artist — and that's hard to do in the first place — I think that what art is, and what I'm always trying to do, is expression; and what I've done throughout my life is try to discover the best means for that expression," Kaur says. "I'm always trying to get at the same thing, but I'm doing it through different means. For most of my life that was through visual art. I've been drawing and painting for so many years, that's really what I thought I was going to do."
the sun and her flowers by Rupi Kaur, $10, Amazon
What Kaur ended up doing, as her millions of readers know, is writing poetry. But the concise, spare, striking verse, often accompanied by line drawings, that Kaur is recognized for today isn't where she started. Her leap into poetry began in the world of visual art and performance.
"I was doing a lot of art exhibits in my community, and at the events all the visual artists had their work outside in the lobby or in the gallery space, and then there would be a show happening in the back where all the singers, the writers, the poets would be having a giant party," says Kaur. "So I thought: let me try that — I'm already writing, I wonder what it's like to perform."
She describes becoming hooked to performance instantly. "It was just the absolute opposite of my personality and how I was raised. I used to be super quiet and shy; I was okay with just being wallpaper. Performing was the opposite of my entire personality," she says. "But being up there, saying the things that I want to say, with people looking and listening — that feeling was what really drew me in. So I switched focused then. Making visual art and displaying visual art was such a silent art, and it's absolutely stunning, but there is something about performing and about spoken word that is just so loud."
Kaur performed her poetry for years before she began posting her work online, and she says she turned to social media — YouTube, Tumblr, and later Instagram — to share the work that she loved with a larger audience. It's that larger audience who, nearly six years after Kaur shared her first poem on an Instagram account of 100 followers made up mostly of friends and family (one that has grew to 1.6 million since,) has been eagerly awaiting this second collection.
the sun and her flowers is everything you'd expect from Kaur, and more. Visually, readers will recognize the bite-sized and exacting verse and clean line drawings that Kaur is known for. The collection is divided into five chapters that reflect Kaur's poetic arc: in milk and honey readers saw "the hurting", "the loving", "the breaking", and "the healing"; the sun and her flowers explores "wilting", "falling", "rooting", "rising", and "blooming. But what might draw readers to Kaur most is the way she creates a communal experience on the page — her verse speaks with her readers, rather than to them or at them. Her messages are clear, accessible, and evocative. She explores themes of love, loss, trauma, abuse, healing, femininity, the body.
milk and honey by Rupi Kaur, $9, Amazon
But there's a directness to the sun and her flowers too, one that wasn't quite as loud in milk and honey — Kaur writes specifically about her mother, the political history of South Asian women, colonization, immigration, female infanticide, and more. I ask Kaur if this second collection felt more explicitly political than milk and honey did.
"I don't think so. But I can understand why a reader might see it that way, and I'm not opposed to the idea," she says, explaining that the sun and her flowers began as two larger chapters about a woman (the Sun) and her many relationships (the Flowers). The collection opened with the experience of an unhealthy relationship and moved towards a healthy one, exploring the bridge between the two. But then Kaur moved to California for several months, as she was putting the final collection together.
"All of a sudden I was in the United States, and I was online, and I was being affected by all the things that were going on — it was January of 2017," she says. "I was so annoyed at myself because I wasn't able to write about the things that I want to write about, and instead I'm writing about things like the migrant experience. I was writing all these pieces, not expecting them to be included in the collection. I would say that organically the book kind of went in a political realm because I was in a very heated political climate. The poem Timeless, for example. I wrote Timeless either the day before or the day after the Women's March in L.A., and so it was kind of a product of just being in that space."
I also wonder if Kaur felt more pressure while writing the sun and her flowers, given not only the success of milk and honey, but her increased visibility while writing.
"tI was the worst," she says, laughing. "I didn't think it as going to be, but that was me being naïve, of course. Creating the sun and her flowers was very different than creating milk and honey, because by the time I decided to publish my first collection, the collection was already written and the drawings were already done. With the sun And her flowers it was like: okay, we're doing this thing for real now. I have to write the book."
"There was also a lot of self-imposed pressure," Kaur says. "I knew the only reason the second book was going to be successful was if it did everything that milk and honey did, and then more. There's no rule book for writing a second book — it's a different process entirely: how am I going to write this book? What about this book is going to sell a million copies like milk and honey? That kind of disabled me from writing for a long time. There were times when I was so fully convinced in every part of my body that this second book wasn't going to happen."
In addition to adding pressure to the writing process, Kaur's increased visibility also hasn't come without its share of criticism, which I ask her about. "I think the fact that I'm even published is a blessing," she says. "I didn't really grow up in a literary family, my grandparents are not literate at all, so just to be able to write and share is such a big deal for me. There's always going to be critics coming from all different angles, and I'm completely fine with that. One thing I've always said is as long as a work impacts me and impacts at least one other person, that's fantastic."
I ask Kaur, as someone who shares an enormous amount of her work on social media, if she thinks social media is changing the landscape of poetry — the way it's being written, who is reading it, and who is writing?
"I think so," she says. "Some people say that this is just a temporary thing. I hope it's not. Social media is changing so many different industries and the book world just happens to be one of them, which I think is fantastic, especially for people who wouldn't otherwise have access to the publishing industry, or who wouldn't otherwise have the network or the resources to make their way through that door."
She also appreciates that social media has enabled her to share her work so widely, and with such an expansive audience. "I'm really proud of the accessibility of my work," says Kaur. "It's something that I champion through the diction that I use. I think very purposefully about the simplicity of the work — people like to say: 'Oh, she writes really simple work because she's lazy.' But it takes me weeks if not months to really get to the core of a poem. Usually, when I write a poem, it starts off really long. I describe it kind of like a peach: there are layers, there is so much cushioning, so how do I strip it down to the pit, to the place where the emotions is. I don't want my reader to do the work of having to decipher what a poem is trying to say. I want them to do the emotional work. Read the poem, read through it easily, but by the end you should be emotionally impacted by it. I think that emotional work is what I'm looking for when I'm writing, and hopefully what my readers are looking for as well."
And to the other young poets, writers, artists, bestselling-hopefuls? "They should know that they can do it to," Kaur says. "It's really important for me to share that with people. Realize that you have the power within yourself to do whatever it is you want to do. Whatever you want to be, you already have that within yourself. I know it sounds corny, but I've seen that it works. Not only with myself but with other writers I'm around. You just have to embrace that power to do it."