Russell Simmons & Brett Ratner Allegedly Sexually Assaulted A Young Model, According To A New Report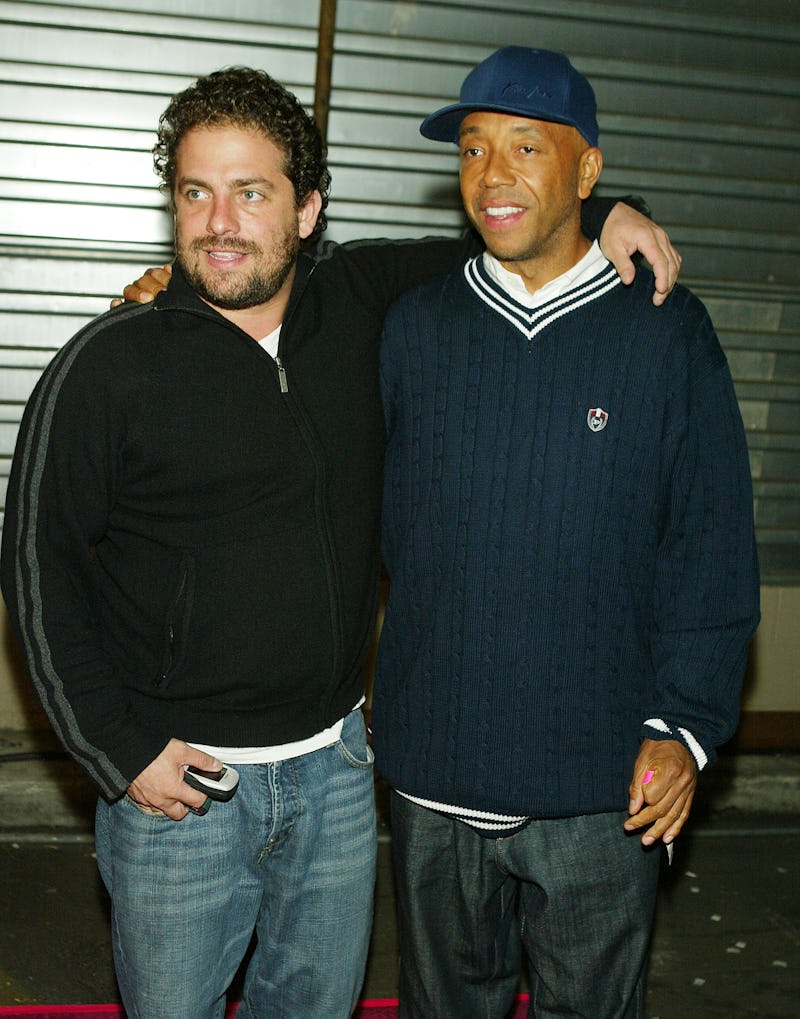 Kevin Winter/Getty Images Entertainment/Getty Images
A report by The Los Angeles Times published on Sunday, Nov. 19 alleged that music mogul Russell Simmons and Brett Ratner allegedly sexually assaulted a 17-year-old model in 1991. The model, Keri Claussen Khalighi, allegedly met Ratner during a casting call. At the time, Ratner was a music video director and the protege of Def Jam Recordings co-founder Simmons. Khalighi claims that Ratner and Simmons took her back to Simmons' apartment one night after dinner, where Simmons allegedly made unwanted sexual advances toward her and ripped off her clothing.
Khalighi alleged that she turned to Ratner for assistance. She told the LA Times,
"I looked over at Brett and said 'help me' and I'll never forget the look on his face. In that moment, the realization fell on me that they were in it together."
Ratner allegedly ignored Khalighi, and she alleged that Simmons then forced her to have oral sex with him. She alleged that Simmons also later penetrated her against her will while she was taking a shower. In a statement to the LA Times, Simmons denied the allegations: "Everything that occurred between Keri and me occurred with her full consent and participation." Ratner's attorney Martin Singer said that Ratner had "no recollection" of Khalighi asking for help, according to The Hollywood Reporter. Ratner is facing sexual misconduct allegations from at least 10 other women, all of which he has denied.
Later on Sunday, Nov. 19, Simmons issued a longer statement to The Hollywood Reporter denying all allegations of sexual misconduct:
"As a long-time social activist, I have applauded the strength of the brave men and women who have spoken out over the past month and made their voices heard regarding sexual assault and harassment. I am a supporter of the #MeToo campaign and the victims who were previously terrified to stand up and speak out against sexual misconduct. I completely and unequivocally deny the horrendous allegations of non-consensual sex against me with every fiber of my being.
I know Keri Claussen Khalighi and remember the weekend in 1991 that she has referenced. Everything that happened between us 26 years ago was completely consensual and with Keri's full participation. We spent time in my apartment over a period of two days and one night, as well as at some public places including Nell's Nightclub. Much of the time we were in the presence of other acquaintances. I'm deeply saddened and truly shocked to learn of Keri's assertions as to what happened over the course of that weekend.
Let me be crystal clear and very direct. Abusing women in any way shape or form violates the very core of my being. I have always spoken out regarding my life experiences, women's issues and the need to bring a faster and more decisive shift in the collective consciousness that will help bring about true women's equality. More than anything, I want my daughters to live in a more equal world and a world where they will not become victims of sexual harassment.
The LA Times article also references an allegation by Ms. Tanya Reid. I mean no disrespect to her at all when I say I honestly do not recall my telephone conversation with a hotel front desk clerk from over a quarter-century ago."
Khalighi alleges that when she saw Simmons at the Soho House in West Hollywood in 2016, he gave her a "really touching, remorseful apology." However, Simmons' attorney Brad D. Rose told the LA Times that his client's apology was "for the embarrassment and upheaval the weekend caused her" in connection with her "infidelity." Khalighi disputes Simmons' claims.
The newspaper also reported that three people who know Khalighi corroborated that she had told them about her what allegedly transpired at Simmons' apartment that night. Meanwhile, Simmons' attorney gave the LA Times a signed affidavit from Simmons' former assistant Anthony "Mac" McNair, who claims that he saw Khalighi go to Simmons' bedroom "on her own volition and without any coercion or undue influence." Khalighi alleged that she reached out to Simmons after the Nov. 1 report detailing the allegations against Ratner to let the music producer know she was considering coming forward with her claims. She alleged that Simmons apologized again and told her that he has two daughters. Phone records obtained by the LA Times show that Simmons called Khalighi, and that they spoke for 27 minutes.
"They are publicly denying these allegations, which implies that the women who come forward are liars," Khalighi told to the LA Times. "So I'm coming out because what I've experienced privately is not matching what they are saying publicly and hypocrisy to me is repugnant and it's time for the truth to come out."
Khalighi's allegations are one of several new accusations made against Ratner and Simmons that are detailed in the newspaper's extensive report. A former aspiring model, Tanya Reid, shared her alleged experience with the two men that she says occurred in 1994, when she was 18. Reid says she was working the front desk of a Miami hotel where Ratner and Simmons were staying while they filmed a music video. In the LA Times, Reid alleges that both men called the front desk repeatedly and asked for her to come upstairs so "Brett could hold me down and he could [perform oral sex]."
She further alleges that Ratner asked her if she would like to be in the music video, and that she gave him her phone number. He allegedly stopped by her apartment a few days later asking for oral sex. Reid said that Ratner allegedly exposed himself to her on the sofa, and pushed her head to his groin. Reid claims that she gave in, and shortly after the alleged experience she returned home and gave up on her dreams of becoming a model.
Model and actress Jaymee Ong, who has appeared in Entourage, also made allegations against Ratner. She alleged that the director invited her to his home in 2001 for a Halloween party, but when she arrived with two friends there was allegedly no one there aside from Ratner. Allegedly, Ratner asked Ong to come to his bedroom where he allegedly groped her and exposed himself to the actor. Ong claims that when she refused to sleep with him, Ratner allegedly masturbated in front of her.
Actor Sarah Shahi, who has appeared in TV series Life and Person of Interest, also joined the other women in making allegations against Ratner. She told to the LA Times that while she was on the set of Ratner's Rush Hour 3, Ratner would allegedly approach her from behind, thrusting his groin at her and making sexual comments. Shahi claims that she rebuked the director's advances, saying, "Each time, I'd get really loud and say, 'Why are your hands on me? Don't you need to go set up a shot?" She alleged that actor Jackie Chan and others witnessed Ratner's alleged behavior. Chan didn't respond to the LA Times requests for comment.
Shahi, Reid, Ong, and Khalighi's allegations are the latest in a string of allegations against Ratner. On Nov. 1, six women, including Natasha Henstridge and Olivia Munn made accusations of sexual misconduct against Ratner. In light of the first round of allegations, Ratner issued a statement to Deadline revealing that he would be stepping away from Warner Brothers as a producer. His statement read,
"In light of the allegations being made, I am choosing to personally step away from all Warner Bros.- related activities. I don't want to have any possible negative impact to the studio until these personal issues are resolved."
While these claims, like many that have been made in recent weeks, detail events that allegedly took place years ago, these women should be heard.
If you or someone you know has been sexually assaulted, call the National Sexual Assault Telephone Hotline at 800-656-HOPE (4673) or visit online.rainn.org.