Britain Is Sure Russia Tried To Poison Its Citizens. The White House Is Shrugging It Off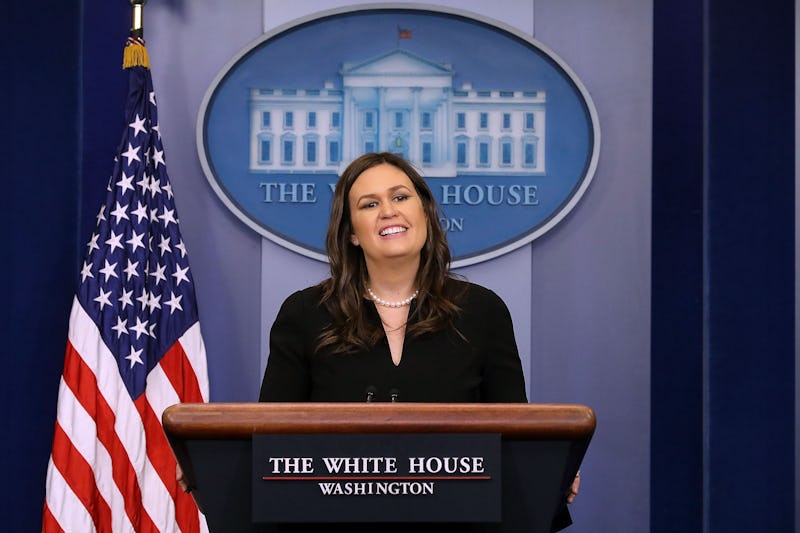 Chip Somodevilla/Getty Images News/Getty Images
Last week in England, a nerve agent attack left a former UK spy and his daughter in hospital. On Monday, U.K. Prime Minister Theresa May reported that it was "highly likely" that Russia was behind the attack, or else Russian authorities had "lost control" over the substance. When faced with May's condemnation in a press conference, however, the Trump administration wouldn't blame Russia for the nerve agent or its use against the two victims.
Reporters asked Press Secretary Sarah Huckabee Sanders three times on Monday whether the Trump administration would join the U.K. in blaming Russia for the attack. Three times, Sanders declined to do so, instead insisting that the U.S. would continue to stand with their ally across the pond.
"The use of a highly lethal nerve agent against U.K. citizens on U.K. soil is an outrage. The attack was reckless, indiscriminate and irresponsible," Sanders said in the first iteration of her response. "We offer the fullest condemnation and we extend our sympathy to the victims and their families and our support to the U.K. government. We stand by our closest ally and the special relationship that we have."
Twice over, she repeated nearly-identical statements, only adding that the U.S. would "be of any assistance" to the U.K., if or as needed.
May, however, took a much firmer stance when responding to the attack, which targeted a double agent named Sergei Skripal, who shared Russian secrets with the U.K., as well as his daughter, Yulia. When speaking before the House of Commons on Monday, the British prime minister was directly to the point:
Based on the positive identification of this chemical agent... Our knowledge that Russia has previously produced this agent and would still be capable of doing so; Russia's record of conducting state sponsored assassinations, and our assessment that Russia views some defectors as legitimate targets for assassinations, the government has concluded that it is highly likely that Russia was responsible for the act against Sergei and Yulia Skripal.
In 2006, Russia found out that Skripal, a military intelligence officer, was acting as a double agent and selling Russian state secrets to the United Kingdom. He was thence imprisoned. In 2010, he was released as part of a spy swap, after which he settled in the United Kingdom. His daughter, however, still lived in Russia. She was visiting with her father at the time of the attack.
Last week, the two were discovered unconscious on a bench in Salisbury, a city in south-central England. They have been hospitalized since.
Though initially suggesting that there was no threat to the public following the attack, the British government changed its tune on Sunday, urging citizens who may have been nearby at the time to wash their clothes and possessions. The government released a leaflet which explained the situation, though they maintained that risk of harm was low.
"While there is no immediate health risk to anyone who may have been in either of these locations, it is possible, but unlikely, that any of the substance which has come into contact with clothing or belongings could still be present in minute amounts and therefore contaminate your skin," officials wrote. "Over time, repeated skin contact with contaminated items may pose a small risk to health."
The Trump administration's hesitance to join the U.K. in assigning blame to Russia comes as allegations of potential collusion between the 2016 Trump campaign and Russian officials, in an attempt to affect the election, continues to dominate U.S. headlines. Special Counsel Robert Mueller is investigating the matter, and a series of other inquiries as they pop up along the way. (Trump and his team have consistently maintained that there was absolutely no collusion with Russia, as has a report from the House Intelligence Committee.)
As the investigation plays out, the new Russian ambassador to the United States has said that "Russiaphobia" has become so common that he has had difficulty securing meetings with U.S. lawmakers.