Ruth Bader Ginsburg Just Revealed How Many More Years She'd Like To Stay On The Bench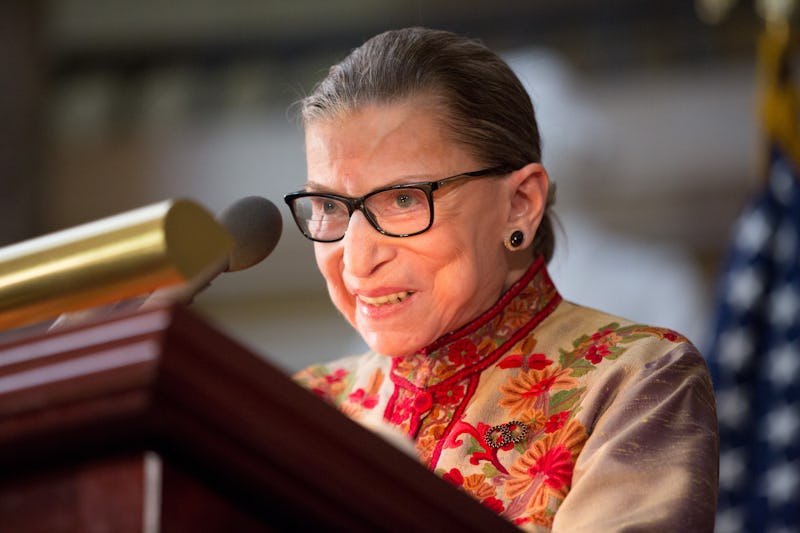 Allison Shelley/Getty Images News/Getty Images
There's some great news for fans of one of the Supreme Court's most infamous liberal justices. During a talk delivered in New York City, Ruth Bader Ginsburg suggested that her retirement will have to wait until she is at least 90 years old. Doing the math, that puts her on the bench for at least another five more years.
"I'm now 85," Ruth Bader Ginsburg said, speaking after a performance of The Originalist, a play about late Supreme Court Justice Antonin Scalia, according to CNN. "My senior colleague, Justice John Paul Stevens, he stepped down when he was 90, so think I have about at least five more years."
RBG's announcement will undoubtedly offer a sense of relief for her fans and supporters, both inside Washington and outside of it. This is especially true as the Senate gears up to attempt to confirm Supreme Court nominee Brett Kavanaugh, who faces fierce opposition from most Democrats.
Trump has already appointed one justice; Kavanaugh, if confirmed, would be his second. If RBG were to stay on the bench for at least another five years, that would mean that at least one liberal seat will remain filled, and therefore would not be eligible for replacement by a conservative Trump appointee.
Back in January, news broke that RBG had already hired law clerks for the next two terms. Such news suggested that, even before Kavanaugh's nomination, she planned to continue serving on the court for at least a while longer.
The heightened drama surrounding Supreme Court seats comes just weeks after Supreme Court Justice Anthony Kennedy announced his impending retirement. Though he was appointed by a conservative president, and justices tend to mirror their appointing president's politics, he was largely considered a wild card when it came to handing down decisions. Without him on the bench, it is widely expected for the court's ideological bent to be firmly cemented in favor of conservatives, a shift that could last for a generation and have have a massive impact on legal culture in the United States for decades to come.
Congressional Democrats are particularly miffed at Kavanaugh's nomination because, during President Obama's last year in office, they were blocked from confirming then-nominee Merrick Garland. Many Republicans argued that it was unfair to appoint a Supreme Court justice during an election year. At the time, they contended that voters should be able to select the next president, first, as a de facto referendum on the type of justice they'd like to see selected.
Ultimately, Republicans were successful, and after Trump was elected, he appointed (and the Senate confirmed) now-Supreme Court Justice Neil Gorsuch. Now, Democrats are attempting to weaponize Republican's rhetoric against them, arguing that it's unfair to confirm Kavanaugh right away, because 2018 is a midterm election year, and many in Congress could feasibly lose their seats come November.
If RBG does stay a Supreme Court justice until she is 90, her presence will likely be somewhat of a solace for those who prefer a liberal majority on the court. Providing that consistency will allow her supporters to focus on other issues.