RBG Suggested The Last SCOTUS Term Was Especially Unusual & Not In A Good Way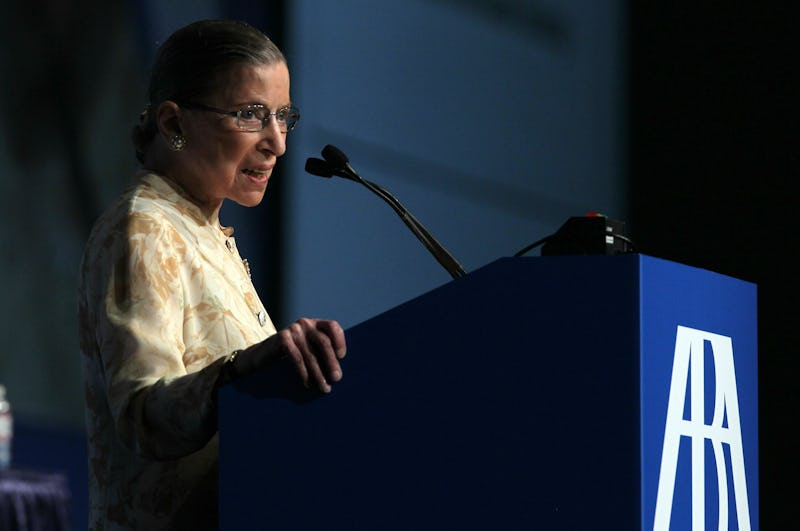 Justin Sullivan/Getty Images News/Getty Images
In her 25 years on the Supreme Court bench, she's had to weigh in on major issues, from marriage equality to abortion access, and even a presidential election. But according to CNN, Ruth Bader Ginsburg says SCOTUS' 2017-18 term stands out. At an event at Duke University on Wednesday evening, the 85-year-old justice described this year's term as "much more divisive than usual."
Ginsburg said that there were "far more than the usual number of high-profile disputes," in this "momentous" term, and that she hoped the court would return to its normal levels of divisiveness next term. As CNN reported, she also drew parallels between current divisions on the Supreme Court, and the fractures along party lines in Congress. While she said she and her fellow justices still manage to maintain a collegial spirit despite their ideological differences, she noted "You don't see that kind of friendship existing in Congress anymore. You might recall that when I was nominated by President Clinton, the [confirmation] vote was 96-3. It's not that way anymore."
Ginsburg definitely has a point when it comes to SCOTUS divisions. A report published by SCOTUSblog at the end of the 2017-18 term found that justices were divided in 61 percent of the cases they heard. Even in the 39 percent of cases in which all the SCOTUS justices voted the same way, it was still common for justices to write concurrent opinions or to not join the majority opinion in full.
While Ginsburg didn't go into detail about specific divisive cases, there are a few notable ones from this term that stand out as particularly controversial. In a 5-4 vote, the court ruled that government workers who choose not to join labor unions may not be required to pay for collective bargaining, a blow to organized labor movements. The court also struck down a California law that required "crisis pregnancy centers" to provide patients information about abortion, again in a 5-4 vote. And who could forget the travel ban? In Trump v. Hawaii, the court voted 5-4 to uphold the Trump administration's ban on travel from seven countries, most of which are Muslim-majority. If you were wondering, RBG dissented in all three of these cases.
Further controversy around the Supreme Court has come in the last two months after Justice Anthony Kennedy announced his retirement in June. While not relating to one specific case, Kennedy's retirement has brought into question the future political leaning of the court, and the outcome of SCOTUS cases for the next generation. Brett Kavanaugh's nomination to replace Kennedy was met with significant backlash from Democrats, who disagree with Kavanaugh's conservative viewpoints and feel that the vote should be postponed. Many pointed to Republican Sen. Mitch McConnell's famous decision to postpone a confirmation vote on Merrick Garland (President Obama's nominee to replace Justice Antonin Scalia) in 2016, because it was an election year.
Ginsburg's reflections on Wednesday come after a speaking event on Sunday during which, according to CNN, she said she is not planning to retire for at least another five years.