RBG Reportedly Voted Down Trump's Asylum Restrictions From Her Hospital Bed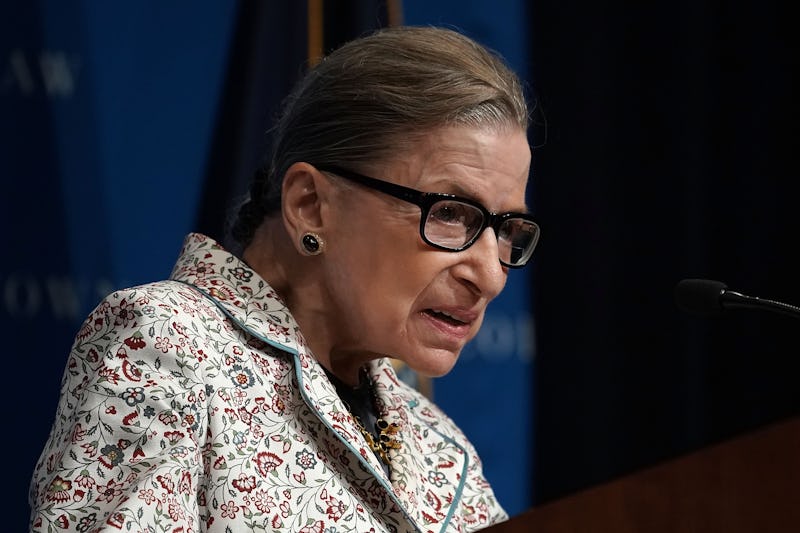 Alex Wong/Getty Images News/Getty Images
Shortly after she underwent surgery to remove two malignant growths from her left lung, Justice Ruth Bader Ginsburg cast the deciding vote on Trump's asylum restrictions — from her hospital bed, according to a report from NBC News. The Trump administration's policy sought to temporarily stop immigrants who illegally crossed the southern U.S. border from applying for asylum anywhere but official ports of entry, CNN reported.
Doctors reportedly found the cancer in Ginsburg's lung in November after she fell in her office and fracture several ribs, according to NPR. A press release from the Supreme Court on Thursday read:
According to the thoracic surgeon Valerie Rusch, both nodules removed during surgery were found to be malignant on initial pathology evaluation. Post-surgery, there was no evidence of any remaining disease. Scans performed before surgery indicated no evidence of disease elsewhere in the body. Currently, no further treatment is planned. Justice Ginsburg is resting comfortably and is expected to remain in the hospital for a few days.
A federal judge in California blocked the Trump administration's asylum policy, put into place on Nov. 9. The block was upheld by both the the 9th U.S. Circuit Court of Appeals and the Supreme Court. Chief Justice John Roberts reportedly sided with the four liberal justices in a 5-4 vote, according to CNN, and NBC reported that Ginsburg cast the deciding vote while still hospitalized.
CNN's Supreme Court analyst and University of Texas School of Law professor Steve Vladeck said the decision is a "major blow" to the Trump administration, and it "sends a strong signal that there are at least five justices who agree with the district court that the asylum ban exceeds the President's statutory authority."
Thoracic surgeons told NPR that pathology findings, usually released a few days after a surgery, will determine Ginsburg's prognosis, but that many patients in their 70s and 80s make quick recoveries when cancer is detected at an early stage like in Ginsburg's case.
True to form, Ginsburg was reportedly up shortly after her surgery. According to NPR, she even called some friends, "who said she sounded strong, and pretty chipper." RBG is well known for her dedication to her work on the bench. After she fractured her ribs last month, her nephew Daniel Stiepleman, said she was "up and working" in the hospital, according to NBC News. "The last I heard she was up and working, of course, because what else would she be doing, and cracking jokes," Stiepleman told NBC. "I can't promise they were good jokes but they were jokes."
In August, RBG said that at 85, she had no immediate plans to retire, according to CNN. "My senior colleague, Justice John Paul Stevens, he stepped down when he was 90, so think I have about at least five more years," Ginsburg said at the time.
And as recently as Dec. 16, just a few days before her surgery, those plans still hadn't changed: "I will do this job as long as I can do it full steam," Ginsburg said at a New York screening of a film about her life, On the Basis of Sex, according to HuffPost.
This is the third time Ginsburg has been diagnosed with cancer — she received treatment for colorectal cancer in 1999 and pancreatic cancer in 2009, according to NPR. Still, NBC reported that Ginsburg has never missed Supreme Court arguments in more than 25 years on the bench.