Ruth Bader Ginsburg's Statement On Anthony Kennedy Retiring Says A Lot About His Character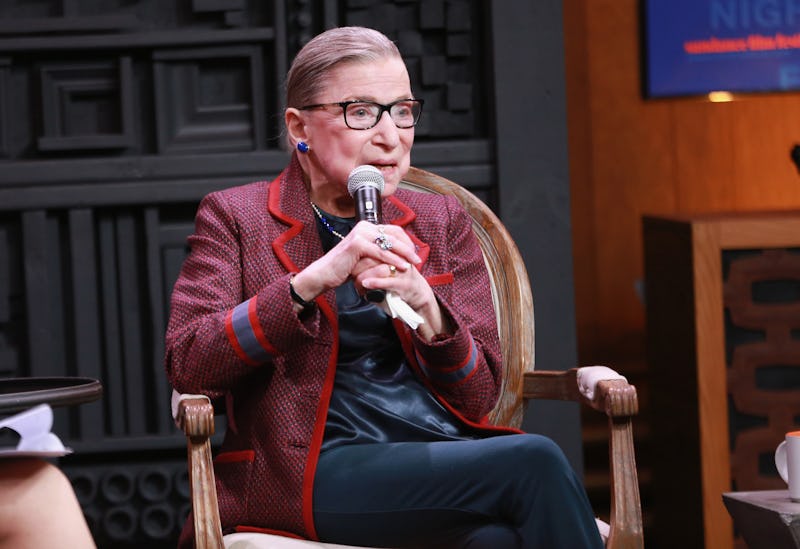 Robin Marchant/Getty Images Entertainment/Getty Images
In the wake of one particular justice's retirement announcement, each of his Supreme Court colleagues gave a statement about him. Ruth Bader Ginsburg's response to Anthony Kennedy retiring was one of the most touching. At 85 years old, Ginsburg has been with Kennedy on the Supreme Court bench since she was sworn to the bench in 1993 (Kennedy was sworn in in 1988).
In her statement, Ginsburg wrote, "Kennedy is a true gentleman, a caring jurist, and a grand colleague in all respects. I will miss the pleasure of his company at our Conference table, his helpful suggestions on circulating opinions, his recommendations of art exhibitions to visit with my chambers staff, and much more."
Ginsburg closed by adding, "For the good he has done during the 43 years he has served as a member of the Federal Judiciary, he has earned a rousing Bravo."
Though Kennedy was a conservative-leaning justice and Ginsburg is the leader of the liberal faction of the bench, they agreed on several landmark Supreme Court cases, such as the right for same-sex couples to marry. Kennedy was known to be the "swing vote" on the bench, the one justice who often oscillated between the liberal and conservative opinion.
Ginsburg has not yet commented on how she thinks the next Supreme Court nominee could change things for the American people, but pretty much everyone else has.
Jeffrey Toobin, the Chief Legal Analyst for CNN, said of the new Supreme Court nomination that it's time for people to stop viewing the Supreme Court as some intangible, lofty ideal, but rather an incredibly important catalyst for some of the laws that affect our day to day life.
He said,
Sometimes we talk about the Supreme Court in too much abstraction...but let's talk facts. Let's talk about what America is going to be like that's different. You are going to see twenty states pass laws banning abortion outright. Just banning abortion. Because they know that there are now going to be five votes on the Supreme Court to overturn Roe v. Wade....abortion will be illegal in a significant part of the United States in eighteen months.
Given the severity of the situation, you might wonder what Ginsburg, a longtime advocate of gender equality and a defender of a woman's right to choose, will say when the time comes to appoint nominees.
In 2016, the Supreme Court struck down a Texas ruling that required abortion centers to adhere to extremely strict health and safety standards in a 5-3 vote, with Ginsburg standing in the majority opinion. In her concurrent statement, Ginsburg emphasized the importance of ensuring that women have access to abortion centers, and the dangers that come with limiting access to abortion centers in any area.
"When a State severely limits access to safe and legal procedures," she wrote, "women in desperate circumstances may resort to unlicensed rogue practitioners, faute de mieux, at great risk to their health and safety."
With Kennedy planning to retire by July 31, there stands a high likelihood that whoever replaces him will not be as much of a swing voter as he was, and will increase the majority of staunch conservatives to five people on the bench — a majority percentage for any case. Should that happen, Ginsburg, the leader of the liberal minority on the bench, would likely be on the losing side of many fights for progressive legislation in the future.
That doesn't necessarily mean she won't like the Supreme Court nominee, though. After all, Ginsburg had a famous friendship with the late justice Antonin Scalia, who was a staunch conservative and one of her closest confidantes.
Of her friendship to such a strict conservative justice, Ginsburg said, "As annoyed as you might be about his zinging dissent, he's so utterly charming, so amusing, so sometimes outrageous, you can't help but say, 'I'm glad that he's my friend or he's my colleague'."
Here's hoping the next nominee will be likable enough to be friends with the notorious RBG.