Ruth Bader Ginsburg Just Made Her First Public Appearance Since Her Fall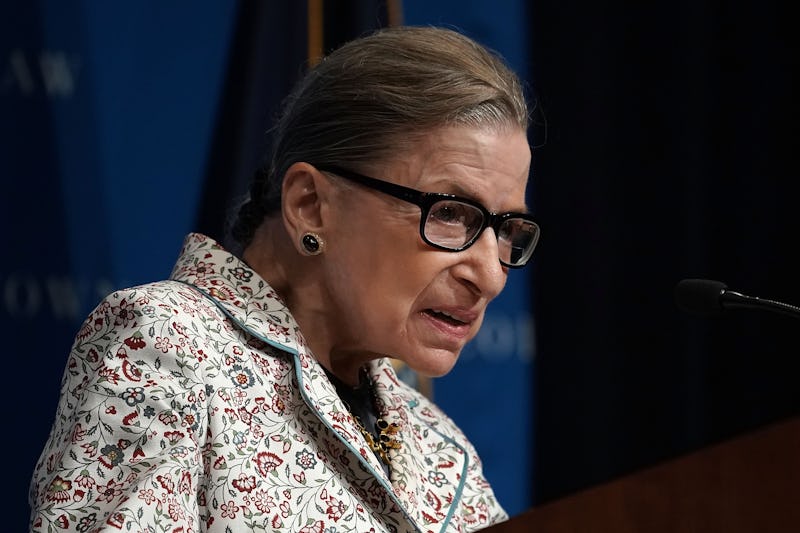 Alex Wong/Getty Images News/Getty Images
Just over a week after she fractured three ribs, Supreme Court Justice Ruth Bader Ginsburg made her first public appearance since her fall at at the White House's Medal of Freedom ceremony on Friday. During the ceremony, which honored Ginsburg's former colleague — the late Justice Antonin Scalia — among others, President Donald Trump told Ginsburg that he was "glad to see you're feeling great."
Sen. Orrin Hatch, a Republican from Utah, was another one of the seven Medal of Freedom recipients honored during Friday's ceremony, and he tweeted a photo of him hugging Ginsburg.
"Thrilled to see Justice Ginsburg doing so well," Hatch tweeted.
Although Ginsburg was hospitalized last week after falling in her office, SF Gate reported that she is already planning to return to the gym next week as she continues to recover. Her presence at the Medal of Freedom ceremony was also particularly significant because she was a close friend of Scalia's — a friendship that persisted despite their extreme partisan differences.
This was not the first time Ginsburg fractured her ribs while serving on the bench. Back in June 2012, Ginsburg fractured two ribs in a fall, but did not publicly disclose her injury for months afterward.
At 85 years old, Ginsburg is the oldest member of the Supreme Court. She has had a few health scares in recent years and she is a cancer survivor, but she has said that she doesn't plan to retire any time soon. Instead, she has a rigorous exercise routine that keeps her fit, and she works with her personal trainer — Bryant Johnson — twice a week, per Business Insider. Johnson told Vox on Tuesday that Ginsburg is "tough as nails," and she will soon be back to her intensive workouts.
"With three cracked ribs, I won't have her on the elliptical right away," Johnson told Vox. "My warm up will be gentler — and then we'll adjust accordingly. When she gets stronger, we'll resume the regular workouts."
When Trump saw Ginsburg in the audience during Friday's Medal of Freedom ceremony, he appeared to pause when he addressed her, according to NPR's Nina Totenberg — though Ginsburg was only a bit surprised. Ginsburg and Trump have a tense history, having criticized each other on numerous occasions.
When Trump was still running for president back in July 2016, Ginsburg told The New York Times that she couldn't imagine "what the country would be — with Donald Trump as our president."
"For the country, it could be four years," Ginsburg said at the time. For the court, it could be — I don't even want to contemplate that."
Ginsburg also described Trump as a "faker," and in response, Trump called for Ginsburg to resign, stating that the justice had "embarrassed all by making very dumb political statements about me."
Although, as CNN pointed out, Ginsburg has not made any overt comments criticizing Trump in recent months, Democrats have looked up to her as a liberal voice on the Supreme Court, especially in light of Trump's more conservative appointments. Her attendance at the Medal of Freedom ceremony on Friday was proof, to many of her fans, that she would persist despite her fractured ribs or any other hurdles.