Ruth Wilson Wants To Play A 'James Bond' Villain & Please World, Make It Happen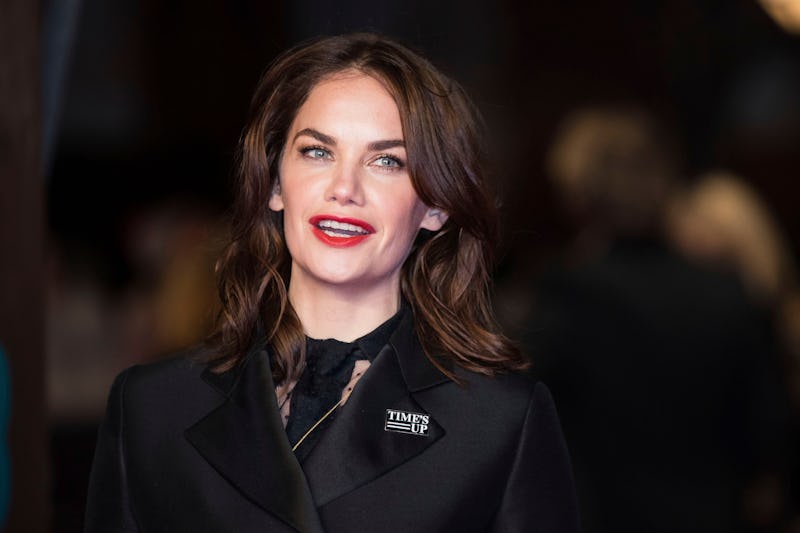 Vianney Le Caer/Invision/AP/Shutterstock
Espionage is the name of the game this season on BBC, as we've seen a renewed interest in spy storytelling with shows like The Little Drummer Girl and Mrs Wilson quickly becoming smash hits. It makes sense as the UK is always going to have a soft spot for the genre as James Bond, the ultimate super spy, is nothing short of a national icon. With Bond 25 on the horizon — there's been a lot of chatter about Daniel Craig's latest outing as 007. In fact, there's been even more speculation about what's going to happen once he hangs up the tux. But what about the villain? Well, Ruth Wilson wants to play a female bond villain in the next film, and she convinced me that it absolutely needs to happen.
I spoke to Wilson ahead of the finale of Mrs Wilson, the brilliant BBC drama which tells the true story of her grandfather Alec Wilson, a government spy and serial bigamist. On the subject of Bond, Wilson was clear: "I'd love to play a Bond baddie," she said. "I think that would be quite fun."
She told me, "I think there should be a female Bond baddie. He's so pathetic around women, James Bond, but it should just be obvious that there's a woman who could manipulate him. Cause he just gets so weak at the knees."
There's been a few female Bond villains in the past, including Grace Jones as Mayday, Maud Adams as Octopussy, and Honor Blackman as Pussy Galore. (Side note: those latter two character names are just yikes.) The three aforementioned women all wound up succumbing to Bond's charms though and I just want to see more villains like Rosamund Pike's Miranda Frost in Die Another Day, who well and truly commit to evil. We need to see more female villains who are bad to the bone and put action heroes on their toes.
And TBH, I could totally see Ruth Wilson pulling that off. Not because she's villainous of course — she was perfectly lovely during our interview — but because she's an amazing actress. She pointed out however that she didn't "really have any power" over the Bond franchise and so it's just something on her Christmas wish list for now.
That said, the genre wouldn't be a stretch given that her grandfather was literally a spy and that's what her current BBC drama focuses on. At the moment, she's playing her IRL grandmother Alison Wilson in a three-part series called Mrs Wilson. She's no stranger to MI6's murky waters as it revolves around a dark part of her family history when her grandmother grappled with the fallout of her husband's death: Alexander 'Alec' Wilson, a former secret service agent.
Set during the aftermath of Alec's sudden death by heart attack, Alison discovers that she is just one of his four wives. As the line between truth and love blurs, she tries to unravel her late husband's tangled web of espionage, duty and deceit.
Even though there's been a lot of speculation about a female James Bond, Wilson couldn't care less for it however. When I asked if she'd be interested in donning the tux, she immediately laughed and said, "No."
A little gutting TBH, but I guess it's not a role for everyone. There's quite a few people out there keen on seeing James Bond go a similar route to Doctor Who by rebooting the franchise with a female lead, as betting service Coral has the odds of "Any Female" to take over the role at 12/1.
However the series' executive producer Barbara Broccoli has more or less put a pin in that.
She said to The Guardian, "Bond is male. He's a male character. He was written as a male and I think he'll probably stay as a male. And that's fine. We don't have to turn male characters into women. Let's just create more female characters and make the story fit those female characters."
Broccoli continued, "But look at the way the world has changed. And I think Bond has come through and transformed with the times. I've tried to do my part, and I think particularly with the Daniel [Craig] films, they've become much more current in terms of the way women are viewed."
I genuinely find the earlier Bond films super fun and schlocky, but some of them really haven't aged well. I for one am really interested to see what a post-#MeToo James Bond will be like, even if I'm devastated about Daniel Craig leaving the role.
The final episode of Mrs Wilson will air tomorrow on BBC One at 9 p.m. and the thrilling conclusion to the drama is an absolute tearjerker. If you're not up to date, earlier episodes can be watched on BBC iPlayer.