This Sneaky Loophole Could Have Stopped 'Mrs Wilson's Alec Going To Prison If Caught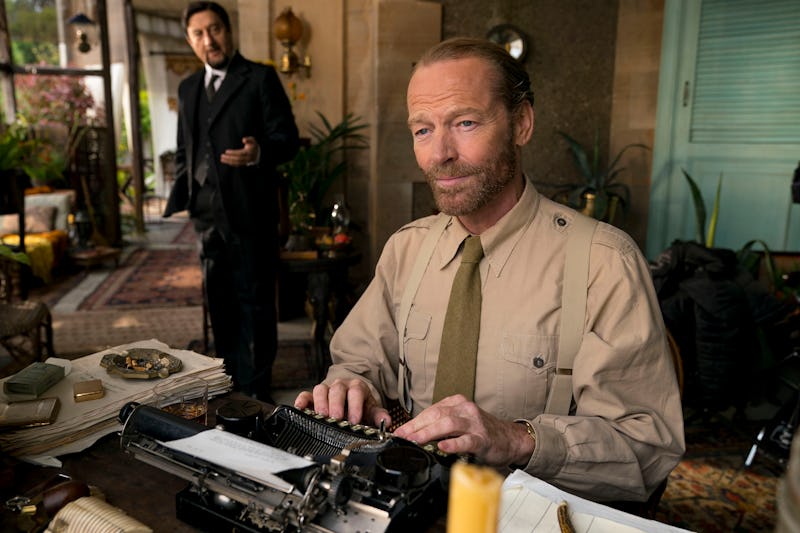 Mrs Wilson / BBC
Imagine waking up one day and finding out that your partner has not just one, but four different wives. If that sounds far-fetched, prepare to be surprised because that's exactly what happened to a woman named Alison Wilson whose life is now the subject of the BBC's latest series. Aptly named Mrs Wilson, the series focuses on the aftermath of the sudden death of Alison's husband Alexander and his other wives that come out of the woodwork. Although Alexander (or Alec, as he's better known in the show) passed away before his worlds collided, bigamy was then and still remains a crime in the UK. So would Mrs Wilson's Alec go to prison for bigamy if caught?
Well, had he been caught and reported however, it would have not only made for a very interesting trial but could have had some major criminal consequences. In short, bigamists can go to prison — but one lawyer thinks Alexander might have been able to get away with it if he'd been charged.
I spoke with Arron Bortoft, a family law director at Vardags who oversees their Cambridge offices, for more insight. (He's also a fellow Mrs Wilson fan.) He explained, "The law in England and Wales is quite clear on bigamy. If any married person marries any other person whilst their former husband or wife is alive, wherever in the world that marriage takes place, then they are guilty of the crime of bigamy."
Bortoft continued, "Although polygamy is legal and widely practiced in other countries, if a polygamous marriage takes place in the UK it is still prohibited. Cultural confusion is no defence, and the punishments are severe, ranging from fines to up to seven years in prison (or both)."
It's wild to think that some people really believe they can get away with bigamy, but the world continues to surprise me. This 2018 alone, there's already been a couple of cases including West Bridgford man Daniel Glasby who was charged with a suspended prison sentence, 100 hours of community service and ordered to pay a £2,000 fine, the Nottingham Post reports. Another story, which might take the cake for one of my favourites of the year, involved a man named Daniel Gundry who was caught out by his wife when she spotted him on Ant and Dec's Saturday Night Takeaway with another woman, as the BBC reports. Gundry was later charged officially with bigamy and was "jailed for six months."
If you've followed the true story behind Mrs Wilson however, you'll know that Alexander Wilson was married to four women and as such he could have run into some major trouble with the law. That said, he was also a valued spy with both MI5 and MI6 and the marriages may have formed part of his cover. (MI5 apparently have refused to clarify and declared his records "case sensitive", according to his granddaughter and actress Ruth Wilson who plays Alison in the series, as reported by the Radio Times.)
Supposing that Alexander had been formally accused of bigamy however, Bortoft explained that the man could have fallen into more of a grey area due to his espionage background. He said, "Whilst the law may be strictly applied to private citizens, whether an MI6 spy would be subject to the same level of scrutiny is less obvious, particularly as even now the secret service are reportedly keeping a tight hold on Wilson's 'case sensitive' files."
"Secret agents are likely to have a number of different identities — such is the nature of the job. Though stats on the subject are — for obvious reasons — hard to come by, it's conceivably quite likely that spy-related bigamy is common," he continued.
"Alexander Wilson legally was only married to his first wife [Gladys Wilson] and therefore was probably guilty of bigamy in relation to the subsequent three, but given the cloak of wartime espionage and necessary blurring of the lines between fact and fiction, it's unlikely that a criminal prosecution would have arisen during his lifetime," Bortoft finished.
The whole thing is very cloak and dagger, especially because not even his descendent Ruth Wilson knows which of his marriages were work-related (if they were at all).
She said at a press screening via Radio Times, "We still haven't come to a conclusion. MI5 still won't release his records as to what he got up, they're 'case sensitive', whatever that means. But after 70 years they won't release them so we don't really know what he actually got up to or what he was doing with MI5, or MI6."
She continued, "We don't know if the marriages were partly - were they for work? Were they for love? We still don't have clarity on that. So he's a man of mystery."
It sounds like a pretty frustrating family situation to be in, but it certainly makes for fascinating telly. The next episode of Mrs Wilson airs tonight on BBC One at 9 p.m..