Updates On Ryan Duke Since The 'Up & Vanished' Podcast Show There Might Be More To His Story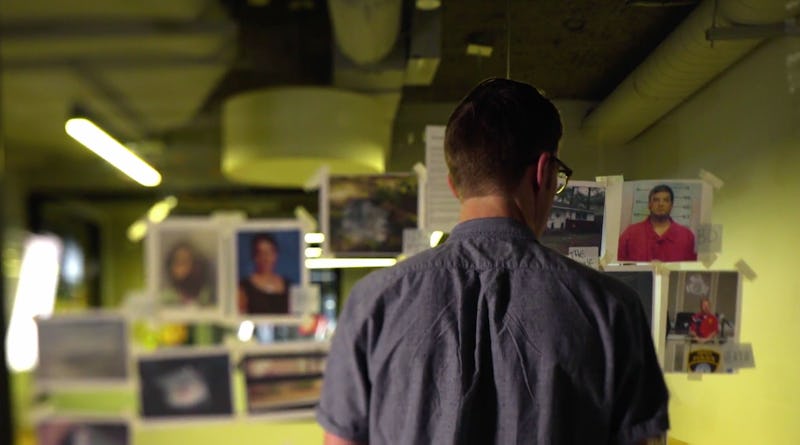 Oxygen
When history school teacher Tara Grinstead failed to show up for class one morning in October of 2005, her colleagues, friends, and family immediately knew that something wasn't right. Over ten years later, when Grinstead's disappearance still hadn't been solved, podcaster Payne Lindsey decided to take a crack at it himself. After the monumental success of his podcast, Up and Vanished, and following the arrest of two men suspected of being involved in Grinstead's murder, it seems that the mystery that has captured the attention of true crime fans everywhere is finally reaching its conclusion. Oxygen is set to air a one-night television Up and Vanished special on Sunday, Nov 18, that promises to pick up right where the podcast left off and, most important for those following Grinstead's case, give updates on Ryan Duke, the man charged with Grinstead's murder.
Investigators had not had a significant break in the case until the girlfriend of a high school friend of Duke's, a man named Bo Dukes (no relation) came forward to the Georgia Bureau of Investigation to report her boyfriend's alleged involvement in the crime, according to CBS News. "I felt like I was gonna be sick. I didn't know who I was staring at. I didn't know who he was," Brooke Sheridan, Dukes' girlfriend, told 48 Hours correspondent Peter Van Sant in an interview. According to her, Dukes confessed that Duke, a former student of Grinstead's, had killed the history teacher, and that he assisted Duke in disposing of the body.
In 2017, Duke was arrested and charged with Grinstead's murder, and one week later, Dukes was arrested for helping Duke conceal the body, according to the Atlanta Journal-Constitution. According to arrest warrants obtained by NBC affiliate 11Alive, investigators believe that Duke killed Grinstead during an attempt to burglarize her home. Duke then allegedly enlisted the help of Dukes to dispose of the body, burning her remains in a pecan grove, according to WALB News10.
Though Duke and Dukes were not arrested until 2017, the pair had allegedly confessed their involvement in Grinstead's disappearance merely months after she had gone missing. According to a report from AJC, the pair told some people at a party they attended that they were responsible for her death. Even though these confessions were allegedly reported to the police in 2005, no arrest was made at that time.
No obvious motive has been reported for Grinstead's murder. Duke was indicted on malice murder, two counts of felony murder, aggravated assault, burglary and concealing a death on April 12 of 2017, according to Fox 5 Atlanta. He has since pled not guilty, and remains behind bars while awaiting trial, according to WALB News 10.
WALB reports that Duke's trial likely won't begin until 2019, and Duke's legal team has been busy preparing his defense. In August of this year, his attorneys filed over two dozen motions, including one attempting to ban the word "murder" from Duke's trial, according to WMAZ. And though statements that Duke has given to the police have not been reported, his attorneys have filed a motion to suppress those statements on the grounds that they were "not freely or voluntarily given," according to WALB.
Until the trial, Duke remains behind bars. And those looking to find closure in the case of Tara Grinstead are now one step closer.