Ryan Gosling & JAY-Z Are The 'SNL' Duo No One Asked For, But Everyone Needs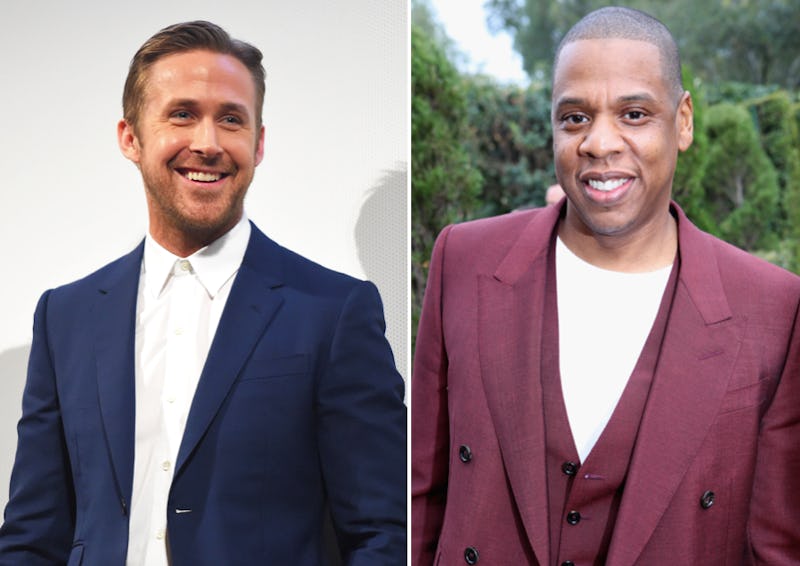 Getty Images/Bustle
There have been many a strange host/musical guest pairing in Saturday Night Live's 40-some years: Lindsay Lohan and Jack White, Jackie Chan and Kid Rock, Al Gore and Phish. But Ryan Gosling and JAY-Z opening SNL Season 43 hits the sweet spot between weird and wonderful. They're not a duo you'd think to put together, but hey, it works, and the internet agrees. NBC only announced on Thursday night that Gosling will host while JAY-Z will perform during the Sept. 30 premiere, and Twitter has already begun collectively freaking out.
And why not? Gosling is a bona fide movie star with a swath of major award wins, and JAY-Z is a hip-hop legend with a staggering 21 Grammys and hundreds of millions of record sales. They're both dynamos in their respective industries, and they've got massive fan bases to boot. Sure, they don't exactly run in the same circle: Gosling's oddball indie band is a far cry from Watch The Throne, and according to Kanye West, Hov is more into gangster movies than musicals or rom-coms (though he may have seen Gosling in Gangster Squad, since his song was featured in the trailer). But that's what makes it so unexpectedly perfect.
Here are just a few of the best Twitter reactions thus far:
Suffice it to say, Gosling and JAY-Z's team-up already sounds like a must-watch show.