Ryan Gosling Is Having A Blast With 'Blade Runner'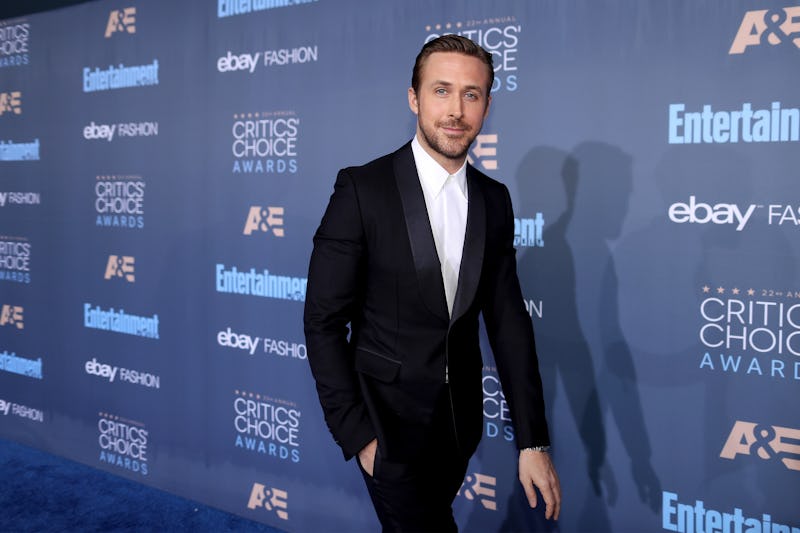 Christopher Polk/Getty Images Entertainment/Getty Images
Hey girl, remember the dark days of spring 2013, when Ryan Gosling talked about taking a break from acting? Well thank goodness Gosling's Blade Runner 2049 interview suggests that the Renaissance Man of cinema is once again totally, madly in love with Hollywood and the craft. Rewind to the year of endless weeping for fans of the actor that was 2013, when the feminist meme said:
"I think it's good for me to take a break and reassess why I'm doing it and how I'm doing it. And I think this is probably a good way to learn about that. I need a break from myself as much as I imagine the audience does."
Well, thank goodness that the break didn't last forever. The most chiseled cheekbones in Hollywood were absent from our screens for 2014, but came back in 2015 with The Big Short, and, since then, Gosling's career has gone strength to strength. So it's no wonder he got cast as Officer K in the hottest ticket around, Blade Runner 4049.
The film takes place 30 years after the event in the first film, and, according to Entertainment Weekly, derives from an idea Blade Runner director Ridley Scott has had "for over 30 years."
Gosling described working with the director helming the sequel, Denis Villeneuve, with nothing but positivity. "If you made a list of all the characteristics you hoped for in a director and sent it to Santa Claus, there'd be a Denis Villeneuve under your tree Christmas morning," he said. "Maybe a little drunk on eggnog, but he'd be there!"
The compliments didn't stop there. He emphasized how much he was learning on-set working alongside Villeneuve and cinematographer Roger Deakins when he said:
"Roger is a master. If there's a Mount Rushmore of DPs, he'd be right there in the middle. He goes about his work very modestly and quietly, but you learn so much from just looking. You realize that once you are in one of his shots, half your job is already done."
Wow. Gosling is really having a good time. Which is, in itself, kind of a stunning achievement. After all, who else has enjoyed a career as rich, varied and fulfilling as he has? He's got to be a matinee idol (The Notebook), an Oscar nominee (Half Nelson, La La Land) and probable Oscar winner very soon (La La Land), and an indie darling (Lars And The Real Girl; Blue Valentine; Drive). It's hard to imagine how he could ramp it up even further.
But yes — starring alongside a living legend like Harrison Ford aka Indiana Jones aka Han Solo aka original Blade Runner protagonist Rick Deckard will probably do that for you. As will working with Villeneuve, whose elegant grasp of the workings of thrillers has already been demonstrated on films like the Hugh Jackman/Jake Gyllenhaal vehicle Prisoners.
But it's more than just that. One aspect of this story that struck me was how perfect a fit the Blade Runner aesthetic is for Gosling. Despite swapping Scott for Villeneuve, the look of the film is eerily similar to the 1982 original — doused in neon — but also similar to the aesthetics of Only God Forgives (as well as, arguably, to moments of Drive). Compare and contrast the clip below with the trailer at the beginning of this article.
So perhaps this is why Gosling's so enamored of his time on Blade Runner 4049. Not only is it a wonderful experience with some of the most talented people in the industry, but, despite the original being made long before any of the actor's movies, its aesthetic of a hostile urban environment and alienated city-dweller appeals to Gosling's own personal taste.