You NEED To Relive Ryan Reynolds' '90s Glory In The 'Sabrina The Teenage Witch' Movie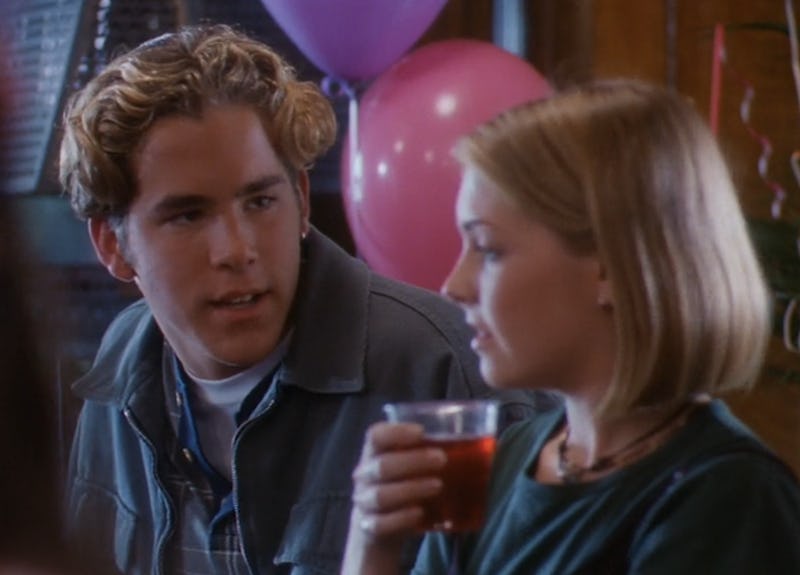 Sonar Entertainment
Even if you were a huge TGIF fan growing up, you might not have realized that the Sabrina the Teenage Witch show that ABC, and then The WB, aired for seven seasons had a movie as its pilot. The Sabrina movie debuted on Showtime in 1996, but when it came to the cast there weren't a ton of similarities between it and the show. In fact, the Sabrina the Teenage Witch movie included Ryan Reynolds, who was definitely not featured on the series. And if you take a look at the now superstar's time in the movie, it's a real blast from the past.
The 1996 Sabrina TV movie (which would be the first of three Sabrina TV movies) only has two actors in common with the beloved TV series: Melissa Joan Hart as Sabrina Sawyer in the movie, then Sabrina Spellman in the show; and Michelle Beaudoin as Sabrina's friend Jenny. The movie did have a Harvey and Aunts Hilda and Zelda, but they were all played by different actors.
So, how does Reynolds fit into this? He didn't play the movie version of Harvey, he played Seth, Sabrina's crush, who she tried to get to notice her using her newfound magical powers. Seth doesn't exist in the TV series at all, because by the end of the movie, Sabrina is into Harvey. As for where this falls in the Ryan Reynolds acting timeline, he had had some TV parts at this point, and it was two years before Two Guys, A Girl, And A Pizza Place.
Now that all that's straight, the best part of Reynolds being in this movie is how much of a '90s teen crush he looks like. Even today, Reynolds still just has a certain je ne sais quoi about him that those who grew up in that decade will recognize, but in the Sabrina movie he also has dyed blonde hair that is parted down the middle. That's a classic. He can be seen in all his glory in the trailer above.
Reynolds also shared a picture seemingly from the set of the movie on his Instagram account in January, and made fun of his hair himself. Why is it "seemingly from the set of the movie," you ask? He has on what looks like same shirt he wore during one of the movies scenes (below). Or, hey, maybe they just let him wear his own shirt during filming.
The best thing to come out of the movie other than that ridiculous look is that Hart and Reynolds almost became a '90s celeb couple themselves after meeting on set. Hart spoke about their almost-relationship to Australian talk show Studio 10 in March 2017 and said, "We were smitten and cute and he was adorable. He was really, really nice." She added that she had a boyfriend and the time and said, "[Reynolds] probably would have been a great boyfriend. And I didn't end up with the other guy. So maybe I should have taken a chance!"
Hart also spoke about the actor in a 2014 interview with E!'s Giuliana Rancic where she made things sound a little more serious — well, in a dramatic young love sort of way. Apparently, Reynolds gave her a watch on the last day of filming, and she later "chased him down, got in front of his car and just kissed him and then made out with him all night." She continued, "Then I had to call my boyfriend the next day and explain it." Reynolds ended up going to New York to visit her, and Hart explained, "I think he wanted something more but I decided I was going to stick with my boyfriend."
Nowadays, Hart and Reynolds are both married with children. Hart married musician Mark Wilkerson in 2003 and they have three sons; Reynolds married fellow actor Blake Lively in 2012 and they have two daughters.
If you want to relive the past — the fashion, the behind-the-scenes romance, the really ugly hair — the Sabrina the Teenage Witch movie is available for viewing online. Amazon Prime has it included for anyone with a membership. YouTube has it available to rent for $1.99 (or buy for $7.99 if you're feeling wild). And while Hulu doesn't have the movie featuring Reynolds, it does have the entire series and the TV movie Sabrina Down Under. Enjoy!