Twitter Is Pissed That Ryan Seacrest Is Still On The 2018 Oscars Red Carpet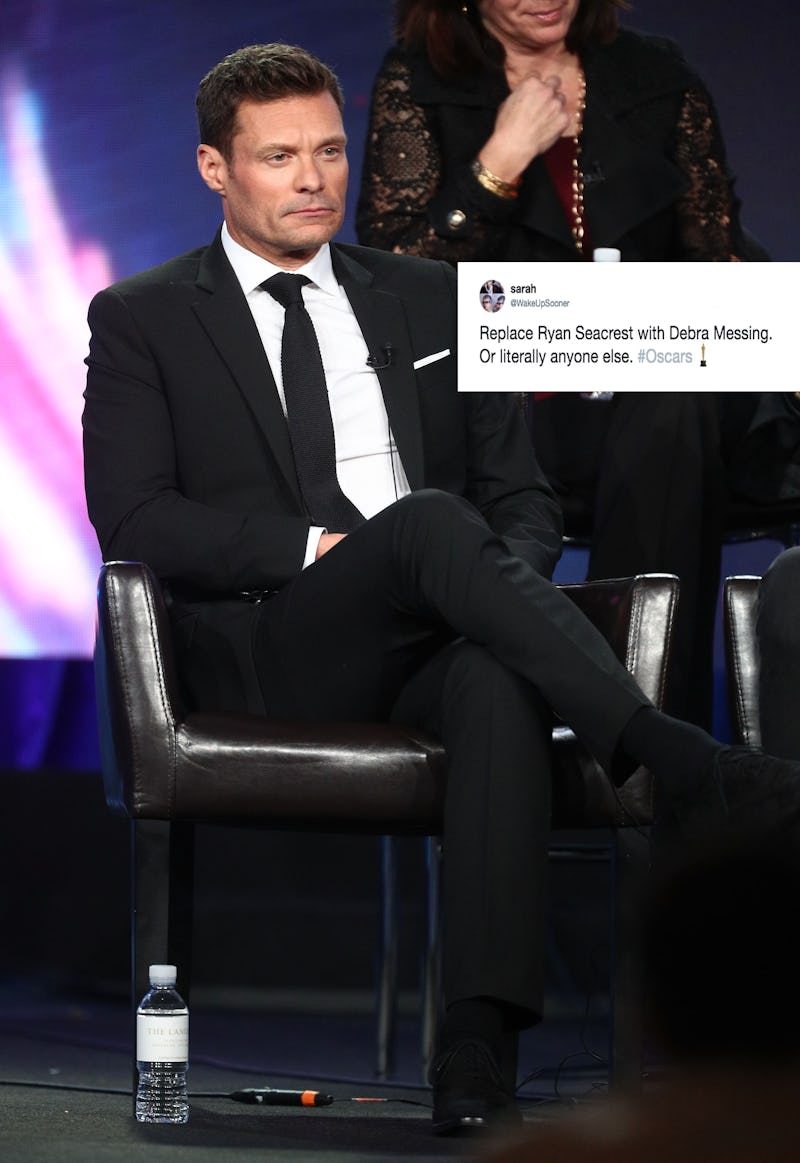 Frederick M. Brown/Getty Images Entertainment/Getty Images
There's a question many viewers are grappling with because of the fact that Ryan Seacrest is on the 2018 Oscars red carpet after allegations of sexual misconduct were brought against him. After all, Hollywood has been having a lot of serious conversations since allegations of Harvey Weinstein's sexual misconduct broke in October 2017 (Weinstein has denied all allegations of non-consensual sex), and, since then, many have come forward to call out the allegedly predatory behavior of numerous men in Hollywood. This has inspired the movements of #MeToo and Time's Up to ensure that women are heard, respected, and protected in their workplaces and in their personal lives. This season's award show red carpets have been a great way to promote these platforms, but the question on Sunday night is, well, when what happens when the host doing red carpet coverage is one of the accused? The answer is that Twitter is not having it.
Seacrest is a fixture on the red carpet for every award show, where celebrities have been taking the time to discuss Time's Up and #MeToo. However, his former personal stylist, Suzie Hardy, has accused Seacrest of subjecting her to "years of unwanted sexual aggression," according to Variety. The host has repeatedly denied these claims, and an internal investigation by E! found "insufficient evidence to substantiate allegations against Seacrest." According to Slate, Seacrest tried to get ahead of any allegations in November by saying he agreed to E!'s investigation even though Hardy had not yet made her name public. Seacrest then penned a February 2018 guest column in The Hollywood Reporter called "What Happened After I Was Wrongly Accused of Harassment," in which he wrote:
"I knew, regardless of the confidence I had that there was no merit to the allegations, my name would likely soon appear on the lists of those suspected of despicable words and deeds. The pressures of our overflowing newsfeeds would insist on it."
Despite all of this, Seacrest is still interviewing stars on the Oscars red carpet — and many fans aren't exactly thrilled about it.
There's also a new report that has made fans particularly steamed. Deadline reports that there could be a "delay of up to 30-seconds" in the airing of E!'s footage from outside the Dolby Theatre, as opposed to showing it completely live. An insider claimed that, "The plan being considered is to mainly ensure plenty of time to either cut to Giuliana [Rancic] or to pull the plug altogether unnoticed if an on-camera encounter with Ryan goes into tricky territory."
However, an E! spokesperson denied the claims, stating that delays between filming and airing are nothing out of the ordinary:
"It's business as usual. As always, we tape multiple sources of content simultaneously to deliver the best possible show, and there are often brief delays between interviews."
The Deadline report insists, however, that a 30-second delay would be unusual, and that, if it happened, it would have been reportedly motivated by the allegations against Seacrest and whether or not "celebrities and Academy Award nominees will want to make the standard Seacrest pit stop today in the first place." And, despite E!'s statement on the matter, many viewers are even more upset by even the idea that the host would potentially be receiving a buffer.
At the start of E!'s coverage, Seacrest was hardly featured in the broadcast. He was seen barely a handful of times during the first hour of the red carpet, to the point where several fans wondered if Rancic was the one leading the show. However, none of the celebrities that he's spoken to so far have made mention of #MeToo or Time's Up at all — and it remains to be seen if any will as bigger names arrive closer to the ceremony.
One thing is for certain, though. Whether celebrities speak on the movement on the Oscars red carpet or not, Twitter certainly isn't afraid to speak up and speak out about what they believe in.
If you or someone you know has been sexually assaulted, call the National Sexual Assault Telephone Hotline at 800-656-HOPE (4673) or visit online.rainn.org.
Additional reporting by Lindsay Denninger