Here's What Sabrina's Parents Could Be Hiding On 'Chilling Adventures Of Sabrina'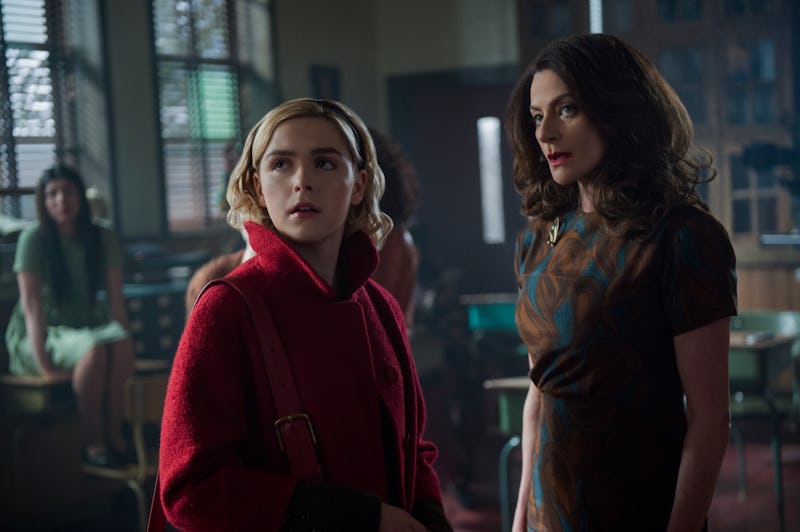 Diyah Pera/Netflix
From the good-hearted teen on Sabrina The Teenage Witch to the strong-minded half-witch on Chilling Adventures Of Sabrina, one constant in every depiction of Sabrina Spellman is her unique family structure. Rather than living with her parents — who have different fates in various iterations of the story — she grows up under the watchful eye of her aunts, Hilda and Zelda. But while her mom and dad popped up in the '90s sitcom for a few laughs, Sabrina's parents in the Chilling Adventures comics — on which Netflix's new series is based — suggest that some of the show's darkest material could come from exploring Sabrina's past.
For those unfamiliar with her backstory, Sabrina is the child of a warlock named Edward Spellman and a mortal woman named Diana Sawyer. Their romance in the comics was complicated at best, and based on what Chilling Adventures star Kiernan Shipka has said so far, the show only ramps up that conflict.
"Over the course of the season [both] Sabrina and the audience [are] going to learn a lot more about her family and ways in which they have done things behind her back," she told Digital Spy during an interview earlier this month. "There's definitely a big history and a lot of mystery in what went on with her parents and things they did and who she is as a person and as a witch."
From the sounds of it, Sabrina's parents were keeping more than a few secrets, but Sabrina may have to look outside of her family to figure out what they were hiding. According to the Boston Herald's review, she's told by her aunts that both Edward and Diana died in an accidental plane crash, but Shipka says that's not the full story. "That's what she's been told and there's a little bit of suspicion around that claim," she continued to Digital Spy. "It doesn't feel right or accurate."
One person who may be willing to spill the truth is Mary Wardwell (Michelle Gomez), aka. Madam Satan, who was married to Edward before he left her for Diana — at least in the comics. It's unclear if that storyline will carry over to Chilling Adventures, but Wardwell certainly seems to be worming her way into Sabrina's life in the trailer. Perhaps she's eager to get some revenge and air out Edward's dirty laundry.
But while only time will tell what exactly he was hiding, there are a few guesses to be made. In the comics, Edward wanted his sisters to raise Sabrina, but Diana refused. So, he cast a spell that altered her brain chemistry and landed her in a psychiatric facility. There's no guarantee that the Chilling Adventures will take this same route, but chances are the Netflix series will have a similar revelation that will challenge Sabrina's perception of her own family. Yes, the show will be plenty scary on its own, but in the end, it may be betrayal that proves to be the most chilling.