The 'Chilling Adventures Of Sabrina' Teaser Trailer Is Here & It's Spooky AF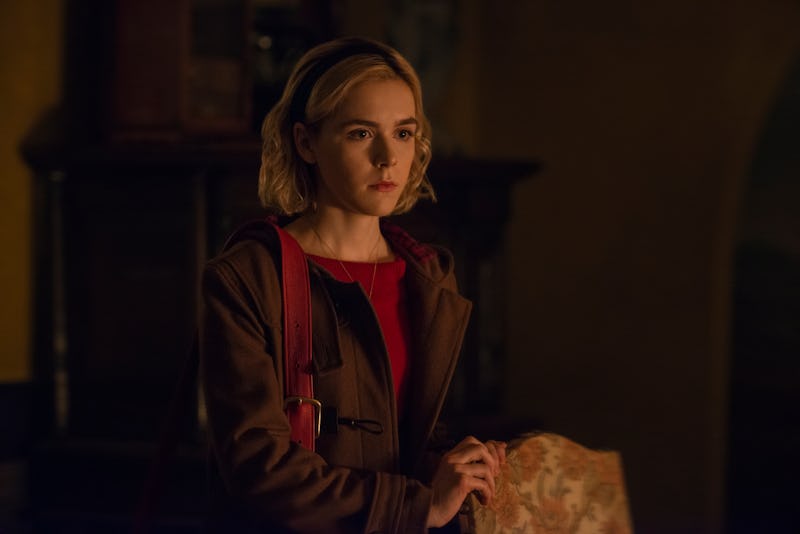 Diyah Pera/Netflix
Grab your black cat and lean into that satanic panic, because the Chilling Adventures of Sabrina teaser trailer is finally here. That's right, witches: Sabrina Spellman is back, she's come of age in the witching world, and you're going to want to watch her creepy birthday party with the lights on.
Chilling Adventures of Sabrina is a far cry from the plucky teenage witch '90s kids grew up with, and the Netflix original series likes it that way. Based on a horror-inspired run of Archie Comics created by Roberto Aguirre-Sacasa — who also created Afterlife With Archie and its television adaptation, Riverdale — CAOS will show an entirely new side of Sabrina. And it's going to be pretty dark. Specifically, this Sabrina, as played by Kiernan Shipka, is less into lighthearted spells and way into legit devil worship. What's a little demon-conjuring between coven mates, right?
In the brief trailer, which clocks in at under a minute, fans can see many crucial moments in Sabrina's life: Turning 16, smooching Harvey Kinkle, and yes, even Salem. (Not the talking variety, though.) But instead of being a fun, coming-of-age romp, the entire trailer has a serious, dark undertone — see the horned devil in sitting at the head of the table. It's obvious that this is only the beginning for her. So, sit down, take a deep breath, and don't blow out your candles just yet.
Here's Netflix's first look at The Chilling Adventures of Sabrina:
The trailer really is a tease, with quick cuts and jump scares and just a few hints of what's to come in the first season of show. (Netflix has already picked it up for two.) The one thing new fans of this iteration of Sabrina should take away from it is: this isn't the Sabrina they remember from their youth. It's also not the Sabrina from their parents' youth. Or anyone's, really, unless you're an extremely cool person whose first introduction to the Spellman family was via The Chilling Adventures of Sabrina.
Still, the foundations of the series remain the same. It's a coming-of-age story for Sabrina, as the show kicks off ahead of her 16th birthday, upon which she's forced to make a decision: Relinquish her immortal half for a regular life, or give up everything she's known to join a coven presided over by satan. Based on a recent Vulture interview with star Kiernan Shipka, it seems as if neither choice appeals to the teenage witch. She doesn't want to leave her friends, her boyfriend, and her average life in Greendale, and the coven's oppressive nature doesn't feel right to her either. Maybe it's because, as that interview hints, the Satan character also represents a patriarchal society.
As psyched as Sabrina is to fully come into her powers, she's forced to contend with her two mightily different halves. And as the only half-mortal, half-witch she's aware of, there's a lot of pressure on her to get it all right. Not to mention, forces at work that may disagree with the mortal half of her existence. If this teaser is any indication, though, it looks as if things start off well enough for Sabrina the Teenage Witch. Maybe it's not what fans traditionally think of as a party — most don't involve a crown of devil horns, or the presence of an actual horned devil at the dinner table — but, Sabrina's sweet sixteen certainly looks like something fans won't want to miss, and not just because Salem will be there, right by her side.