This New YA Book About A Missing Girl & Her Dead Sister Is Basically 'Serial' In Book Form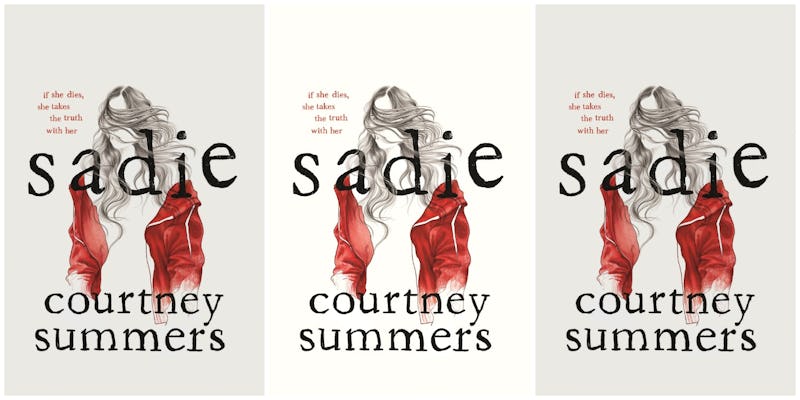 Author Courtney Summers is known for her powerful young adult books about teenage girls grappling with tough issues. From Cracked Up to Be, her 2008 debut about mental illness, to her 2015 release about the aftermath of sexual assault, All the Rage, Summers has pulled no punches when it comes to diving into the darker side of teen lives. And she's continuing that trend with her forthcoming YA novel, Sadie, hitting shelves Sept. 4, 2018. Bustle has the exclusive cover reveal and an excerpt from the book below.
Sadie hasn't had an easy life. She grew up on her own, and she's been raising her sister Mattie in an isolated small town, trying her best to provide a normal life and keep their heads above water. But when Mattie is found dead, Sadie's entire world crumbles. After a somewhat botched police investigation, Sadie is determined to bring her sister's killer to justice, so she hits the road to find him, following a few meager clues. When West McCray— a radio personality working on a segment about small, forgotten towns in America — overhears Sadie's story at a local gas station, he becomes obsessed with finding the missing girl. He starts his own podcast to track Sadie's journey — and he's hoping to figure out what happened — and find her — before it's too late.
It sounds like the sort of gut-punch story we've come to expect from Summers, and it definitely has a gorgeous, powerful cover to match. Check out the exclusive cover reveal for Sadie below:
Sadie by Courtney Summers, $12.20, Amazon
And although you'll have to wait a few months before Sadie makes its way to bookshelves in Sept. 2018, Bustle's got an exclusive excerpt below to tide you over until you can get your hands on it.
Excerpt
DANNY GILCHRIST:
It's a beautiful day in the city. The sun is shining, not a cloud in the sky. I had a great lunch in Central Park, a chicken shawarma from the Shawarma Stop, which was overwhelmingly recommended to us by our listeners after last week's episode on NYC's best kept secrets. Thanks for that, you guys. It was so good, it just might be my dinner too. From KWNR New York, I'm Danny Gilchrist and you are listening to Always Out There.
Today, we're doing something new — something big. Today, we're pre-empting your regularly scheduled episode of Always Out There to launch the first episode of our new serialized podcast, The Girls. If you want to hear more, you can download all eight episodes — that's right; the entire season — on our website. We're pretty sure you'll want to hear more.
Created and hosted by one of our longtime producers, West McCray, The Girls explores what happens when a devastating crime reveals a deeply unsettling mystery. It's a story about family, about sisters, and the untold lives lived in small-town America. It's about the lengths we go to protect the ones we love...and the high price we pay when we can't.
And it begins, as so many stories do, with a dead girl.
THE GIRLS
EPISODE 1
[THE GIRLS THEME]
WEST MCCRAY:
Welcome to Cold Creek, Colorado. Population: eight hundred.
Do a Google Image search and you'll see its main street, the barely beating heart of that tiny world, and find every other building vacant or boarded up. Cold Creek's luckiest — the gainfully employed — work at the local grocery store, the gas station and a few other staple businesses along the strip. The rest have to look a town or two over for opportunity for themselves and for their children; the closest schools are in Parkdale, forty minutes away. They take in students from three other towns.
Beyond its main street, Cold Creek arteries out into worn and chipped Monopoly houses that no longer have a place upon the board. From there lies a rural sort of wilderness. The highway out is interrupted by veins of dirt roads leading to nowhere as often as they lead to pockets of dilapidated houses or trailer parks in even worse shape. In the summertime, a food bus comes with free lunches for the kids until the school year resumes, guaranteeing at least two subsidized meals a day.
There's a quiet to it that's startling if you've lived your whole life in the city, like I have. Cold Creek is surrounded by a beautiful, uninterrupted expanse of land and sky that seem to go on forever. Its sunsets are spectacular; electric golds and oranges, pinks and purples, natural beauty unspoiled by the insult of skyscrapers. The sheer amount of space is humbling, almost divine. It's hard to imagine feeling trapped here.
But most people here do.
COLD CREEK RESIDENT [FEMALE]:
You live in Cold Creek because you were born here and if you're born here, you're probably never getting out.
WEST MCCRAY:
That's not entirely true. There have been some success stories, college graduates who moved on and found well-paying jobs in distant cities, but they tend to be the exception and not the rule. Cold Creek is home to a quality of life we're raised to aspire beyond, if we're born privileged enough to have the choice.
Here, everyone's working so hard to care for their families and keep their heads above water that, if they wasted time on the petty dramas, scandals and personal grudges that seem to define small towns in our nation's imagination, they would not survive. That's not to say there's no drama, scandal, or grudge—just that those things are usually more than residents of Cold Creek can afford to care about.
Until it happened.
The husk of an abandoned, turn-of-the-century one-room schoolhouse sits three miles outside of town, taken by fire. The roof is caved in and what's left of the walls are charred. It sits next to an apple orchard that's slowly being reclaimed by the nature that surrounds it: young overgrowth, new trees, wildflowers.
There's almost something romantic about it, something that feels like respite from the rest of the world. It's the perfect place to be alone with your thoughts. At least it was, before.
May Beth Foster—who you'll come to know as this series goes on — took me there herself. I asked to see it. She's a plump, white, sixty-eight-year-old woman with salt-and-pepper hair. She has a grandmotherly way about her, right down to a voice that's so invitingly familiar it warms you from the inside out. May Beth is manager of Sparkling River Estates trailer park, a lifelong resident of Cold Creek, and when she talks, people listen.
More often than not, they accept whatever she says as the truth.
MAY BETH FOSTER:
Just about...here.
This is where they found the body.
911 DISPATCHER [PHONE]:
911 dispatch. What's your emergency?
WEST MCCRAY:
On October third, forty-seven-year-old Carl Earl was on his way to work, a factory in Cofield. It's an hour's drive from Cold Creek. He'd barely begun his commute when he noticed black smoke marring the early morning horizon.
CARL EARL:
Started out like any other day. Least, I think it did. I imagine I got up, had breakfast and kissed my wife on my way out the door because that's what I do every morning. But I honestly can't remember a thing before I saw the smoke and everything that happened after that...well.
I wish I could forget it.
CARL EARL [PHONE]:
Yeah, my name's Carl Earl and I just want to report a fire. There's an abandoned schoolhouse off Milner's Road and it's all lit up. It's about three miles east of Cold Creek. I was just driving by and I noticed it. I pulled over to call. It's lookin' pretty bad.
911 DISPATCHER [PHONE]:
Okay, Carl, we're going to send someone out.
Are there any other people around? Anyone in need of assistance you can see?
CARL EARL [PHONE]:
Just me out here, far as I can tell, but I might not be close enough...I could maybe get a little closer and see—
911 DISPATCHER [PHONE]:
Sir — Carl — please stay clear of the fire. I need you to do that for me, all right?
CARL EARL [PHONE]:
Oh, yeah, no — I wasn't going to —
CARL EARL:
So I did as I was told, even though a part of me wanted to play hero. I'm still not sure what compelled me to stick around because I couldn't afford to miss the work, but I stayed 'til the cops and the firemen came. I watched 'em go at it until the flames were under control and that's when I noticed...just beyond the schoolhouse there, I saw — I was the, uh — I was the one that saw her first.
WEST MCCRAY:
The body of Mattie Southern was discovered between the burning schoolhouse and the apple orchard, just out of sight. She'd been reported missing three days earlier and here she was, found.
Dead.
I've decided the gruesome details of what was uncovered in that orchard will not be a part of this show. While the murder, the crime, might have captured your initial interest, its violence and brutality do not exist for your entertainment — so please don't ask us.
The details of this case are easy enough to find online. In my opinion, you only really need to know two things.
The first is the cause of her death was blunt force trauma to the head.
The second is this:
MAY BETH FOSTER:
She was only 13 years old.
CARL EARL:
I don't sleep great anymore, since it happened.
WEST MCCRAY:
Mattie left behind a 19-year-old sister, Sadie; a surrogate grandmother, May Beth; and her mother, Claire; but Claire's been out of the picture for a while.
I first heard about the Southern murder at a gas station outside Abernathy, about thirty minutes from Cold Creek. I was with my crew in the eastern plains and we'd just wrapped interviews for a segment of an episode of Always Out There dedicated to profiling small towns in America. You know, the kind on a rambling decline. We wanted their residents to tell us what those places lost, not because we thought we could restore them to their former glory but simply so you knew they existed. We wanted to give them a voice before they disappeared.
JOE HALLORAN:
It's a nice thought, anyway. That somebody gives a damn.
WEST MCCRAY:
That was Joe Halloran, one of the Abernathy residents we interviewed. I wasn't thinking about his words when I was standing behind the guy ahead of me at the gas station, listening as he told the clerk exactly what happened to the Southern kid. The grisly facts didn't inspire me to stick around. My crew and I had gotten what we came for and we were ready to go back home. It was a terrible thing, sure, but we live in a world that has no shortage of terrible things. You can't stop for all of them.
A year later, I was sitting in my office in New York. It was October, a year to the day Mattie died, actually, the third — and my attention kept wandering from my computer screen to the window, where I could see the Empire State Building. I liked my job at KWNR, and I liked my life in the city, but maybe some part of me — the same part that let me walk away from Mattie's story the first time without a second thought — was overdue for a shake-up.
It arrived in the form of a phone call.
MAY BETH FOSTER [PHONE]:
Is this West McCray?
WEST MCCRAY [PHONE]:
It is. How can I help you?
MAY BETH FOSTER [PHONE]:
This is May Beth Foster. Joe Halloran told me you give a damn.
WEST MCCRAY:
There'd been no new developments in the Mattie Southern case, no suspects named to the crime. The investigation seemed to have ground to a halt. But that wasn't the reason May Beth contacted me.
MAY BETH FOSTER [PHONE]:
I need your help.
WEST MCCRAY:
Three months ago, in mid-July, she'd gotten a call from a police station in Farfield, Colorado, a town thousands of miles from Cold Creek. They'd found a 2007 black Chevy parked on the side of the road and inside of it, a green bag full of personal affects belonging to Mattie's older sister, Sadie Hunter, who disappeared that June. Sadie herself was nowhere to be found. She still hasn't been found. After a cursory investigation, Sadie was declared a runaway by local law enforcement, and, having exhausted all possible avenues available to her, May Beth Foster reached out to me. I was her last hope. She thought maybe I could bring Sadie back home to her alive. Because Sadie had to be alive because —
MAY BETH FOSTER [PHONE]:
I can't take another dead girl.
Sadie by Courtney Summers, $12.20, Amazon