Salads & Wraps From Trader Joe's & Other Stores Are Being Recalled For A Potential Parasite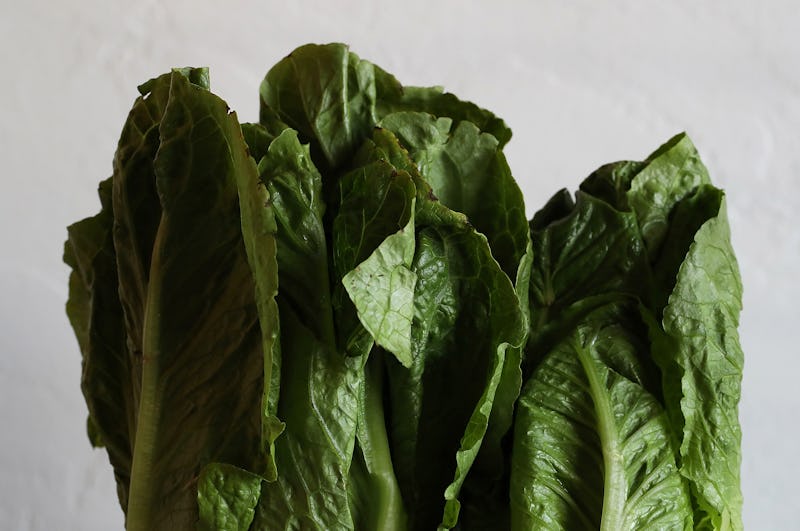 Justin Sullivan/Getty Images News/Getty Images
If you're anything like me and think Romaine lettuce is basically the best part of any salad (it's basically all water! You're hydrating and eating!), bad news: You might want to take a look at any salads and/or wraps containing the lettuce purchased from Kroger's, Trader Joe's, Gordon Food Service, or Walgreen's, because a new report from the U.S. Department of Agriculture's Food Safety and Inspection Service (FSIS) warns there may be a parasite lingering in the Romaine lettuce used in certain products.
UPDATE: In a statement released to Bustle, a representative from Walgreen's commented on the FSIS recall, saying, "This product was available in a limited number of our stores in Illinois only. Upon learning of the recall, we notified these stores to immediately pull and dispose of any product on store shelves."
PREVIOUS: Before you freak out and ransack your fridge — I'm mostly saying this for myself, because parasites are my worst fear next to spiders and Donald Trump — the consumer warning (which you can see here) from FSIS lists only a few items from the aforementioned stores as potentially contaminated and, thus, being recalled: Certain products produced by Caito Foods Fresh Kitchen, which used Romaine lettuce supplied by Fresh Express. Though representatives from Gordon Food Service, Kroger's, Walgreen's, Fresh Express, and Caito Foods did not immediately respond to Bustle's request for comment, a statement released by Trader Joe's on Jul. 30 stated that the products were sold in their "IA, IL, IN, KS, KY, MI, MN, MO, NE, OH, & WI stores," contained the date codes "BEST BY 07/21/18 through 07/23/18," and were the following:
Trader Joe's Tarragon Chicken Salad Wrap (SKU#97031-51775MW)
Trader Giotto's Caesar Salad with Chicken (SKU#06832-51775MW)
Trader Ming's Chinese Inspired Salad with Chicken (SKU#65234-51775MW)
Trader Joe's statement also revealed that no illnesses had been reported as of yet due to products sold at their stores, but, according to TIME, Cyclospora parasites can live for up to two weeks in contaminated food, so it's important that anyone suspecting they may have bought any of the affected products check ASAP and dispose of them if they did. Cyclospora is a pretty nasty parasite that can cause intense gastrointestinal issues in those it infects, with symptoms ranging from diarrhea and nausea to cramping and bloating. If you suspect you may have the parasite, see a doctor immediately, because, according to the Center for Disease Control, symptoms can last for months if untreated, and even return after the initial illness passes.
Romaine lettuce, unfortunately, has had a bit of a tough time as of late. Throughout April and May 2018, the CDC and U.S. Food and Drug Administration warned consumers from eating any Romaine lettuce, after a massive outbreak of E. coli related to the lettuce left about 172 people sick, and one person dead. The CDC and FDA eventually determined in mid-May 2018 that Romaine was safe again following the E. coli outbreak, but now, it seems there's new concern of Cyclospora tainting the popular lettuce.
Thankfully, it doesn't seem as if the Cyclospora-contaminated Romaine lettuce is as widespread as the E. coli-contaminated Romaine was feared to be back in April and May 2018, but it's still important to practice caution and double-check if you think there's any possibility you may have purchased one of the affected products that the FSIS report lists. This is especially important if you are immunocompromised, as illnesses of this nature could be even more dangerous.
Again, you can check out the FSIS report detailing exactly what products are being recalled here.