Samantha Bee Hit Back At Everyone Who's Focusing On Her Calling Ivanka One Big Bad Word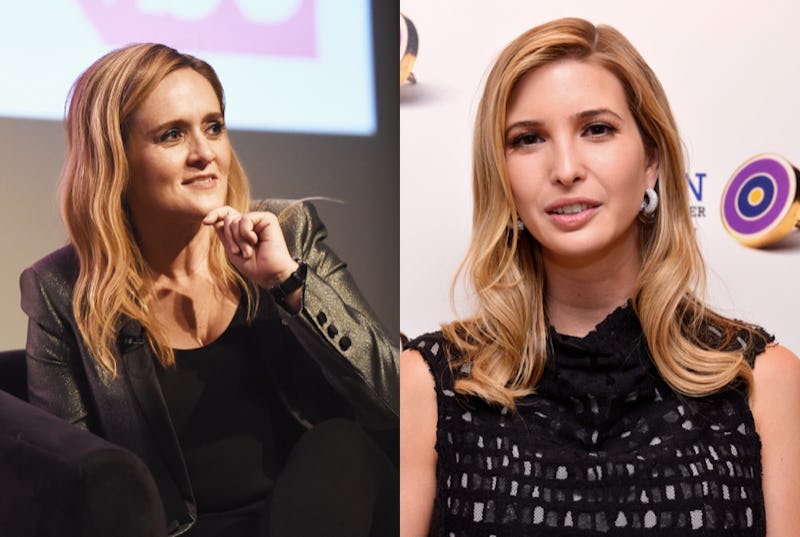 Amanda Edwards;Ben Gabbe/Getty Images Entertainment/Getty Images
She may have apologized, but she's not backing down. On Thursday, Samantha Bee scorched critics of her Ivanka Trump segment, insisting that everyone's been focusing on "one bad word" instead of the substance of what she was arguing.
Bee apologized on Thursday for a vulgar on-air remark about Ivanka Trump, the eldest daughter of President Donald Trump, saying that she had "crossed a line" by calling the presidential adviser a "feckless c*nt" in the midst of a segment on the administration's immigration policies.
"I would like to sincerely apologize to Ivanka Trump and to my viewers for using an expletive on my show to describe her last night. It was inappropriate and inexcusable," Bee tweeted. "I crossed a line, and I deeply regret it."
That same day, while accepting a Television Academy Honors Award, Bee reportedly made it clear that she stood behind the weighty substance of the segment.
"We spent the day wrestling with the repercussions of one bad word, when we all should have spent the day incensed that as a nation we are wrenching children from their parents and treating people legally seeking asylum as criminals," she reportedly told the assembled guests, as detailed by IndieWire. "If we are OK with that then really, who are we?"
The segment Bee ran, far from being strictly about attacking the president's eldest daughter and adviser, addressed the Trump administration's policy of separating undocumented children crossing the border from their parents, a policy which has been widely characterized as draconian, cruel, and inhumane by progressives and pro-immigration activists and civil rights organizations; the American Civil Liberties Union (ACLU) called it a "national disgrace" on Friday.
The policy is part of why many social media users reacted with indignation when Ivanka Trump tweeted out a photo of herself holding her 2-year-old son, Theodore, earlier this week. The photo, showing a parent and a child in a loving embrace ― with a heart emoji, to boot ― was criticized by some as callous and tone-deaf, given Ivanka Trump's own active participation in a government that's breaking children apart from their parents.
It was in response to that photo that Bee made the "feckless c*nt" remark, urging Trump to "do something about your dad's immigration policies."
The social media campaign to get Bee's show canceled over the crude insult came as a response to ABC's decision to cancel its hit show Roseanne, after its star, Roseanne Barr, made a racist insult toward former Obama adviser Valerie Jarrett on Twitter, likening her to an ape. Barr also previously made a similar remark about former U.N. ambassador Susan Rice; both Jarrett and Rice are black women.
Upset at the show's cancellation, given that it depicted the Roseanne Conner character as a Trump supporter, many pro-Trump conservatives on social media began criticizing Bee, who is extremely anti-Trump, and calling for TBS to cancel her show in an apparent attempt at retribution. The efforts paid off in the form of apologies both from TBS and from Bee herself, but thus far there's no indication that she's going to lose her show.
The White House, for its part, also went on the attack. On Thursday, Press Secretary Sarah Huckabee Sanders criticized Bee, and called on TBS to act.
"Her disgusting comments and show are not fit for broadcast, and executives at Time Warner and TBS must demonstrate that such explicit profanity about female members of this administration will not be condoned on its network," she said.
It's worth noting that in addition to the multiple allegations of sexually predatory behavior made against the president ― allegations he's consistently and repeatedly denied, calling his accusers "horrible liars" ― he's also been reported to have used the same slur Bee did to refer to women in both politics and media.
In Michael Wolff's book Fire and Fury, which came out last year, for instance, Trump is reported to have called former Acting Attorney General Sally Yates a "c*nt." Reporter Jennifer Lin has also reported that Trump called her the same thing in the final weeks of the 2016 presidential election. Bustle has reached out to the White House for comment regarding the president's reported use of the slur.