Samira Wiley On Doing Right By Her Character, Her Wife, The Queer Black Community — And Herself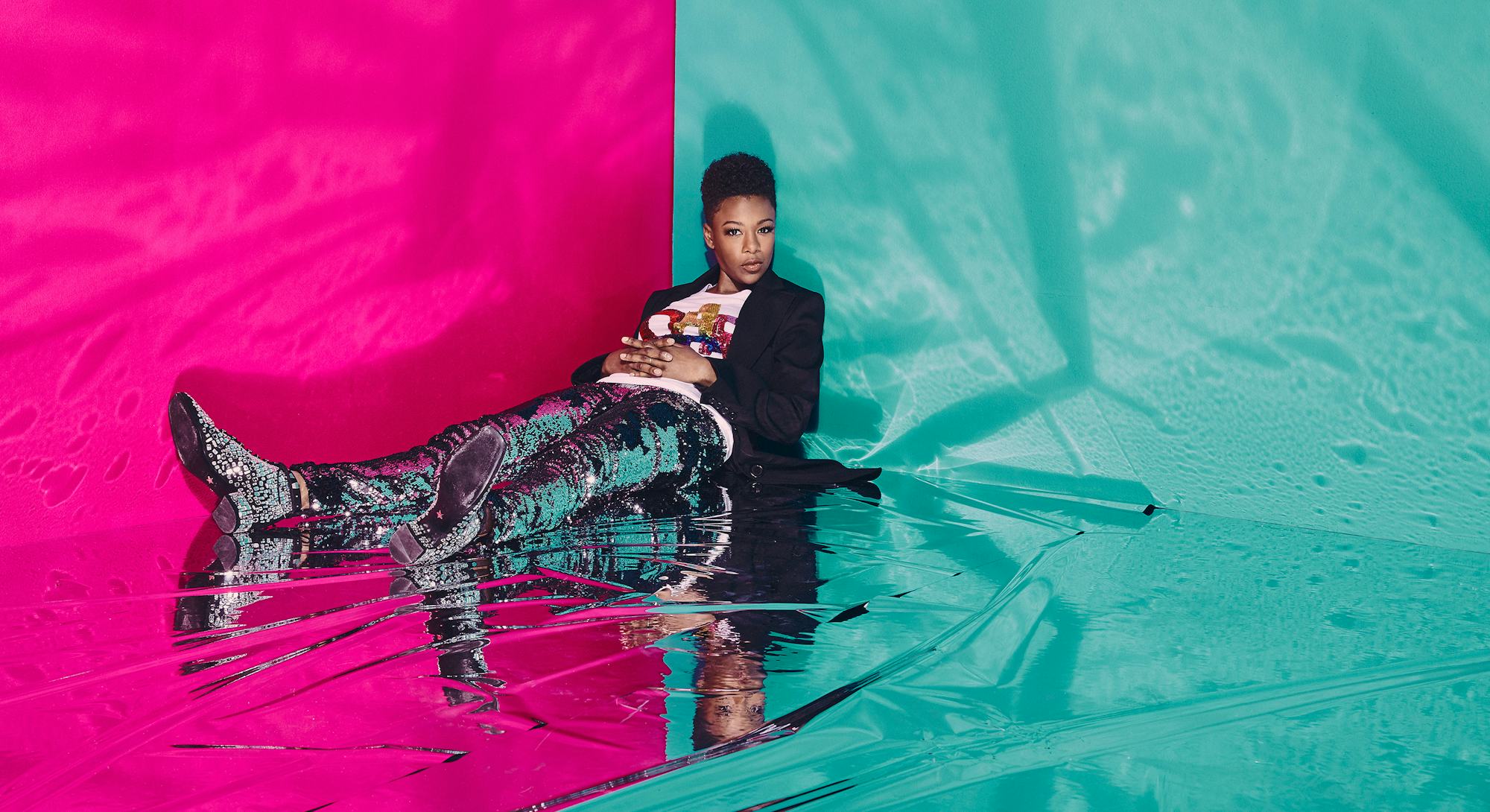 Photographer: Ramona Rosales. T-shirt and blazer: Oscar de la Renta. Pants: Greta Constantine. Shoes: Dior.
This is how you're supposed to begin: You're supposed to say that Samira Wiley is down for whatever. Need her to hang upside down, jump on a box, or lie on the cold concrete floor in sequined Marc Jacobs to get the perfect shot? No problem. The (almost) 31-year-old actor best known for portraying outspoken and resilient women in Netflix's hit dramedy Orange Is The New Black and Hulu's award-winning series The Handmaid's Tale is serving lewks as Bruno Mars pours through the speakers of a trendy studio on Hollywood's Sunset Boulevard.
This image is accurate, but it makes her sound like any other actor who knows how to turn it up at a photoshoot. And after only a few short minutes with her, you start to get why Wiley — whose performances as Poussey on OITNB and Moira on The Handmaid's Tale have been called not just "warm" and "empathetic" but "radiant" — is not like a lot of other actors.
One purpose of any profile of Wiley is to figure out where that radiance comes from, how it is actually possible. The obvious answers are her smile, which seems to emit megawatts of joy; a powerful skincare regimen; her natural playfulness (her wedding last year was confetti-themed); or her sincere love for her craft. (When she says of acting, "It just makes me so excited to be able to find out who that person is who possibly lives inside me," you believe that it makes her so excited.) But when you meet Wiley, the answer is very clearly deeper than that.
The first thing Wiley does when I walk into the shoot is check in to make sure our interview isn't cut short. "How much time do you need?" she inquires, before putting the kibosh on another outfit change. This attentiveness seems genuine — atypical of most Hollywood encounters — and motivated by more than her professional mandate to promote Season 2 of The Handmaid's Tale. Even when she's hamming it up for a behind-the-scenes video, you get the impression that for all of her lightheartedness, Wiley's driving concern is to do right — by you, her colleagues, other women, and also herself.
Her ability to also do right by her characters, to get inside their heads and make fans root for their well-being, made her sudden and haunting exit from OITNB even more devastating. Poussey's death at the hands of a corrections officer not only mirrored real life fatal encounters between Black people and police, but it also just straight up broke viewers' hearts. On The Handmaid's Tale, Wiley's ability to scare us sh*tless with her portrayal of a fierce, seemingly unbreakable woman trapped in a dystopian future underscores that the goings on in the show's fictionalized version of America are, as Wiley puts it, "eerily close" to reality.
I struggled as Samira with the script because I just couldn't justify how [Moira] would leave her, you know what I mean? She's her best friend, she's like ride or die.
Of course, Wiley had no idea that's what the show would become when The Handmaid's Tale first began production ahead of the 2016 election. Though the Hulu series deals with the struggle for women's rights in fictionalized America — now the patriarchal, oppressive territory of Gilead — few people, Wiley included, expected Margaret Atwood's 30-year-old narrative to feel so timely.
Now, Season 2 is mere weeks from its premiere on April 25, and Wiley confesses it will be "even more bleak" than the first. At the end of Season 1, which chronicled how Gilead and its oppressive policies came to be, Wiley's character, Moira, finally managed to escape, while her best friend, June (played by Elisabeth Moss), was pregnant and being dragged off to an undisclosed location. Even though Wiley is well aware that she is separate from her characters, the scene where the two friends part felt so constitutionally not her that she had trouble with it.
"I struggled as Samira with the script because I just couldn't justify how [Moira] would leave her, you know what I mean? She's her best friend, she's like ride or die, all this stuff. I just couldn't understand." She credits Moss for talking her through it. "She was basically like, I feel like that's actually the ultimate act of love, because you staying here is only going to get both of us almost killed, and you leaving is giving us hope that maybe you can do something else and bring it back to us." She repeats, almost as though to reassure herself, "I ultimately figured out that it was out of love."
I am a full-on housewife. Straight up.
But Wiley's not done sharing credit with her co-workers. She also points out the work of Handmaid's Tale costume designer Ane Crabtree, whose intricate dress designs — notably the signature drab handmaid costume — help Wiley home in on Moira. "There's so many different parts to it. There's a little belt that we wear, that you probably can't see," she says, explaining the details of the puritanical outfit. "I always imagine I gotta have this belt in the right place, [because] even if no one else knows, [Ann Dowd, who plays Aunt Lydia] is gonna know. And I don't wanna get hit. I don't wanna get tazed, or something like that. I feel like the costume on Handmaid's really does help the character and figuring out internal things that are going on with Moira."
In the show's sophomore effort, we'll see both June and Moira adjusting to new wardrobes and new realities, Moira especially. After fleeing to Canada, Moira reunites with June's husband, Luke, where they begin to live as pseudo-family of refugees along with his seemingly depressed cohort, Erin. But escaping her captors in the former United States doesn't mean Moira is actually free.
"There's things about escaping Gilead that are so wonderful. Obviously, you're not getting raped every day, you're not in this crazy regime where you're literally worth nothing, except for your value for procreation, but then there's the other side of it," she says via phone while shooting her next project in Rhode Island. "You're in a country where you don't know anyone, nothing is familiar, and knowing that your best friend is caught in this horrible place — it's really depressing. And so we see her sort of go through that journey of this weird place, it being awesome, but it also being kind of terrible."
Wiley's reality couldn't be further from that of her character. While she may look within herself to find pieces of each person she plays, the actor's real life is overflowing with the type of experiences Moira can only dream about. In addition to a career working on shows that have been aptly described as "feminist utopia[s]" (who else gets to spend the first five years of her career working exclusively on hit TV franchises that highlight injustice against women and celebrate female community?) she shares a beautiful home with her wife, writer Lauren Morelli.
It's hard to make friends as an adult.
"I am a full-on housewife. Straight up," she says with a laugh. Though she doesn't cook, Wiley takes pleasure in managing the little things like stocking the fridge, taking care of the couple's dog, and making sure the DVR records all of Morelli's favorite shows. When she talks about their home life, it's hard not to feel that Wiley is an old soul. She thinks kids spend too much time on their phones and should use better grammar. She's still devoted to R & B star Toni Braxton — "like I just love her voice" — and, like a true '90s kid, Brandy. She says she and Morelli are "definitely having thoughts about wanting to have a family." (This is another reason she loves Braxton: "She took mad years off to just go have a family, and that's inspiring to me as a woman.")
"I live a very domestic life," she says. Her work often takes her away from their Los Angeles home for long stretches of time (she's been in Rhode Island a lot recently, and Handmaid's films in Toronto) and she's felt a little displaced after relocating to the West Coast. "I had a real community when I lived in New York, and a lot of them are starting to move here now to L.A., but it doesn't feel the same yet," she says, adding, "It's hard to make friends as an adult." Perhaps that's why Wiley clings to the normalcy of being around the house. "It really feeds me and sort of resets me," she says.
A year ago, Wiley and Morelli swapped vows in front of friends and family in Palm Springs in a jubilant celebration officiated by Wiley's parents, who are Baptist ministers. Though the pair met with designer and friend Christian Siriano together to design their wedding looks, when Wiley saw her wife on their big day, Morelli still took her breath away. "It still felt like a surprise," she says.
Wiley wanted to recreate the amazement of that moment for her wife on their first anniversary. ("I'm going to tell you what I got going on!" she confides a few days before their anniversary, if you can confide in exclamation marks.) She hatched a plan for a surprise trip to Disneyland, which is one of Morelli's favorite places. Unfortunately, Wiley's scheme was thwarted when Morelli had something up her own sleeve. "She had, unbeknownst to me, bought a ticket to Toronto [where The Handmaid's Tale films] to see me that weekend." She had to tell Morelli, who was still pretty psyched. "But I was pissed," Wiley says. "Disneyland was supposed to be a damn surprise."
Wiley still managed to wow her wife, however. During their wedding, "We didn't have a bite of our wedding cake, because I don't even know," she says. (All the dancing they did probably had something to do with it.) So Wiley had a mini replica of the cake delivered to Disneyland. "It's not as good as like, 'Hey, we're going to Disneyland,'" Wiley says, "but I think it'll be cool."
It's so freeing to be comfortable with myself.
But secret plans and imaginative surprises aside, the best part of being married, for Wiley, is the profound security of knowing that someone else has your back, even as you change. "I'm so happy to able to be a witness to her growth as a person, and to have a partner that can be a witness to me. It just feels like you have a teammate," she says when we speak again just days after she successfully surprised Morelli with the cake at Disneyland. "I just feel like I have someone who is not going to leave me [and] is just on my side no matter what."
When Wiley talks about her wife, her whole body becomes more animated. She can't stop smiling. Part of that is that she and Morelli so obviously just like each other. They have a lot in common at the personality level — Morelli has been described as similarly vivacious and warm — but they bonded over something even more foundational than that. Wiley says Morelli gave her the courage to be herself.
"My wife is actually somebody who helped me be comfortable with who I am and I just thank God so much that she did because it's so freeing to be comfortable with myself," she says.
Wiley knows what love and commitment look like, and not just in the romantic sense. Her parents, Drs. Dennis and Christine Wiley, were co-pastors of a progressive Baptist church that was one of the first in Washington, D.C. to marry LGBTQ couples. While they don't give their daughter unsolicited relationship advice, their commitment to social justice rubbed off on Wiley, who — due, in part, to her role on The Handmaid's Tale — is grappling with how to best use her platform to highlight the challenges women face around the world.
"You have these women in our show, they are enslaved. They're raped. Repeatedly," she says. While it's easy to reassure yourself that the abhorrent treatment of women in Gilead is fiction, the show has inspired Wiley to educate herself further into the challenges women face around the world.
Moira is so many different minorities. She's a woman, she's black, and she's gay, which I know a lot about.
"There are just so many stories that I feel like I was ill-equipped to talk about, or I just was ignorant about," she admits. "[The show] has really helped me to go ahead and seek out information on it and try to be forward thinking."
Though she no longer subscribes to a specific spiritual practice, Wiley is more open to talking about her religious background than most people in Hollywood and says her parents' faith has positively impacted not only how she approaches her life but also the work she pursues.
"With the roles that I have played on Orange is the New Black, and now on Handmaid's Tale, they're these strong women, especially Moira. [She] has a very strong sense of self, which is something that I have because of my parents," Wiley says. "They're just people of integrity, and I think that that spills over into my creative process, just wanting to be someone who has some artistic integrity. I think I get that from them."
Wiley's upbringing in the church also gave her a unique perspective on The Handmaid's Tale, which highlights how religion can be twisted into a tool for victimization.
"It's not anything new to use the Bible to oppress others. People pick and choose the parts of the Bible that they choose to adhere to and uphold." She lists a string of problematic Old Testament decrees, like "Slaves, obey your masters. Women [should] be silent in the church. Don't eat shrimp." That last one especially amuses her. "People just let that part slide," she says.
Fortunately, that wasn't her experience growing up in a church. According to Wiley, "Church people are special," and while you won't catch her in a pew on Sunday morning anymore, that doesn't mean she's not a believer. "I would say that I definitely have and maintain on my own very deep personal relationship with God, and that's really important to me," she says.
I want to be able to be that person that people can look up to and say, 'She's doing it, I can do it, too'
It's also important to Wiley to represent Black women and serve as a role model for young LGBTQ people who might feel that there is no place for them. It's a struggle she knows well.
"This journey of me being comfortable with my own sexuality paired with being in the public eye has been a really interesting and trying [one] for me," she admits. "It started out with me not embracing who I was before all this fame stuff happened, and being afraid that Hollywood was going to typecast me if people knew that I was gay." (That fear wasn't misguided, as it turns out. Wiley says there have been attempts to typecast her since she came out. "I just turned down [the] projects," she says, matter-of-factly.)
There aren't a lot of openly gay Black actors in the industry — a fact Master of None writer and star Lena Waithe pointed out in a powerful speech in March — but even before Wiley fully understood her identity, she knew the importance of seeing faces like hers onscreen.
"When I was little, I didn't know I was gay, but I knew I wanted to be an actor, and Angela Bassett was the person I looked up to because she was the one I could see doing it," she says. "I want to be able to be that person that people can look up to and say, 'She's doing it, I can do it, too.'"
The Handmaid's Tale doesn't specifically address race, but it's difficult to watch Moira's escape from Gilead without thinking about the journey enslaved Black Americans took along Underground Railroad. "It actually did remind me of that," Wiley says. "Moira is so many different minorities. She's a woman, she's black, and she's gay, which I know a lot about."
The show is also far more diverse than the book, which doesn't include Black folks in the mythical territory of Gilead at all. And the decision to make the series more inclusive was intentional. "From talking to [Bruce Miller], who's our creator and showrunner, and also talking to Margaret [Atwood], in this time that we are living in, they didn't want to make a television show if there was nothing but white people," Wiley says.
In Season 2 of The Handmaid's Tale, we'll see Moira struggle to adjust to life outside of Gilead, as well as just how quickly the territory devolved into its brutal state, a chain of events that turns out to have been even more terrifying than Season 1 let on. And of course, June's momentous pregnancy will inform the cast's Season 2 journey as a whole. "I can't tell you everybody who experiences different types of motherhood in this, but [it's] definitely a theme that is pretty strong in this season," Wiley says. Fans will also finally get a glimpse of the colonies, where women are sent to clean up pollution and radioactive waste as punishment for their alleged crimes. "It's bleak. It's dark. It's exciting, but it's not good," she says of the hellscape.
By the time the cast began shooting Season 2, the parallels between Gilead's governing ideal and those held by people actually in power off-screen were abundantly clear, and according to Wiley, everyone on the show felt an obligation to address that intentionally in the new season (rather than accidentally, as they did in Season 1). Wiley said the current political climate "added another level of responsibility on our parts to be able to get this story right and not be careless with the stories that we were telling."
But when The Handmaid's Tale mirrors real life, it can feel a bit overwhelming for Wiley. In Season 1, the violent protest scene that takes place in a flashback to pre-Gilead times especially hit home. "That was bad," she confesses, remembering the actual fear she felt hearing gunshots on set. "It was just surreal. I had to sort of detach myself because [people] were doing protests right then. Remember when all the people in L.A. went to the airport because of the ban?" she asks, referring to the nationwide protests in January 2017 in response to Trump's initial travel restrictions from seven countries, including Iran, Sudan, and Somalia. "It was super close to what we were doing at the time. I think about that now. I think I probably blocked that out of my mind [at the time]," she says.
A lot of times I feel so helpless ... We go to a Hollywood event or something, wear a Time's Up button, [but] that doesn't feel like enough, you know?
Thankfully, Wiley's next endeavor will give her a brief respite from the heaviness of The Handmaid's Tale. In Vault, she'll step into a starring role in a thrilling crime drama, and this time she'll finally get to play the leading lady.
"It is based on a true story about these two low-level criminals who rob little, teeny pawn shops and stuff, and they end up pulling off the biggest heist in American history," she explains. "I play the female romantic lead in it," she says, noting how different that is from Poussey and Moira. "That's exactly what I want to be doing, something different than what I'm doing right now."
Still, it's hard to shake the uneasy feelings The Handmaid's Tale brings up, especially at a time when so many people are coming forward to share their experiences of being sexually assaulted and harassed, women's reproductive rights remain under attack, and the Trump Administration continues to roll back rights for LGBTQ people. While Wiley wants to use her influence for good — she wants to do right — like most of us, she doesn't always know how.
"A lot of times I feel so helpless because I don't know what to do other than to tweet something, and I feel like a lot of people are asking that question," she says. "We go to a Hollywood event or something, wear a Time's Up button, [but] that doesn't feel like enough, you know?"
She pauses and looks up, clearly frustrated.
"But I don't know what the enough is yet."
Hair: Dritan at Forward Artists using Bumble and Bumble
Makeup: Samuel Paul at Forward Artists using MAC
Manicure: Mel Shengaris using NCLA
Styling: Senior Fashion Market Editor Gabrielle Prescod
Set Design: Ward Robinson for Wooden Ladder
Deputy Fashion & Beauty Editor: Kara McGrath
West Coast Fashion & Beauty Editor: Sara Tan
Editor: Senior Entertainment Editor Kelsea Stahler
Director of Features and Brand Initiatives: Margaret Wheeler Johnson
Creative Director: Adrian Moreno
Art Director: Becky Brown
Bookings Manager: Guillermo Perez
Photo Editor: Clare Thigpen